Written by Shawna at Not the Former Things.
MYSTERIOUS CODE OF THE ROSETTA STONE
We have been studying ancient Greece this year, thanks to a mini-greek mythology obsession on the part of my youngest son.
Last week, my son asked how we are able to read all the ancient texts. "How do we even know how to read an ancient language if it isn't spoken today?" he pondered. And so, this Rosetta Stone activity was born.
We started by researching exactly what is the Rosetta Stone is. We learned that The Rosetta Stone is written in two languages: Greek and Ancient Egyptian Hieroglyphs. We also learned that without it, we would know almost nothing about life in Ancient Egypt.
After looking at some pictures of it on the internet (thank you Google images), we set about making our own stone.
Hands-On Ancient History: The Rosetta Stone
What you'll need for this activity:
Large white piece of construction paper

Gray washable paint (or, in our case, white and black mixed together)
Scissors
Glue
Markers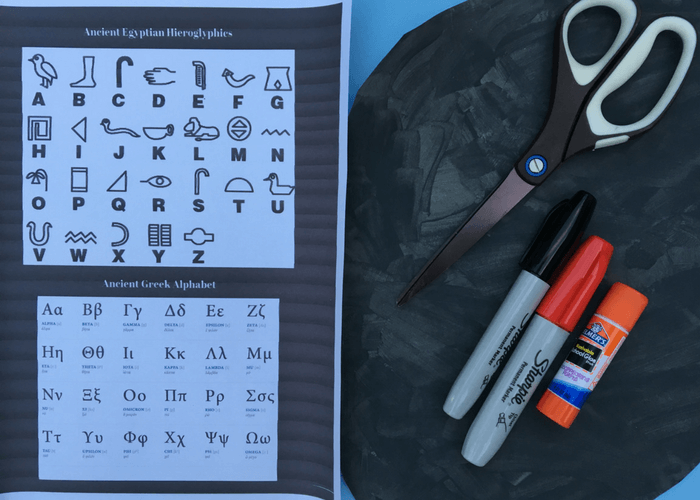 To get started, we cut a rough-looking, large "stone" out of the white paper. We then cut several smaller stones as well.

Realizing our Set of 18 paints did not include a gray for stone coloring, we took matters into our own hands and mixed white with black until we got just the right look. Then, we painted all of our cut-out stones.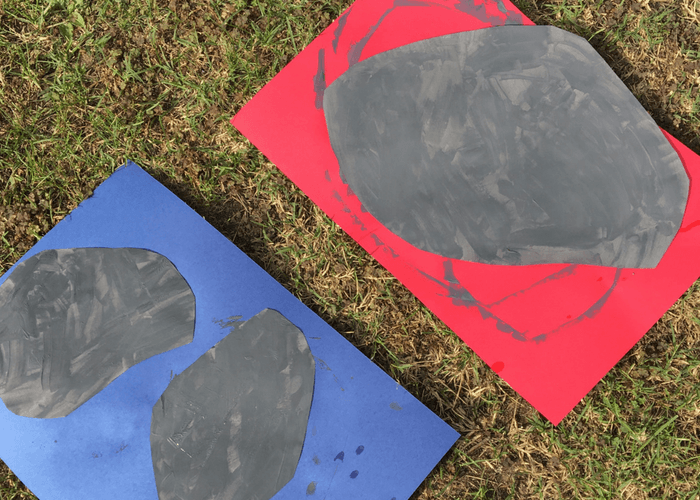 (At this point, my youngest suggested painting an actual rock from our backyard for the activity as well, so we added a little dirt and a few actual stones to the mix.)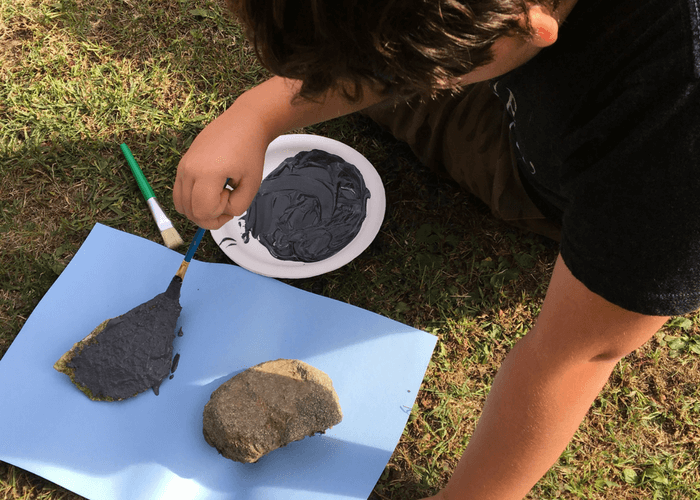 After printing up the key for Ancient Greek and Egyptian Hieroglyphs, my son cut those out as well. Once the largest paper stone's paint was dry, we pasted the printable key onto it and made our own "Rosetta Stone."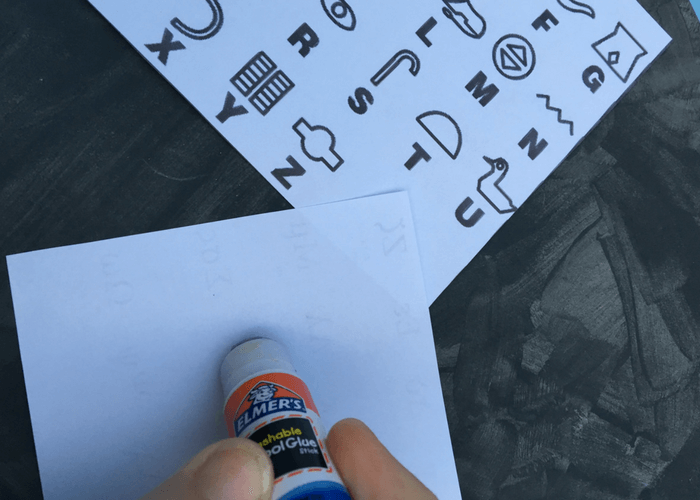 The Rosetta Stone: Breaking the Code
This is where it got really fun! My boys each took one of the smaller, painted paper stones and used the key to create their own messages in hieroglyphs and ancient greek. Then, they swapped, and tried to de-code the ancient languages using the our own Rosetta Stone.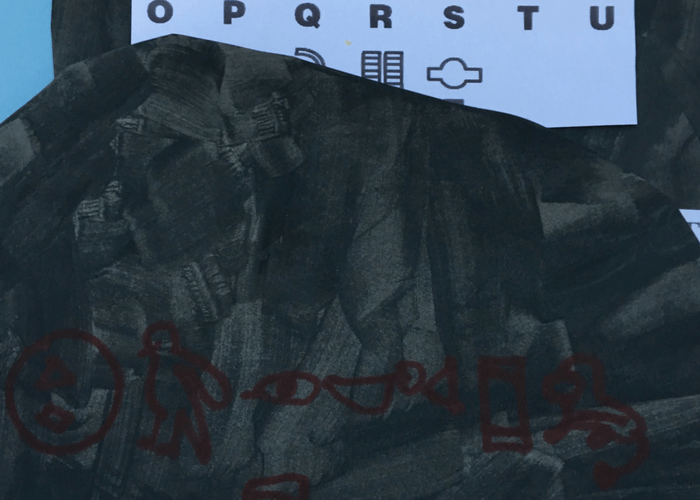 My youngest also did the same on his rock from outside, and although it was a little harder to read, we all agreed it was much more authentic!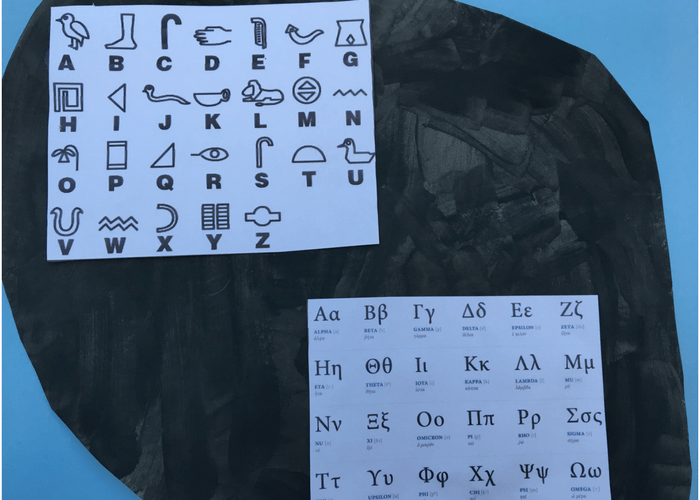 Although I tried to encourage my boys to leave interesting historic messages for one another, the truth is, they had a lot more fun and got a lot more out of the activity when I backed off and allowed them to write whatever they wanted. (Think a little bit of little boy potty humor mixed with quotes from different cartoons and movies. At least the activity was relevant to their everyday lives!)
This was such an easy and fun way to learn and understand the importance of the Rosetta Stone. It was also a great way to get a little writing practice in, as my boys had to write the letters and words as they translated the ancient messages.
Overall, I continue to be impressed with how much a hands-on approach to history makes a difference in my children's level of engagement and understanding in our learning.
And you can't get any easier that coloring pages for studying history. Check out these fun coloring pages! There are some for Ancient Egypt and Ancient Greece too.
Look at this list.
Page 3: Ancient Egypt Court,
Page 4: Ancient Egypt Spinning,
Page 5: Ancient Egypt Life of the Royals,
Page 6: Ancient Egypt Battles,
Page 7: Ancient Egypt The Nile,
Page 8: Life Along the River – The Nile,
Page 9: Metal Workers & Crafts of Ancient Egypt,
Page 10: Egyptian Hieroglyphics,
Page 11: Egyptian Queen Cleopatra,
Page 12: Aztecs Floating Gardens,
Page 13: Aztecs,
Page 14: Aztec Life,
Page 15: Mayans,
Page 16: Ancient Greece Wedding,
Page 17: Ancient Greek Galley,
Page 18: Ancient Greece Crafts,
Page 19: Ancient Greece Bank,
Page 20: Athens,
Page 21: Spartan Warrior and
Page 22: The Vikings.
Grab your fun copy below!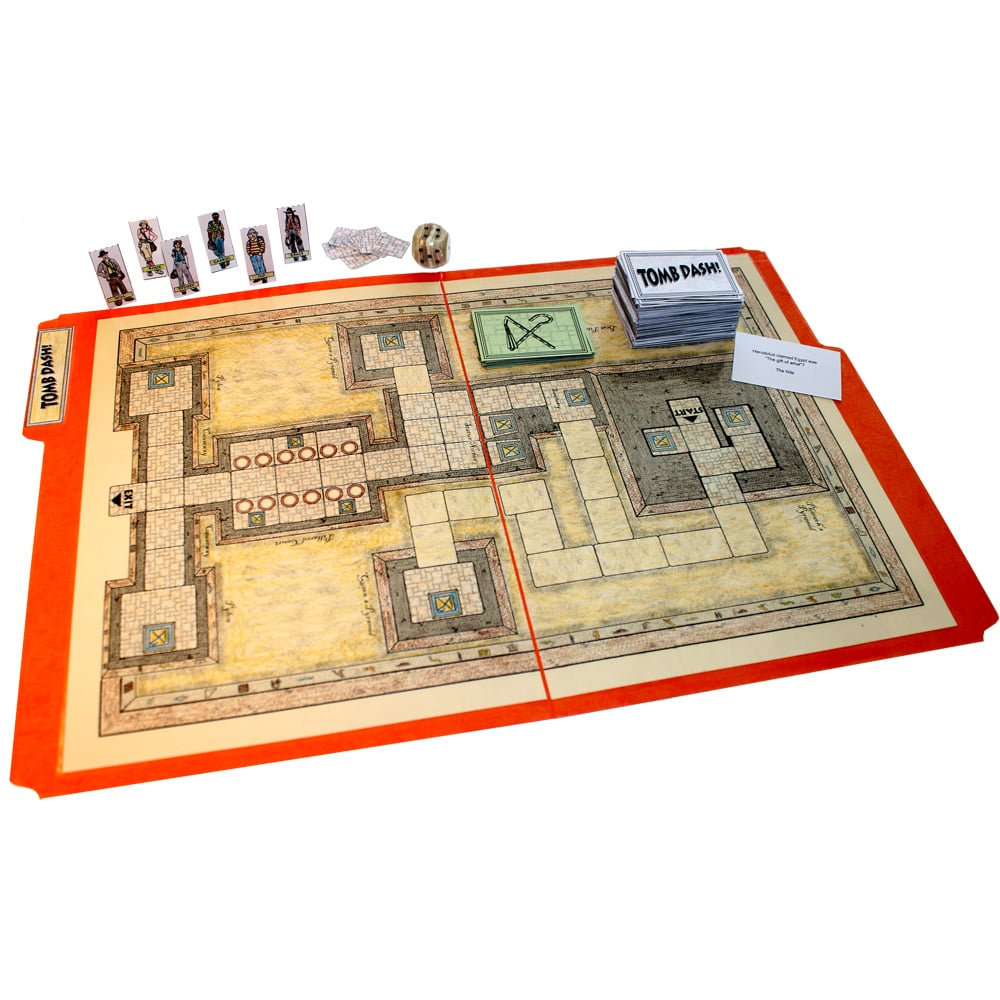 Also, you love the activities by Home School in the Woods for learning about the Ancients.

See more hands-on history ideas below!