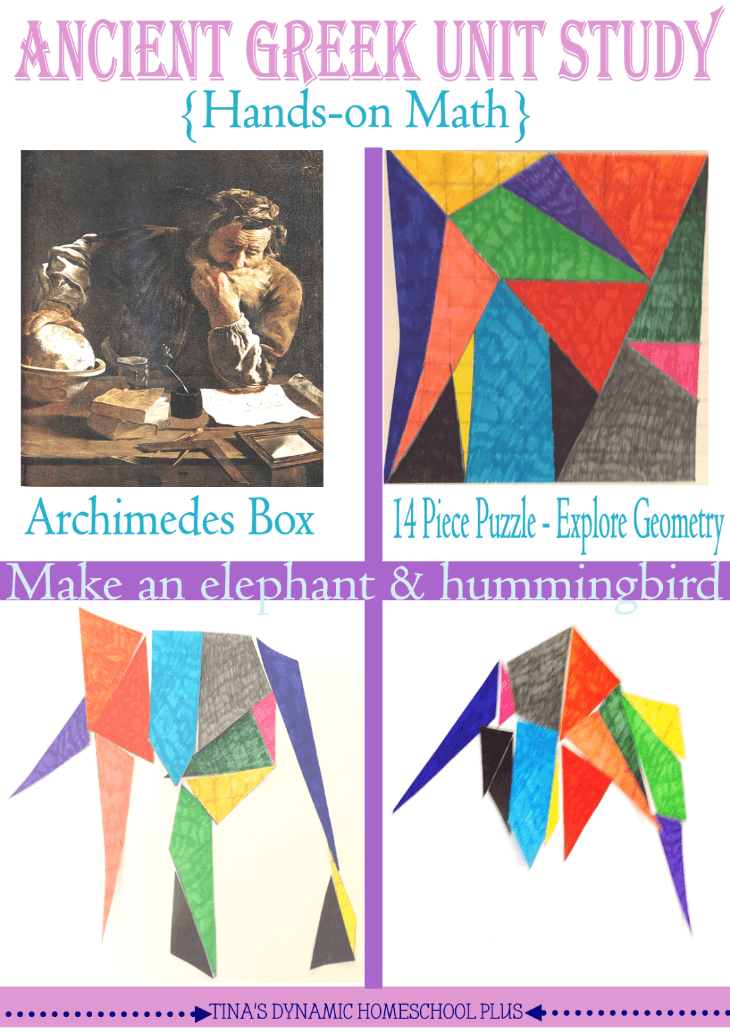 We are picking up on our Ancient Greece unit study and decided to add a bit of geometry.
You know I told you, we have the book, TOOLS OF THE ANCIENT GREEKS: A Kid's Guide to the History & Science of Life in Ancient Greece (Build It Yourself)

, which is fantastic for hands-on ideas.

So

Tiny picked out another activity from this book, which is playing Stomachion.
The book brought out that some called the game loculus Archimedius (Archimedes' box).
Hands On Math
It just requires a few things and instead of printing off the puzzle pieces, Tiny decide to do it himself.

So this is what we started off with, but like normal, we change it a bit as we went along.
12 inch square poster board
ruler
pencil
sharpie
scissors
markers or map pencils.
We started off using the Prismacolor Colored Pencils

, but decided we would go with our essential markers

because Tiny could color the puzzle pieces faster and they were brighter too.

So he began by making 1 inch grids on his poster board page.

Then he copied the pieces following the coordinates on the picture out of the book TOOLS OF THE ANCIENT GREEKS: A Kid's Guide to the History & Science of Life in Ancient Greece (Build It Yourself) and suppose to have ended up with 14 pieces.
Ancient Greece Unit Study Hands On Activity
He caught his mistake (he only has 13 shown) after I took the picture, but too he is doing more of his own self-checking instead of me supervising so closely.

So here he corrected his mistake by coloring the piece black. Here is the 14 piece puzzle after he colored each piece. Then he cut out each piece.

He started playing with the shapes and made an elephant. Isn't this just the coolest?
Of course, his pieces are off a bit in size proportion, but then again this was a lesson too in measuring accurately and taking your time, but I wanted it fun for him too.

Then next, he made this. Is it a hummingbird or is it a diving duck? Uhmm, well Tiny said hummingbird, so I'll go with that.
Point is, Tiny is having lots of fun playing with these puzzle pieces and exploring geometry like Archimedes did.
He has made a few more pictures, but this baby is not as easy as it looks to build.
Unlike the squares and triangles he did in grade school, they shapes are more challenging.
He is loving exploring about Ancient Greece this this fun math activity! Have you tried this before?
Hugs and love ya,

Don't Forget Follow My Ancient Greece Pinterest Board
Follow Tinas Dynamic Homeschool 's board Ancient Greece on Pinterest.