Ancient Civilization II Unit Study with Lapbook

The longer I homeschool, the more fond I become of returning to topics that we have studied before especially if it is about history. Don't you think it takes a while to get a good skeleton or outline of some of the basic empires or civilizations of history? After that, it is all about adding in the details you enjoy the most. Oh yes, I still have to cover some of the basic accomplishments of each civilization as each kid gets older, but there is always a unique angle to presenting the information the second, third and fourth time around.
There are so many ancient civilizations to focus on in this study we are focusing Mesopotamia, Ancient Egypt,  Greece, and Celts. Even though we have covered this before, the older the kids get the more they appreciate about each civilization. The more in depth you study any civilization you realize that a lot of them have some pagan roots associated somewhere. You have to sort through and pick the things like art or influences on our language that made changes, good or otherwise, and discard the other things about their culture that focused on pagan things.

Ancient Civilization II Lapbook


Ancient Civilizations Hands-On Activities
Celtic Cakes

We found a recipe and I think my boys thought they were making something similar to oatmeal cookies. The Celtic cakes were much more like a flat bread. The boys put some sugar and cinnamon in them too and after they were baked, they ate them with honey.
Go here: For more information on Celtic civilization and Recipe Card.

Tip: You can include the recipe card in your lapbook.

Hands-On Ideas
for Ancient Phoenicia

A Fun Phoenician Boat

Making Purple Dye

Phoenician Alphabet

Glass Blowing Lapbook

Stained Glass

Greek Copywork & Poetry

The poem is Greece by Robert Frost. It is one of his more obscure  and early poems, it gives a glimpse into his early writing and it shows his interest in history and idealization of heroic figures. I thought this would go along with our Ancient Civilization unit so we are trying to commit this to our memory.

Easy Peazy Roman Costume

It has never been a secret that I don't sew and barely craft. So when it came time to get Tiny ready for our year end co-op when studying Ancient Civilizations, I turned to cardboard and duct tape.
Be sure to Find some Ancient Civilizations Coloring Pages
in my 20 Free History Based Pages Post.

Get your Ancient Civilization  II Lapbook Downloads Here
Ancient Mesopotamia Minibook

The ancient Greeks called the area "Mesopotamia" which means between the rivers. It was here that the ancient Sumerian, Assyrian an Babylonian civilizations lived.
This part of the world was the birthplace to written language. Much of the region is hot and dry and desert today, but it appears that in ancient times the land was very fertile. This area was mostly located in what is now Iraq but also extended into Syria, Turkey and Iran.
Download Mesopotamia minibook here.

Sumer Minibook

Though Mesopotamia is an early civilization, it can be confusing to understand about Sumer. So I made it a separate minibook. Understanding that Sumer developed in Mesopotamia which I normally explain to my boys as an area located between the Tigris and Euphrates rivers helps to understand that Sumer was an early civilization too. From there it is easier to associate the Sumerian ruler, Sargon, which I had made a minibook about him in my first round when covering this time period. This time I made a minibook focusing more on what they actually invented which was a system of writing and irrigation. Because they were farmers, irrigation was an important livelihood.  Understanding how irrigation helped them to live farther away from the rivers is an important concept in explaining how they thrived as a civilization. Sure, it probably is not as glamorous to study about farming and irrigation as maybe studying about mummies, but it is solid because it is the roots of ancient civilization.
 Download the minibook on Sumer here.

Minoan and Mycenaean Civilizations Minibook

The Minoans settled on the island of Crete at the same time as the rise of Mesopotamia and Egypt. This civilization too has royal palaces and paved roads. In Minoan culture, bulls were significant and vaulting off the back of bulls was a sport. The Mycenaean were skilled at using gold, built the first Greek empire and were highly civilized even though all around them were barbarian tribes. That is enough to understand about each culture if you are trying to keep it simple. I like simple.
This minbook is a layered book about the Minoan and Mycenaean and all you do is staple on the side. There are two options, one with text and one without text.This allows you to use it with both, older and younger children, or to use the information given if you are in a bind for time.
Download here minibook on the Minoans and Mycenaean.

Ancient Egypt Minibook

The next minibook for the Ancient Civilizations Unit is about Ancient Egypt. Most of the time, I try to include some information I find with each minibook in case you are short on time. However, my minibooks are flexible. If you are doing a more comprehensive unit and this unit is part of their writing, then they can use the minibook to write in their own information. On this minibook though I do include information if you are using your lapbook like we do for enrichment and not interested in testing their writing skills or coloring skills. Just saying.

Download the Ancient Egypt Minibook here.

The Babylonian & Hammurabi Minibook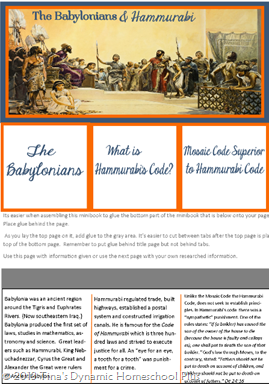 This 3 tab book is about The Babylonians & Hammurabi. We took a little longer on this book because I wanted the boys to compare men's laws to the superior laws of God. Like my other mini books, I have a few facts if you want to use them and one copy that is blank if you prefer to add your own facts and content.
Download The Babylonian & Hammurabi minibook here.

Ancient Phoenician Minibook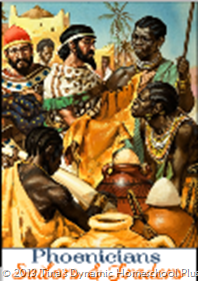 The Ancient Phoenicia minibook is a tab book and I have a map included in this download that glues on the inside and a few facts too if you want to use them.
Download Phoenicians book here.

Ancient Greece & Rome Pockets

I have a mini fact card for Plato for Ancient Greece and a mini fact card for Caesar Augustus when studying Ancient Rome. Because I think it's important for students to know a bit about the people of the times.
There is a pocket for each fact card and they are glued on the right flap.
Download here the pockets for Ancient Greece and Ancient Rome.

Additional Resources for
Ancient Civilizations II Unit Study
BrimWood Press

"

In fourteen lessons, What Every Child Needs to Know about Western Civilization builds a mental timeline of 5,000 years of history and an understanding of the historical contributions that shaped Western Civilization. This guide and its literature companion Calendar Quest will revolutionize the way children learn history."

Edsitement.

Has a large fleshed out section on questions and background information.

Reviews & Quizzes for Story of the World Volume 1. A helpful resource that has multiple questions to use for review and that is interactive.
Gorp.Com. Though a travel site, Mr. Awesome liked it because it contained a lot of history on the pages.