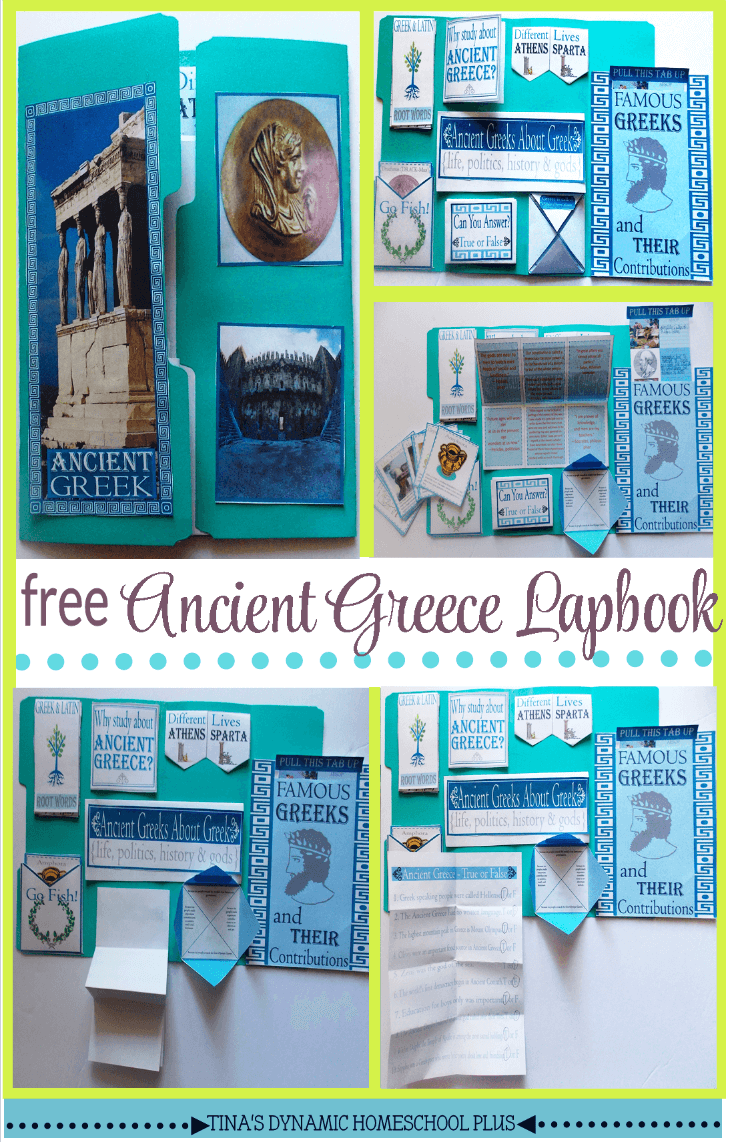 Free Ancient Greece Lapbook
Today, I finally have the rest of the minibooks for the free Ancient Greece lapboook that seems like it took us half a year to cover. Okay, it did with our move overseas, but the length of time only made Tiny savor it even more.
Look at these minibooks that I have today.


First, I have another color cover to add to the other free covers I have on my first Ancient Greece lapbook.
Then, I have a minibook on Ancient Greek and Latin root words. The instructions are on the book and so are the answers.


Then I did a flip book (left) that has quotes by Greeks about Greeks. It just gives Tiny some beautiful food for thought to put in his brain and shows what Greeks thought about their every day life.
Too, a quick Why Study About Ancient Greece reminded Tiny about the huge impact Ancient Greece has on American culture. I don't have an insert for this minibook because it is a little research project on the internet about why it is important to study about Ancient Greece.

Then the next two printables are a pocket and mini two tab book that compares two famous city-states, Athens and Sparta.
The pocket is for the Ancient Greece Go Fish, that I shared earlier. The Athens and Sparta minibook has a page where your child can glue a few of the facts given about how each city-state is different under the tab, or research and add his own.
Like always, most of my minibooks have the answers in the download.



Don't forget too that since this is my third time around studying Ancient Greece with my children that I have two other lapbooks to go with this one. One is Ancient Greece and the other Ancient Civilizations II.
I luv my followers and make it special for them here when I can

.

These freebies are subscriber only freebies! This means you get access to the exclusive area for subscribers and can download this printable there.

I would love for you to follow me and give me the opportunity to help you along in your homeschool journey.

Important: IF you are already an email reader, please read this below instead of emailing me right away.
Though I love your emails, it can take a while for me to answer you.
1.) If you are already a blog follower, the link is sent to you at the bottom of EVERY newsletter. If you have been getting my blog posts, then check at the very bottom of one of my recent newsletters for the link.
2.) If you just joined my blog, then the hidden link was sent to you when you CONFIRMED the email sent to your inbox.
Also, we love and use the hands-on Greece products from Home School in the Woods. Especially when you teach Ancient Greece more than one time, you need various resources. You'll love these!
Click below to for some hands-on ideas for studying about Ancient Greece.


Hugs and love ya,