Written by Shawna at Not the Former Things.
My boys have been in love with the Percy Jackson books series for years now. It began with my oldest binge reading every single book and, soon after, my youngest was reenacting mythological Greek monster slayings.
Because they are older (ages 14 and 11) finding hands-on learning activities has been a bit of a challenge. The good news is, it's totally worth it. I find my boys are not only much more engaged in the material, but also retain so much more when we incorporate hands-on learning activities.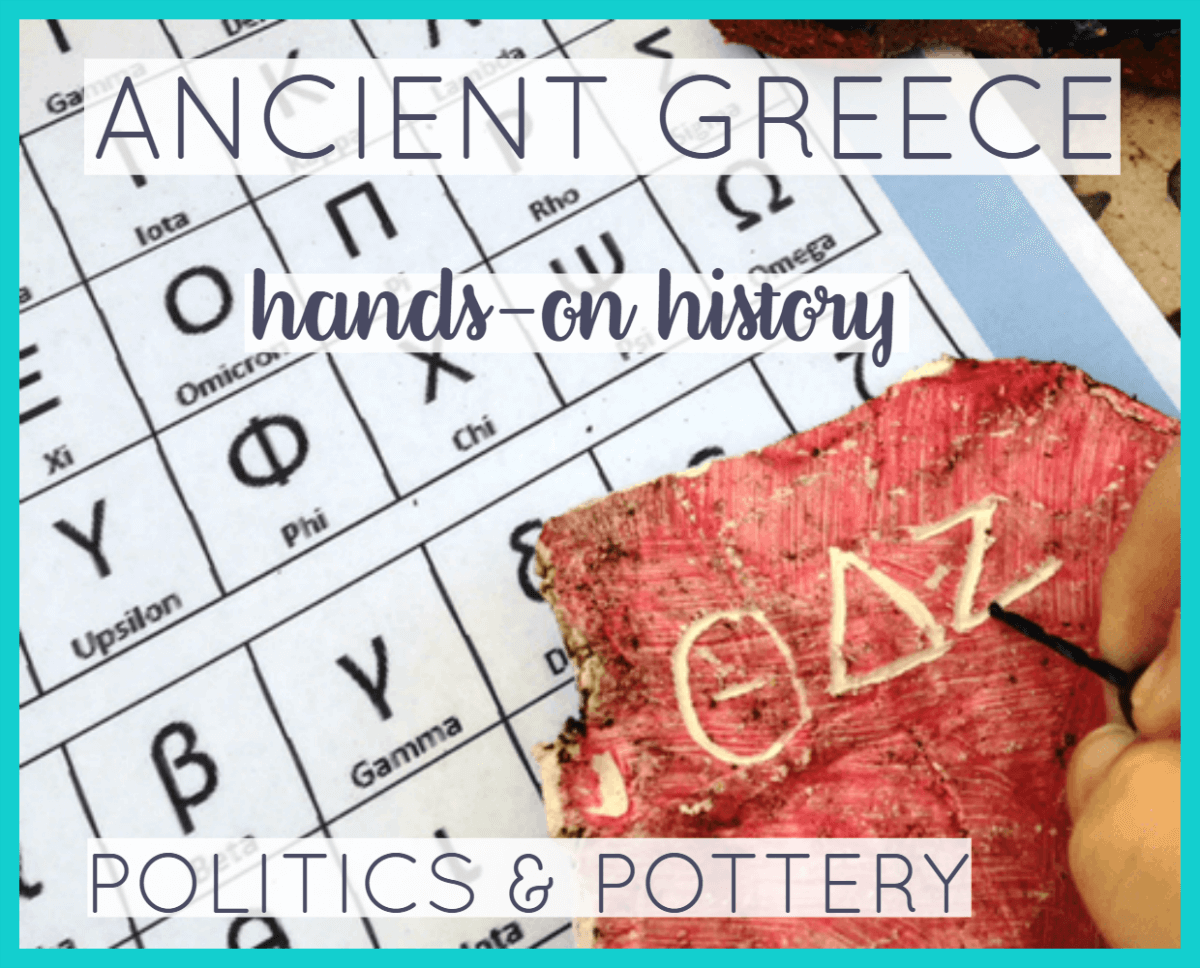 Because they already have a natural interest in Greek Mythology and Ancient Greece, this hands-on activity has been one of our most successful to date.
Ancient Greece Study: Politics and Pottery
An ostracon is a piece of pottery, usually broken off from a vase or some other container. In archaeology, ostraca refer to small pieces of stone or pottery that have writing scratched onto them. Usually these pieces were broken before the writing was added – broken pieces of pottery were everywhere and easily re-used for writing. (Recycling in ancient times!)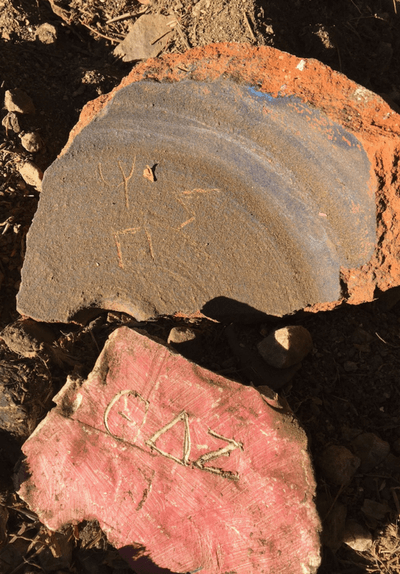 In Classical Athenian politics, when the decision at hand was to banish or exile a certain member of society, the citizens would vote by writing the name of the person on a broken piece of pottery. If the citizens voted to do so, the person was exiled for a period of ten years from the city (this is where we get the term ostracism).
After convincing my boys that it was not an option to vote to ostracise one another, and reviewing the historic significance of ostraca, we set about making our own examples – complete with Ancient Greek writing.
Hands-On Ancient Greece Pottery Activity
For this activity, you will need the following:
A broken pot, or if none are available, air-dry clay to create your own 'pottery pieces'

Tempura paint and paint brushes

A sharp instrument to carve letters (we used a ceramics tool, but many kitchen implements will also work)
Our first step was finding broken pieces of pottery. In our backyard, this is not difficult to do as my sons enjoy a wide array of outdoor activities that may or may not break things from time to time.
Just in case, we also used air-dry clay to quickly create our own, easier to carve, "pottery pieces."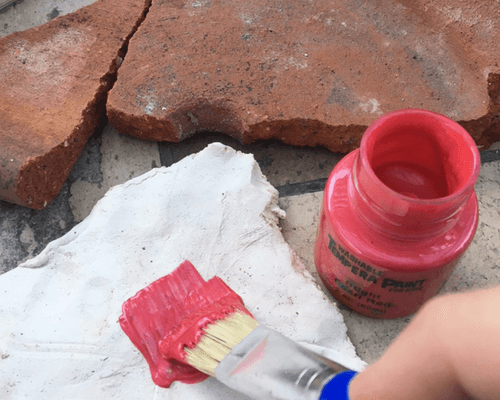 After the pieces dried, we painted the pottery lightly, and then sanded it to make it appear as if the paint had worn off over time.
It was then time to carve Greek letters onto our newly formed Ostraca.
Using the sample printable, my boys experimented with greek lettering. We discussed the differences between our own and that of the ancients.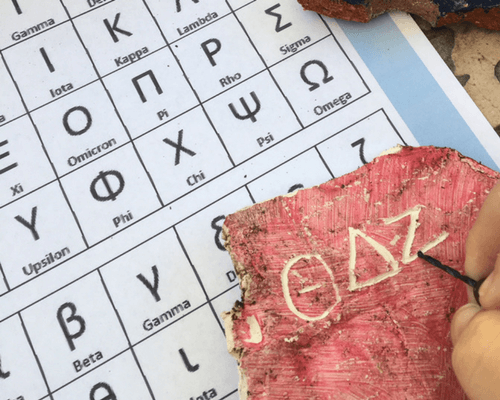 When we were all finished up, the boys and I were pretty impressed with the outcome. Our pottery pieces really did look like something you might see in a book or museum.
To make it official, my youngest actually buried them and then dug them back up – not only to get them authentically dirty but to pretend to be an archeologist for the afternoon.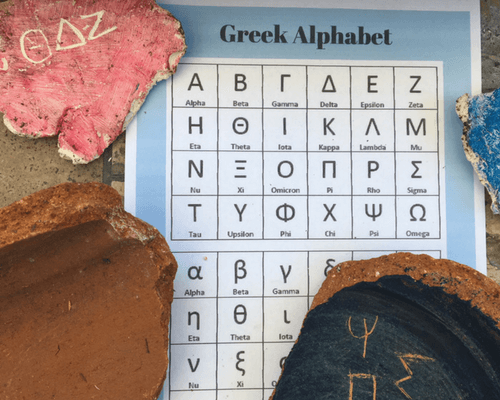 Overall, this hands-on activity worked well for us. The chance to learn a bit more about Ancient Greece and politics in a new democracy was certainly educational (even for me) and the pottery activity made it so much more engaging and fun!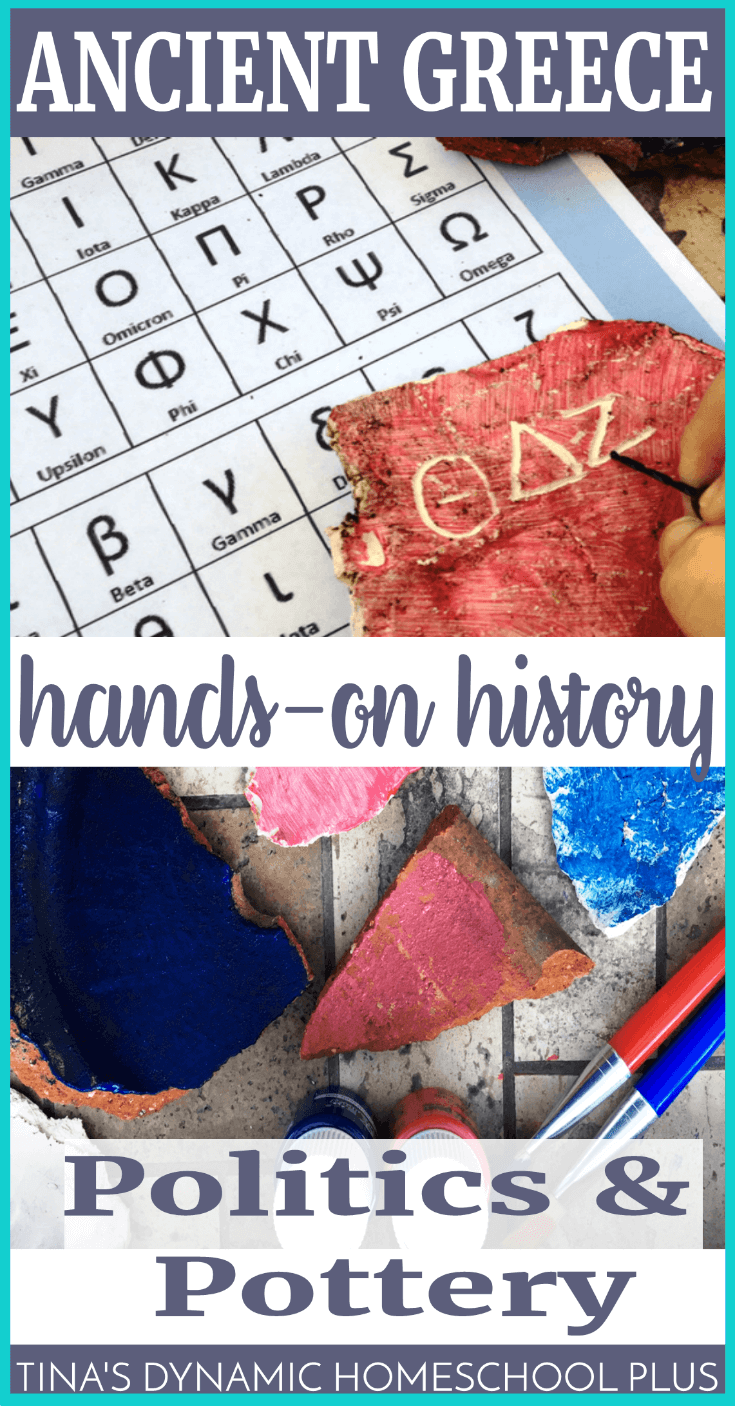 To learn more about Ancient Greece with the kids, try these other hands-on Grecian learning activities!