You're tough, you're tough! You have hung in there with me on this series and this is the official 10 day countdown. I think too it's time for a Giveaway! I have the details at the bottom.


Day 22: Homeschoolers with Preschoolers – Truth or Dare?
Day 23: But the Dear Doesn't Want To Homeschool
Day 24: Finding Curriculum For Unique Learners
Day 25: Homeschooling Happily Through Highschool
Day 26: Rebel or Resister – Are You the Cause?
Day 27: Easy Ways to Break Out of a Homeschool Rut?
Day 28: Over Scheduling, Over Planning, Over Load!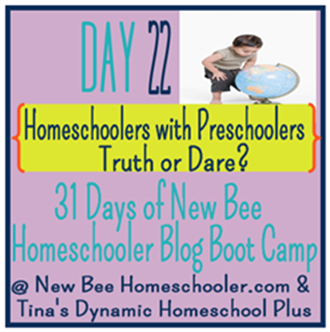 Before I started homeschooling I had read an article where it said that the major portion of an individual's personality is well established before school. Suddenly, my ideas of preschool learning changed because I realized that those years would form the very attitudes and patterns that would be lasting. WHOA! And I had thought preschool was all about coloring and ABC's. I knew that if I didn't find a balance between easy going and exacting that anxiety, doubt, worry and fear would drive me to the public school. Guess what? It did.
Doubt turned to fear, fear turned to feelings of failure and feeling he was already behind in Kindergarten, I sent him to public school for part of that year.
Let me tell you the rest of this story by telling what I did and did not do before I sent him to Kindergarten.
I did-
– teach him how to write and read by Kindergarten.
– play, do crafts and learn music.
– keep the roads hot and heavy by traveling to all kinds of field trips and museums.
– sing nursery rhymes to him.
– read from beautiful books and cuddle every day.
I did not –
– know, let alone worry about standards because I was blissfully ignorant about any kind of standard.
– use a formal curriculum program. Brighter Vision Learning Adventures is a box that came each month to my home with a bright colored workbook, a craft, a book and music.  Mr. Senior 2013 loved it and I loved it too.
– worry about socialization because we had music classes and gymnastics.
– stop worrying about what is coming up in the next grade and this led to me sending him back to public school.
Looking back now and after the first few days of public school Kindergarten, I realized that he was way advanced. I didn't know Kindergarten was about learning to read and write. I put extreme pressure on Mr. Senior 2013 to perform. It's true that children are hardy, I just wished that I would have aimed for soaking up cherished moments.
What I have learned is that preschool is just that!! PRE- means BEFORE school. That is the time to focus on "readiness" skills. That is NOT the time that our children learn to hold a pencil grip correctly, but that is the time to train them to hold it correctly. This is NOT done by holding a pencil, but by playing games, being outside and doing crafts that help them learn fine motor skills.
Children are capable of so much more during these years than we sometimes give them credit for. Burnout out looms in Kindergarten or first grade because "formal school" started way too earlier. You have to let go of the feeling that your child will be behind because you spent the day doing crafts, playing and reading and that surely there should be something more "serious" that you should be doing.
It is not easy to combat the thinking of the education world that early teaching has to be formal. Children learn by play. There is a reason we learned all those fun nursery rhymes and that is because memorization and hearing word patterns is a skill set need for reading.
Mustering up the courage to take my son back out of school during his Kindergarten year was not easy, but I had learned a VERY valuable lesson. No longer would I question what I done even in my ignorance.
The struggle empowered me to put faith back into the naturalness of homeschooling. I know not everyone homeschools for faith based reasons and I respect that in my workshops. For me though it is the very core of my homeschooling. Parents have been given the responsibility of educating our children and viewing it as the next extension of parenting helps you to meet the challenge.
During their toddler years and preschool years I have rocked, talked and cuddled and read to my sons and it has given them an excellent start to their formal education. Homeschooling with preschoolers is not for the faint hearted, but home is for the brave.
Will you meet the challenge?
Look at some of these preschool resources by some talented homeschool moms who make it easy when teaching toddlers and preschoolers. Too, I love the fact that it doesn't have to cost much.
Sensory Bins are a known fact among educators because of the benefits it brings to children. I am proud to partner with Sharla to show you her new book. It is such a good price for the wealth of information she shares.
Look here what she says about it:
Sensory bins are a simple and inexpensive learning tool that can benefit all children. Whether you are interested in incorporating sensory bins into your home, classroom, preschool, Day Care, or homeschool, this guide will provide you the necessary knowledge and ideas to get started.
It includes idea lists, storage and money saving tips, information on using sensory bins with Sensory Processing Disorder, and helpful recipes.

Can you just say drool with all the printables included with this preschool curriculum.
You can read more about her program Encompass Preschool Curriculum by clicking on the book below.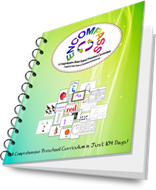 Hugs and hope you win!

Have you missed any of the previous post on this series?


Day 1: Learn the Lingo – Then Go
Day 2: Homeschool Roots Matter
Day 3: What is NOT Homeschooling
Day 4: " Speak Now Or Forever Hold Your Peace" – Confronting Relatives & Naysayers
Day 5: Wheels on the Bus Go 'Round & 'Round – So Get Off
Day 6: Homeschool Hangouts & Socialization Situations


Day 8: Organize Your Home – Then School
Day 9: Carp Diem: Homeschool Schedule by The Day, Month, & Year
Day 10: Grocery Shopping, Cooking & Laundry, Oh My!
Day 11: Swoon Worthy Learning Spaces
Day 12 Creative Storage Solutions
Day 13: Streamlined Record Keeping
Day 14: A Homeschooler's Back To School Supply List


Day 15: Discovering Learning Styles
Day 16: Practical Tips for Learning Styles
Day 17: How To Choose Curriculum Other than the "Looks Good" Method
Day 18: Teaching Young Children
Day 19: Guiding Older Children
Day 20: Lesson Plan or Lesson Journal?
Day 21: Time Tested Teaching Tips
Save