Day 1: Learn the Lingo – Then Go
Day 2: Homeschool Roots Matter
Day 3: What is NOT Homeschooling
Day 4: " Speak Now Or Forever Hold Your Peace" – Confronting Relatives & Naysayers
Day 5: Wheels on the Bus Go 'Round & 'Round – So Get Off
Day 6: Homeschool Hangouts & Socialization Situations
Day 7: Tied Up With Testing?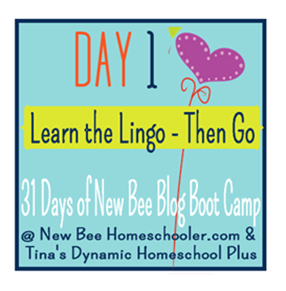 Have you ever heard the butterfly story? The short version is that a little boy runs to tenderly cut open a cocoon to help the struggling butterfly emerge. Even though he had good intentions to assist the butterfly, the butterfly's fragile wings never expanded. The butterfly just walked around with a swollen body, shriveled wings and never did learn to fly. Struggling was part of the empowerment and essential to the development of the butterfly.
As a seasoned veteran, support group leader, mom of one homeschool graduate and co-founder of New Bee Homeschooler, I do want to make your beginning less difficult with this 31 day blog boot camp. However, just like the beautiful butterfly that emerges from a struggle, your struggling with various homeschool issues will empower you to fly on your own even though it may not seem like that right now. As you emerge and face each issue, I want the topics in this series to be a soft place for you to land when you become overwhelmed.
The best way for me to do that is start from the beginning on what I feel you need to know. Based on my many years of personally helping new homeschoolers and conducting workshops through my new bee program, I know that your questions in the beginning focus mainly on one topic and that is choosing curriculum.
Having curriculum is viewed as the hallmark of homeschooling and I have much to tell you on how to select it. However, I would be doing you a great disservice if I jumped right to that topic without building in you an appreciation of the homeschooling world.
You can't come to appreciate all the facets of the homeschooling world though if you cannot communicate with us and talk the talk.
Key to extracting answers to your questions during your journey is to use and know homeschool lingo.
Look at this list and brush up on using some of these new terms.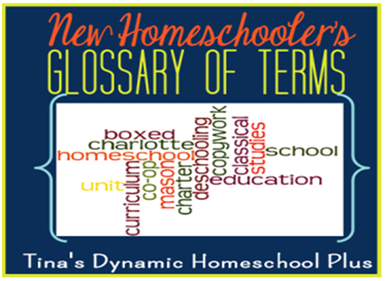 Beginners Homeschool Glossary
-B-
BOXED CURRICULUM
A curriculum provider who provides all subjects laid out in step by step order usually accompanied by a scripted teacher's manual. Teacher's manual, a student book and a work text are normally included. Tests and sometimes grading services are offered. Some providers, like Calvert sends all supplies, crayons and paper too. It may arrive in an actual box or not.
BURNOUT
All homeschoolers experience burn out in their journey somewhere. The causes of burnout are some of the combinations of these things; too much structure, not enough structure, curriculum that is not a fit, hectic schedule, pressure from naysayers, doing too many activities outside the home, a child that hits a learning plateau and homeschooling guilt. It is homeschool exhaustion.
-C-
CHARTER SCHOOLS
Public schools that offer home study programs. They call their students homeschoolers but it is public school at home. From their website: Charter schools are publicly funded, independently operated schools that are allowed to operate with more autonomy than traditional public schools in exchange for increased accountability. http://www.charterschoolcenter.org/
Though they may tout free curriculum and flexibility, you are giving up your right to teach in the way you want to because your children are considered their students. Some charter schools have more flexibility than others.
CLASSICAL EDUCATION
This approach focuses on the three stages of the mind; grammar, logic and rhetoric. Emphasis is on getting back to the classical roots of the ancients. It is language focused and centered on history.
CONSUMABLE
A type of book or resource that is used by one child like a workbook and cannot be used for a second child or another year.
COMPULSORY ATTENDANCE
States define what age a child is required to attend school.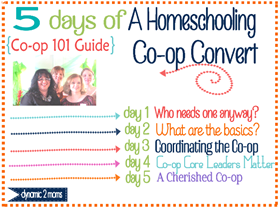 CO-OP (COOPERATIVE)
Though not many homeschoolers use the term cooperative, that is just what a co-op does. Parents cooperate together to present a certain topic to a group of children. There are no uniformed set of rules or guidelines for co-ops. They vary from city to city, state to state and in some areas are non-existent. Co-ops can be on any academic topic or fill the need for socialization. They can operate like a strict private school and study the language of Latin or be more informal and focus on hands on crafts and fun. They can be boring and make you stressed your first year or be a valuable gem and add enrichment to your journey. The success or failure of the group is usually because of the support group leaders or founders. Because normally a facility is needed to meet at, they can cost money. In addition, some co-ops require parents to contribute by being in attendance. Others may not charge a fee but you provide some other service as a trade off. The group's guidelines are all established by the leaders. In some co-ops, the group leaders are not paid. Others charge a fee if they have a specialty service they are providing to the homeschool world like SAT preparation, tutoring or teaching a foreign language. Our mantra: Ask detailed questions; be fully aware of the schedule, costs and what is expected.
Also look at my series 5 Days of a Homeschooling Co-op Convert to understand this better.
COPYWORK
Copywork is a process used by a lot of homeschoolers to teach beginning penmanship to a child. By showing the child beautiful poetry, scriptures and work from great authors, the child copies it. He can see a visual picture of punctuation, grammar and spelling and starts learning how to put sentences together.
CURRICULUM
This includes books, workbooks, DVDS, CDS, a set of subjects, life's experiences AND parental influences, social situations, hands on experiments, games, lessons learned from everyday contact or modeled by peers, family or other adults.
-D-
DESCHOOL/DECOMPRESS/DETOX
Used interchangeably in the homeschool world meaning to step back from the traditional way of public school and be opened to learning a new way of instructing children. It can also mean a certain break or period of time that is needed to be refreshed after withdrawing a child from public school. Instead of feeling like August is here and we have to make all curriculum choices now, we take time to withdraw from the way we think things need to go. For some homeschoolers who have had an especially hard year, it may simply mean stopping our homeschool for a week or two or longer to catch up with life.
-E-
ECLECTIC
Because they are so many approaches available to teach our children, we may find that we like one or two elements of the Charlotte Mason approach and one element from a different approach. We combine them and add in some things of our own and we are eclectic homeschoolers.
EDUCATOR'S DISCOUNTS
Yes, you are an educator. You can even make your own ID for free and most places accept that or issue you one. The simple fact they see you with your children during the day is one tell tale sign. Most places of business are use to homeschoolers and readily give you a discount. However, not all places honor educator's discounts. A growing list of places that honors educator's discounts are Barnes & Noble, Half Price, JoAnn Fabric & Craft, and Books A Million. Take advantage of Office Max Educator Perks and Office Depot's Star Teacher program. Be sure to ask anywhere you go to buy supplies if they use an educator discount.
-H-
HOMESCHOOL CONVENTION
Because homeschool stores are not at every corner or even in the city you may live in, homeschool conventions are always an exciting time of the year. Annual events are usually hosted in larger cities.
HOMESCHOOL SUPPORT GROUP (a very generic term that can mean a lot of things)
Some states are very organized and have a state group that is organized and looks out for homeschooler's rights and may even host homeschool conventions. Some groups charge dues in order to perform certain tasks for its members
A regional group may be a smaller group in a state but may be large enough to host homeschool conventions and like a large state group may inform you of local homeschooling happenings.
Local groups are the majority and may host field trips, co-ops and connect you with other homeschoolers in your area. Most homeschoolers connect on-line through either a forum or on-line groups using yahoo groups. Like co-ops, these groups can be unique and very active to quiet and non-active.
It is important to note that Group Leaders do NOT get paid. They are all volunteers. Keep that in mind when you attend functions and do not make it hard on the leaders who have stepped up to plan field trips and help you connect to find new friends by taking their time when they should be homeschooling their children. Most of them are very self-sacrificing in what they do and want to support you. Also, there is no limit on the number of homeschool support groups you may want to join but choose selectively as you will not be able to do all that is offered by every group.
HSLDA
Homeschool Legal Defense Association. The Home School Legal Defense Association "is a nonprofit advocacy organization established to defend and advance the constitutional right of parents to direct the education of their children and to protect family freedoms."
-I-
INCLUSIVE
Some support groups or field trip groups prefer Christian members only and ask you to sign their statement of faith. Some Christian groups are concerned about the influence of peers on their children and want only other Christians who will sign their statement of faith in their group. Other groups claim to be inclusive meaning all faiths and secular homeschoolers are welcomed in their support group or field trip group. Inclusive groups are mixed and welcome both Christian and secular homeschoolers. They sign no statement of faith. Each group is respected. There is no rule stating how many groups you have to join or not join.
-L-
LAPBOOKING AND NOTEBOOKING
Lapbooking and notebooking are very popular among a lot of homeschoolers. Lapbooking is where the child makes minibooks on a topic and glues them in a file folder. Think back to the school days when you used a tri-fold poster board to explain a science project and displayed it visually. Lapbooking uses a legal or letter size folder instead of a tri-fold poster board. The minibooks can be black and white or full of color along with pictures, drawings and mini reports. They can be crafty or not. They make wonderful visual aids. Notebooking uses letter size paper and binders. Minibooks can be glued on the paper or the notebooking page can be created by the student with visuals, charts and maps. It too can be done on any subject. The basic concept of these two teaching aids is to take boring worksheets out of the equation and to have a tool to study over and over again that contains the student's hard work. Homeschoolers may mix and match these two teaching aids. You do not have to lapbook or do notebooking pages to homeschool, but you certainly should try one or two.
-P-
PORTFOLIO
A term used to store and keep work done by your child. Some states require that they view your portfolio each year. A portfolio can contain reading logs, attendance records, book reports, pictures of dioramas or crafts, achievement awards, field trip logs and samples of the child's work each year. Even if you live in a state that does not require you to keep one, you will want to think about keeping some of these things each year.
-S-
S-WORD
S- word means socialization. The idea by uninformed critics of homeschooling that the homeschool world lacks for socialization opportunities. Quite the contrary, the homeschooling world is just waiting to be tapped into by our children.
SECULAR
Term used to describe groups or persons who do not homeschool for religious reasons.
-U-
UMBRELLA SCHOOLS
Normally a private school that is set up to allow parents to homeschool their children in a state in a legal way. It usually gives out grades, certificates of completions and maintains records. They normally provide transcripts and curriculum and offer some type of teacher service.
UNIT STUDY
Teaching all your children together on one topic, but tying in all subjects to the one common theme.
UNSCHOOLING APPROACH
This term does not mean no schooling as some homeschoolers may think. It is another educational approach in the homeschooling world where learning is "child led" instead of using traditional curriculum. For some, it may just mean a more relaxed way of learning.
Get familiar with a few of these terms and use them as you ask questions, then you will be able to tap into the minds of many capable and wonderful homeschooling parents.
I am so glad you will be joining me in this series for this EXCITING time in your new adventure to homeschool. Day 1 down, 30 more to go!
Hugs,

Save