Day 1: Learn the Lingo – Then Go
Day 2: Homeschool Roots Matter
Day 3: What is NOT Homeschooling
Day 4: " Speak Now Or Forever Hold Your Peace" – Confronting Relatives & Naysayers
Day 5: Wheels on the Bus Go 'Round & 'Round – So Get Off
Day 6: Homeschool Hangouts & Socialization Situations
Day 7: Tied Up With Testing?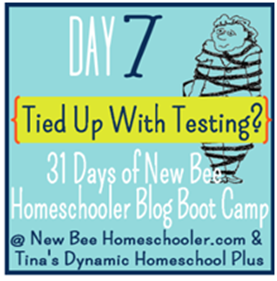 If there is one pointed question I get repeatedly in my workshops, it is how do I go about testing my children? My knee jerk answer to this question would be WHY? Thankfully, I have never responded that way. However, there should be a purpose for everything you choose to do in homeschooling.
You can't decide if testing is right for your family unless you think about your goals and have some background information on testing. Instead of focusing on explaining the myriads of tests and how to do it, I feel as a new homeschooler you need to have time to decide if you want to or not. I will, however, put links at the bottom to explain some of the them, but again I encourage you to pause and focus on the fact if it would benefit your family or not at this time.
Determine Your Purpose for Testing
Some homeschool parents just assume that you have to test when you start to homeschool. Until I started homeschooling, I did not think that testing could be used for any other reason than to measure one child against another. From my public school experience as a student that is all I remember. There are many reasons to test and some of the more main streamed ones are:
1. To diagnose areas of weakness or strengths in your children.
2. To evaluate what is age-appropriate knowledge.
3. To place for entrance into colleges or to determine scholarship money.
I have used testing for the reasons listed above, but also for something not so mainstream and that is for memory retention purposes. I have used old tests put out by the state of Texas to test my children. The tests are free and I printed them off and administer them in a test environment.
Seeing what was on the test help me to determine if I wanted to cover other concepts in math and other areas of history. Though we left public school so that we do not have to stay in sync with it, there is nothing wrong with getting an expanded view of what other children who are the same ages as yours are learning. I have created our unit studies based on a question we saw on a test because I realized we wanted to know more about that subject.
Other parents want their children familiar with the environment of a test no matter how much anxiety their children have.
Tips for When Testing is Appropriate.
If you live in a state that requires accountability, then you will need to test. However, you can ease testing anxiety by perhaps using another homeschool mom to test your child in a more homeschool friendly environment. Tension can be eased somewhat because the child is familiar with the other homeschool children and teacher.
Up until highschool, a lot of homeschool parents choose to test informally. The Scholastic Assessment Test or SAT is just really a "readiness test" that tests logic and critical thinking skills. Though it's an important test if you want your child to go to college and get scholarship money, your high school teen can still prepare for it. A SAT test can be important to prove mastery of material for college admissions.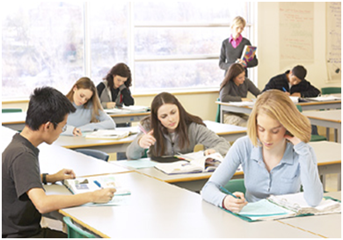 Testing Can Be Harmful
Many times I have seen parents who plan to fail homeschool their first year. Unintentionally, they have a "what if we go back to public school mentality" that they do not let go of when they start to homeschool. On Day 3 I talked about what is not homeschooling. Adding to that list of what is not homeschooling, I add that it does not mean to keep pace with the public school.
One of the greatest inhibitors to letting go of the way the public school does things is fear. If you commit more time to making homeschooling work for you instead of thinking one day you will return to homeschool, you have a more meaningful year.
I don't say this lightly because I am one of "those" homeschoolers who thought that the public school would offer my sons something better than I could. I did not plan, at first, with eternity in mind.
Testing your child constantly to keep up with his peers to prepare for the what if is living in fear. My mind-set changed because I viewed my sons as gifts that were given to me. I thought back to the day that I held my first born. Just because sleepless nights, constant rocking and probably over parenting followed, it never crossed my mind to give up or give him back.  Do you view your homeschool year as a trial period or for the duration?Your view of your lifestyle change affects how you will view testing.
Testing can be a valuable tool if you wield it to benefit your family or it can undermine a child's self confidence. I do know that a test will never be able to measure all that we have learned along the way and it can never identify the uniqueness of each child. Don't be tied up with testing. Become familiar with the various types of testing, then determine if it will work for your family.

Look at these links and terms.
SAT is the Scholastic Assessment Test
CAT is the California Achievement Test
MAT is the Metropolitan Achievement Test
ACT is the American College Test
CLEP is the College Level Examination Program
http://www.edinformatics.com/testing/testing.htm
Look at this link for the old tests that I used.
http://www.tea.state.tx.us/student.assessment/taks/released-tests/ (older but still useful}
Resources if you want to test.
https://www.hewitthomeschooling.com/Testing/tMain.aspx
http://www.bjupress.com/testing/