Day 1: Learn the Lingo – Then Go
Day 2: Homeschool Roots Matter
Day 3: What is NOT Homeschooling
Day 4: " Speak Now Or Forever Hold Your Peace" – Confronting Relatives & Naysayers
Day 5: Wheels on the Bus Go 'Round & 'Round – So Get Off
Day 6: Homeschool Hangouts & Socialization Situations
Day 7: Tied Up With Testing?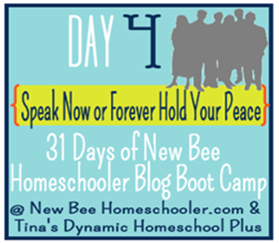 I have never been to a wedding where the minister asks why a couple should not be joined in holy matrimony and somebody speaks ups to object. Often times I wonder what would happen if somebody did object. What, the couple won't get married if they are both adults? I think it would make for some great drama.
Then you hardly ever hear the old fashion line speak now or forever hold your peace, but that is just what is needed from relatives when you start to homeschool.
My first instance of being criticized for homeschooling happened went I went to the mall one day. I was in line to pay for my items with my children cheerfully in tote. The lady behind me asked why my oldest was not in school. My reply with such conviction as if the whole world was going to be happy about my choice was "because I homeschool him". Her quick witted reply was "like you are doing now". Being crushed in spirit, I thought at that moment, if only I had some facts to support my decision to homeschool it would have made a difference.
What I have learned now is that any statistics and homeschooling facts should have been for my own sanity so when statements like that happen it doesn't pierce my armor of conviction.
Have you taken time to read some studies and grab some facts? My previous post on Day 3 directed you to the NHERI. There is absolutely nothing wrong with printing facts off and keeping them in your pocket or your purse. Of course, you would look smokin' hot smart if you were to whip out your iPad and pull up the website.
The truth of it is that there is nothing that really can prepare you for the criticism of family and friends other than to say it will happen. Teaching in my workshops I have to come realize that are two types of new homeschoolers when it comes to family criticism.
One group determines this is what is best for their family and is not really affected by family comments and opinions and doesn't solicit them. The second group however is more affected and desires family approval or they are at least affected by the comments of others. The second group of moms are tender souls and it is hard for them to just shake off the dust of comments by others.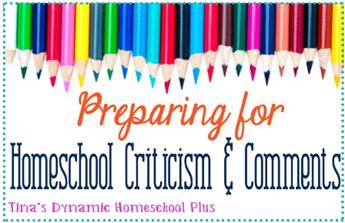 Key to Preparing for the Homeschooling Criticism and Comments of others
Facts & Statistics Speak Volumes. Not everybody is moved by your calling to homeschool and are only silenced or at least give pause for thought when you talk about facts and numbers.
Prepare Answers in Advance. It took only one time for me to get caught off guard when asked why I decided to homeschool. I not only wanted to prepare my mind,  but I wanted to represent other homeschoolers proudly. I had many replies and a few of them were:
I homeschool because I want my kids socialized.
I homeschool because my son was advanced and I needed to move at a different pace.
We homeschool because the public school schedule is not our family schedule.
Google Reasons to Homeschool & Add Your Own. There is no lack of the advantages for homeschooling. I created a list of reasons why I wanted to homeschool and then added more as I schooled longer. Creating your list now will add conviction to your tone and only strengthen your resolve to homeschool.
Be Peaceable & Have Seasoned Speech. Understanding that we all have a choice in how we educate our children and many will not agree helps to season your speech. It is hard to determine at times when to speak and when to keep quiet.  I feel many times that I have to defend homeschooling choices, but I have learned sometimes it is better to say it is not for everybody.
Homeschooling does require self-sacrificing and we live in a world that does not engender that spirit. I have given up many things to homeschool my sons, but none of them are worth trading for all the precious time and memories we have created so far. I won't look back and regret not learning professional photography, but I may have time in the future to learn it.
People are down on what they are not up on. I use this saying many times because everybody has a preconceived idea of what is homeschooling. Maybe they know somebody that did not take their responsibility serious and didn't really homeschool her children. It happens. Appreciating that sometimes people are misinformed helps us to deal with them in Godly ways. I always try to encourage a conversation with naysayers instead of rapid fire come backs. If they are truly interested they will have a conversation with you, but if they only want to criticize then don't waste your time.
Also, prepare your children so they are not pawns by the relatives. Relatives and other people alike can be very bold thinking they have a right to quiz children about what they are learning. Is it harmful or helpful? You can determine this by weighing in on what their motives are. Would this person be questioning your child if they went to public school?
When relatives speak up to criticize, it can create drama or not. Negative drama depends on your response, not theirs. Strengthen your homeschool resolve by preparing now for the fact that not everybody will be delighted about your lifestyle change, but then again you do not need their approval to embark on this exciting and memorable journey.
Have you got any responses ready?


Read my article: I'm Homeschooling Because  I Want Them Socialized
Ready my article How do I Socialize My Kids?
Read my article: Mom, Those Kids Are Going To Have To Get Out of The House Sometimes.
Hugs,

Save