Day 8: Organize Your Home – Then School
Day 9: Carp Diem: Homeschool Schedule by The Day, Month, & Year
Day 10: Grocery Shopping, Cooking & Laundry, Oh My!
Day 11: Swoon Worthy Learning Spaces
Day 12 Creative Storage Solutions
Day 13: Streamlined Record Keeping
Day 14: A Homeschooler's Back To School Supply List

Homeschool hoarders of supplies are a common and growing group. This is one area where I feel it takes some finesse to find exactly what will work for you, but it is common to have overflowing supplies at first.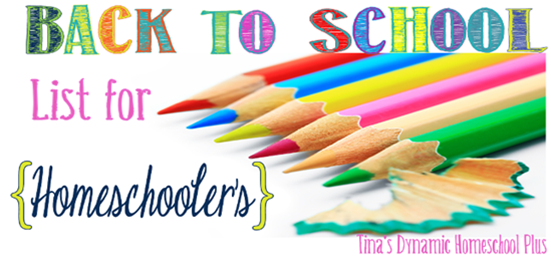 Look at my chart below as I divided up supplies into two categories.

Have you started on your back to school list? What do you have so far?


Check out my post  Homeschool Geography Go To Resources
Check out my post How to Use a History Spine to Build Your Study of History
Check out my post 50 Free History Unit Studies–History Lover's Round Up
Hugs