Day 8: Organize Your Home – Then School
Day 9: Carp Diem: Homeschool Schedule by The Day, Month, & Year
Day 10: Grocery Shopping, Cooking & Laundry, Oh My!
Day 11: Swoon Worthy Learning Spaces
Day 12 Creative Storage Solutions
Day 13: Streamlined Record Keeping
Day 14: A Homeschooler's Back To School Supply List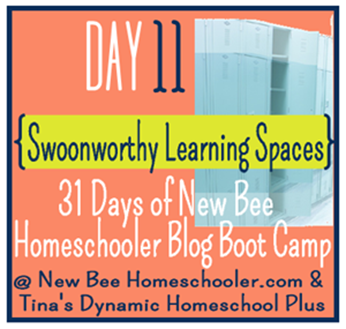 Not everybody chooses to have a school room, but all of us have to have an area that we feel comfortable learning in. Finding the exact niche in your home for welcoming tons of new books and supplies is not easy either.
Though my first area looked a lot like a mini version of a public school room, it has changed many times over the years to accommodate my sons as they have grown. Just like it is natural for your children to grow, it is normal to update and change your learning area each year with your family's needs in mind. Some years you will make drastic changes, other years changes will be more subtle.
Look at a few of these tips to keep in mind as you plan an area for younger children.
1. If you are teaching writing, be sure your children can practice good posture by making sure they have size appropriate furniture. We can't expect pretty writing if they are sitting on phone books at the dining room table.
2, If you have walking destroyers precious toddlers, then look at storing you supplies up and out of their reach like the top of a closet. Under a bed in a container with a lid that they can't pull out worked good for me for a few years too.
3. Because you will be getting little help in picking up items while you are training them, try to keep one room or area where you keep a majority of your items. It will be easier to locate what you need.
Look at a few of these things to keep in mind as you plan an area for older children.

1. Older children can crave privacy at times. Look at desks that extend, then fold back into themselves when they are not used. Even something simple that is attached to the wall, like a Murphy desk and then folds away works too.
2. Because you will have help as they are older, some of your books can flow out of your area and be kept in out of the way places. We have a large guest bathroom, and some of our books in magazine holders are kept there. But since my kids are teens they can help themselves and then put them back.
3. Kids are no different than you and I when they get older and prefer very specific supplies, pen or notebooks. Include them in making purchases because they have preferences too.
Let's lighten up things and look at some swoon worthy spaces. Maybe one of these will help you to be inspired with your learning area.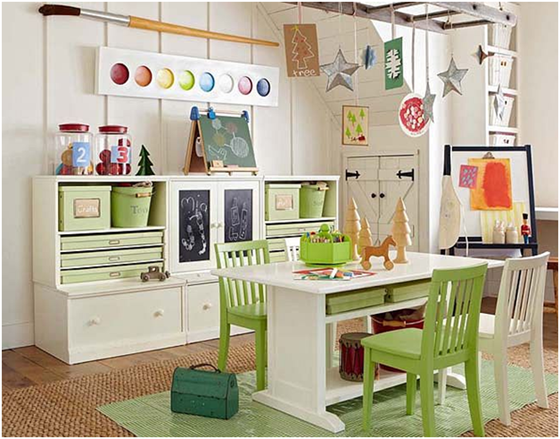 Though a lot of their furniture can be expensive, some of their pieces work great especially if you have all young children, you will get a lot of use out the furniture.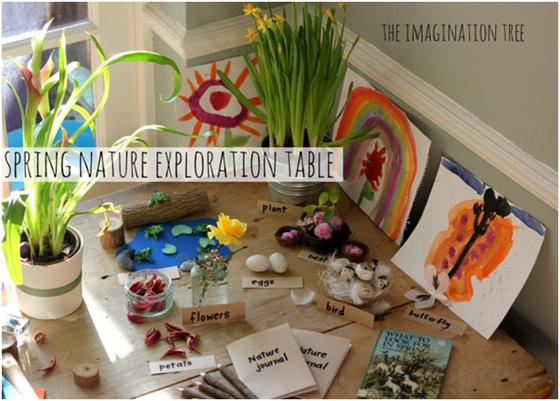 This is a great idea to show how you can have a science/nature table inside. It doesn't take much.

I love the use of space here, especially the wall space.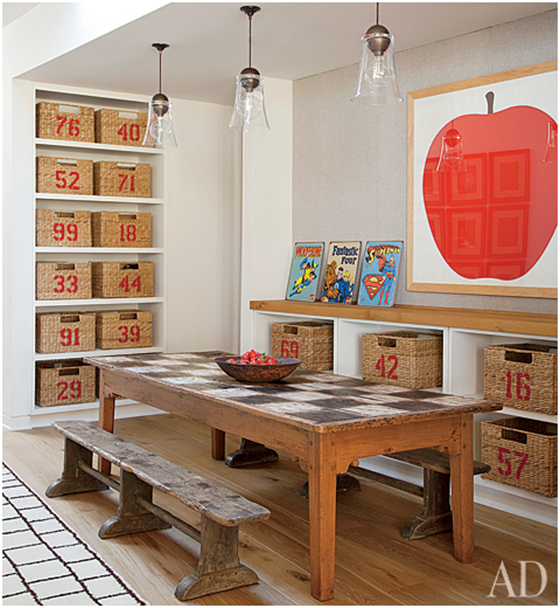 I love this table and storage, though I would include chairs with backs if you end up using an area like this for writing. But, for crafts it is great.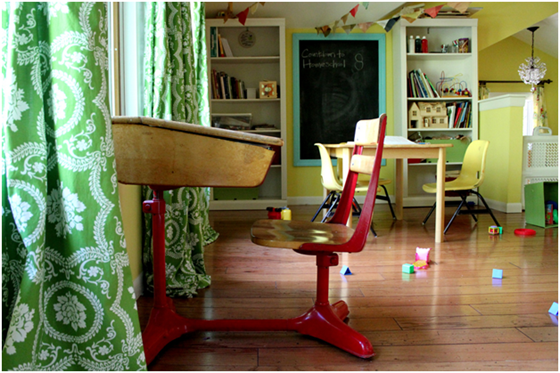 Love this cheery area for a learning area.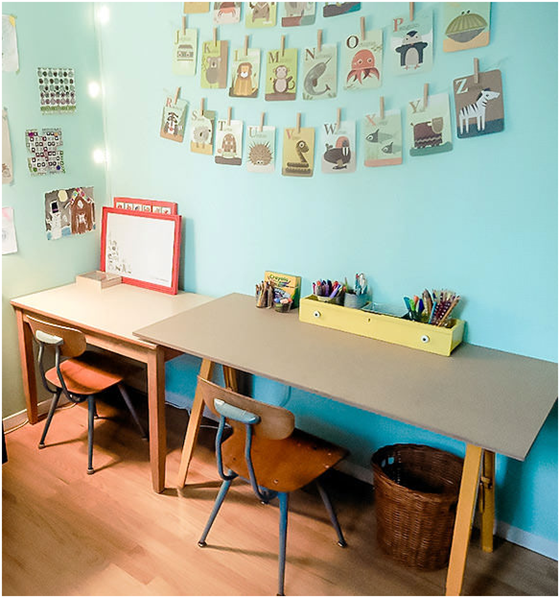 Love how she used the wall and you notice one space is a little higher for an older child and the other table is lower down.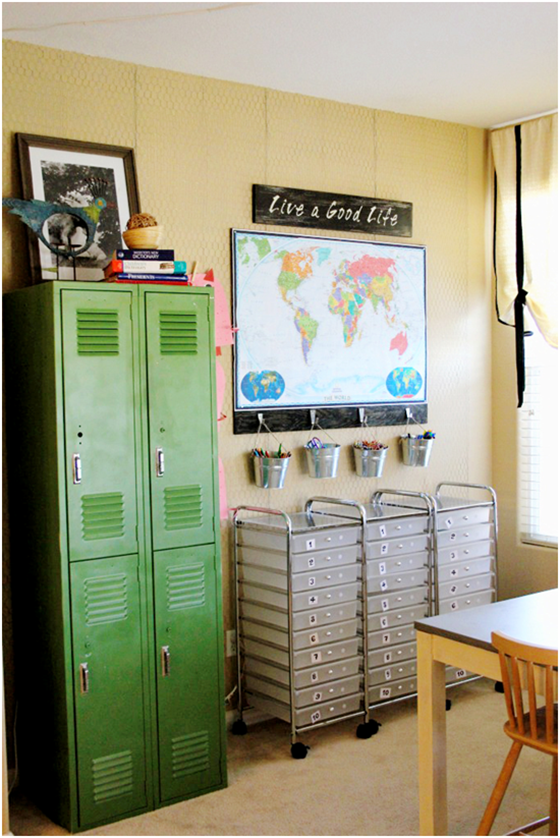 What is not to love about this school room complete with lockers and chicken wire.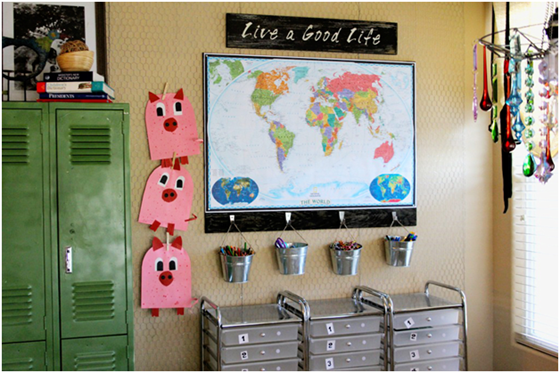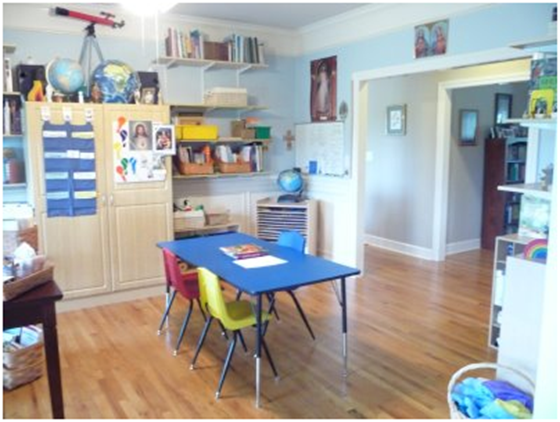 Source: Wildflowers and Marbles
Again, another living or dining area converted to school room.

Source: HGTV
I see this as an area for one or two small young children.

What a beautiful area to start off your journey in!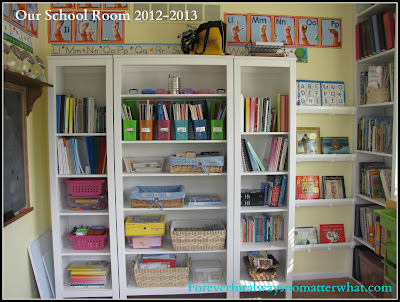 Source: Forever, For Always, No Matter What
I love the update Jennifer made to her room last year. It is the perfect example of what I am talking about when I say that sometimes changes are big one year and then another year they are subtle.
I have more pictures on my links below if you can't get enough eye candy. Click on each graph to go to the page.





Look here at Sharla's school room at The Chaos and the Clutter.
The fact that we have to draw some of our ideas from playrooms, crafts and offices makes it an unique experience when we find something that works for our family.
Do you have an area in mind in your home? Do you have pictures to share already?
I have more eye candy for you tomorrow!
Hugs and you know I love ya,