Okay, I couldn't resist naming this post Day:10 1/2  because all the posts in this Homeschool Organization series are slightly longer because I have been over the top excited and giddy to talk organization.


Day 8: Organize Your Home – Then School
Day 9: Carp Diem: Homeschool Schedule by The Day, Month, & Year
Day 10: Grocery Shopping, Cooking & Laundry, Oh My!
Day 11: Swoon Worthy Learning Spaces
Day 12 Creative Storage Solutions
Day 13: Streamlined Record Keeping
Day 14: A Homeschooler's Back To School Supply List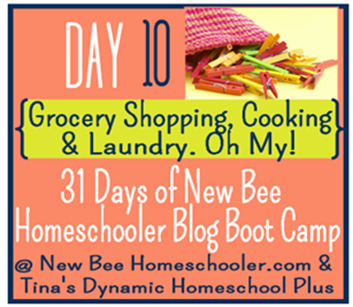 Planning for grocery shopping, cooking and laundry becomes a priority quickly because homeschool life settles down after the initial excitement and the everyday grind of keeping up becomes reality.
I want you to be energized when you give attention to this area of your life because when stress is kept to a minimum, you can maximize the enjoyment of beginning to school.
Paying attention to details like how you spend your day cleaning, cooking and doing laundry will help you to stay flexible. For example, I tried to bring my I have-to-have-an-all-day-laundry-day mind-set to homeschooling. The kids were all young and between hubby's work clothes and a newborn that can plow through three or more outfits in one day, I was overwhelmed.
Instead of having a plan, I had to stop/start my school as I fell behind in my every day housework and cooking. This of course was not good for my oldest son as I wanted to start setting a routine for our day. Addressing your need to have some type of order in your home is part of learning to school.
Sharing these practical tips in each area, I hope to spare you the mistakes of many, many, fine and wonderful cooks and moms turned fulltime home educator.
Grocery Shopping
Power of a 30 Day Menu Planner. On Day 8: Organize Your Home, Then School, I wanted you to not think of organization as a stranglehold, but as a safeguard. Here is where a positive attitude is helpful. I realize many cooks like to cook spontaneously, but menu planning is neither dull or boring.
Because I prefer to be doing something else enjoyable, I have not made it a habit to go the grocery store two or three times a week. When I first started homeschooling, I lived way out in the rurals or country and so I had to make every trip to the grocery store count.
Instead of worrying about what is for supper at the end of a long day of school, I simply have to look at my menu that morning and know that I have EVERY ingredient in the house.
Too, the advantage of planning 30 meals gives you time to enjoy each week and not have to worry about planning meals and grocery shopping so quickly. It takes me about 15 or 20 minutes longer to plan, but I squeeze so much time out of having a plan for 30 days.

I have a 5 inch binder now complete with more than 365 meals we enjoy. Start slow on gathering recipes of what your family likes and keep adding to them. When I started, I only had like 7 or so before I had to repeat. I took one year to focus mainly on family favorites and added to my binder.
Look at your month and notice which days you may have a field trip or a co-op and pen those days in so you can have quick meals.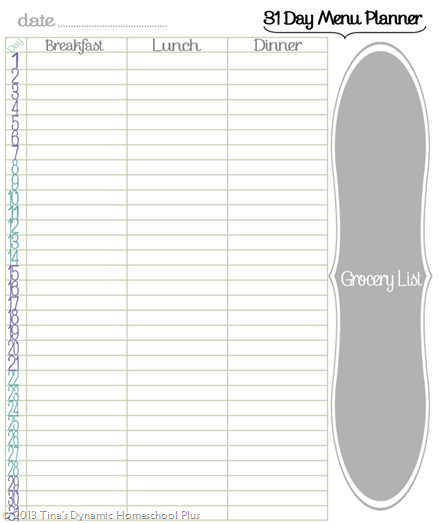 Here is my 30 day menu planner for you to download and Guess What? It is EDITABLE.
A Permanent Printed Grocery List Rocks. Below is my generic grocery shop list. I have another one too that is by aisle. Why take the time to do this? It takes LESS time at the grocery store  and you are paid over and over again with your organization.
And I'm sure that I have gotten everything on that aisle. Another benefit of having it by aisle is that if you coupon, you can match up your coupons and have them ready for each aisle AHEAD of time and not to do this at the grocery store.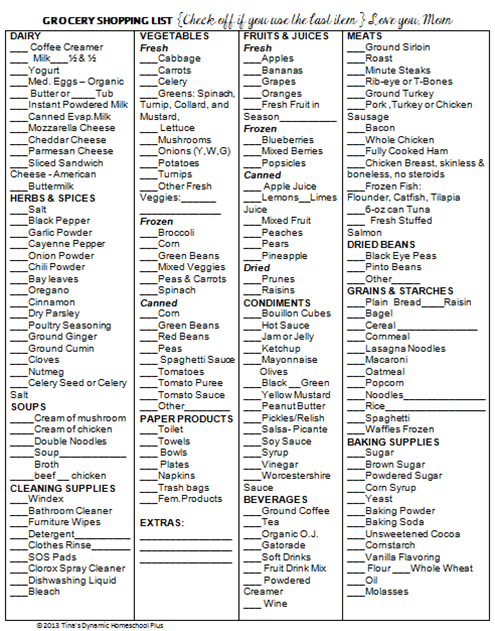 Yes, I have this for you to download too. Download here Grocery List and put it in a place where each family can be responsible for marking off something he/she uses last.
Too, life will throw you curves as you school longer. Many times I have been sick or swamped with caring for sick children and I have had to rely on hubby, my teen boys or somebody else to grocery shop.
By printing this off weekly or laminating it as I have some years, it stays on the refrigerator. Then my family is helping me when we use the last of a product because they can check it off on the list. My sons have done this from an early age and it helps them to appreciate my job as head cook and it teaches them organization.
Cooking
Crock Pots, Yes More than One are Your New Homeschool Friends. There is no rule saying that when you cook, you can't have more than one crockpot going. I have found it easier over the years that if I take the time to put in one supper into my crockpot, then go ahead and put in a few more so they cook all at the same time.
I am talking about your supper and/or lunch being cooked for the next day or so.
Cook with the End of the Week in Mind. Another life saving tip and especially if you have a big family is cook extra chicken, or beef or veggies at the beginning of the week when you cook your supper for that day. Put it aside and have it ready when you cook, for example, chicken tacos or lasagna. Part of it is already made.
I-Don't-Know-Why-I-Started-Homeschooling Meal. Okay, this is really called an emergency meal but I call it this because I have used my frozen meals I made ahead for bad days when I just didn't feel like schooling cooking. However, over the years having a few frozen meals in the freezer have been a blessing when I was either sick or had a sleepless night caring for sick children. I use to keep one in the freezer, but now I keep two or more. I tend to do more during the flu season.
Laundry
Give Up an All Day Laundry Day. Even when I took off a whole day to clean, I realized all day laundry days were almost impossible IF I wanted to get other things done on my day "off". I had to get groceries, clean and pay bills too. This does not mean that you can't catch up on laundry, it just means that you schedule laundry too.
Laundry Can be Divided and Conquered. It took me a few years before I was comfortable with low piles of laundry, but I realized language arts should come before laundry. So I set out to divide my laundry by more than just color and weight. I needed a workable plan to manage the laundry.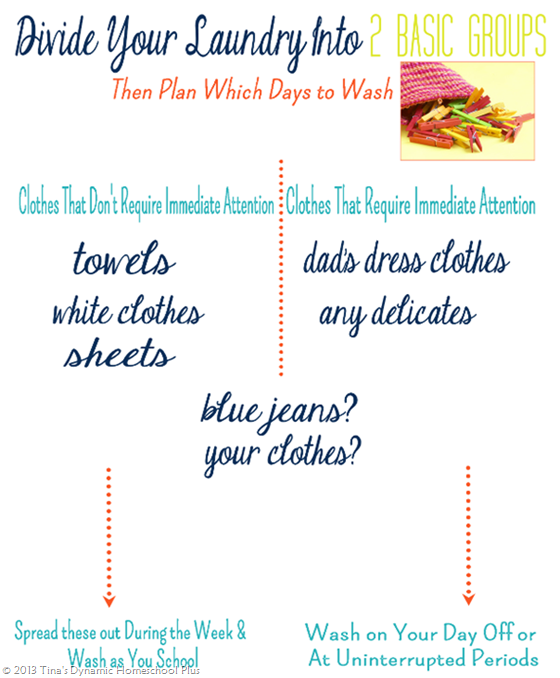 Dividing laundry into these two mental piles has been a life saver for me.
I am able to spread out my laundry during the week for clothes in my pile that are obedient or require very little fussing. For example, does it really matter if your underwear gets folded right away or not? Or if you are right in the middle of explaining a math problem and you see your child's face light up  because he understands the math problem and at the same time the washer beeper goes off, can't the clothes wait to be changed?
Saving the nicer clothes when I am around the house in/out has made it easier to give them attention immediately.
You decide on your mental list whether or not a group of clothes require immediate attention. For example, my husband prefers nice, creased and unwrinkled jean so I give them immediate attention. When my boys were younger, it didn't really matter about their jeans not that they were wrinkled, they just didn't need to be in top shape all the time.
Getting it All In!!
Take a look at my schedule for suggestions on how to get it all in. This schedule I left intact "as in" because I had created it when the kids were younger, all elementary ages. You will notice that I put everything down that bothered me.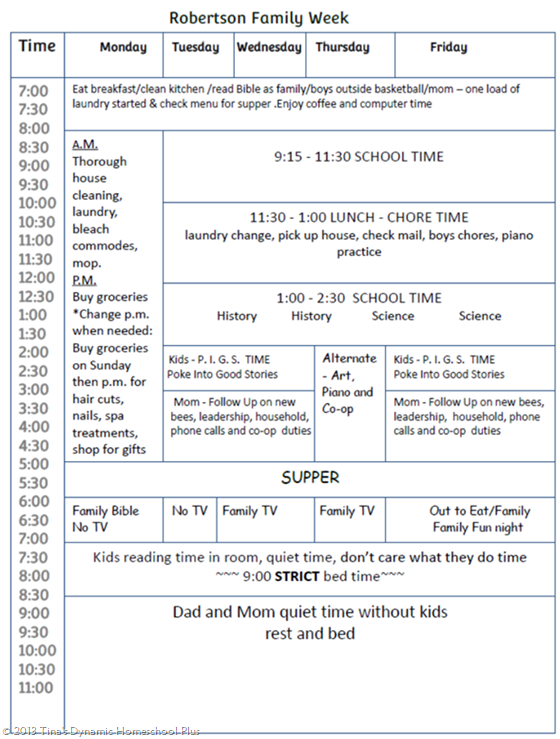 Grocery Shopping, cooking and laundry do not need to be compromised because you started to homeschool. It just all needs to be assigned a spot like I mentioned in Day 8: Organize Your Home – Then School.  We are moms, wives, daughters and Christians. These needs have to be met and we all need balance.
The first and second year of homeschooling is about finding that balance. Do not start school without plan to only have to stop and feel like a failure halfway through because you didn't come up with a plan.
It takes a lot of energy to set realistic expectations and then redefine them again. Take time to do it now before you jump fully into homeschooling will only benefit you.
When we free ourselves of clutter, control our schedules and find workable solutions, we are on our way to being more "organized" and on our way to overcoming organizational hurdles.
Hugs and you know I love ya,