Summer is a perfect time to get in some relaxed themed learning with unit studies. Kids of all ages can have fun learning with topics they will be eager to study. You can make them hands-on with outdoor activities or beat the heat with a trip to an air-conditioned library to pick out the books you'll need. Start with this ultimate list of A to Z Summer Homeschool Unit Study Ideas and let your imaginations run wild!

Summer Themed Unit Study Topics
A
Ants
Apples. You can grab my Apples Unit Study and Lapbook.
Archaeology. You can grab my free What is History and What is Archaeology minibook here.
Art
B
Bears
Beaches
Berries
Barbeque
Bees
Butterflies
Bats
Birds. You can grab my free American Robin Unit Study and Lapbook here.
C
Cats
Cows
Creek life
Camping (National Parks or outdoor survival)
Character
Clouds
D
Dogs
Dragonflies
E
Elephants
Eggs
Exercises
Earthworms
F
Frogs. You can grab my free Loads of Toads and Frogs Unit Study and Lapbook here.
Fish
Fossils
Fireworks
Fishing
Fireflies
Fire (how to build, science behind it). Look at Lewis and Clark: Hands-on History. Make a Char Cloth.
Firefighters/dispatchers
You'll also want to check out the free curriculum and programs that Homeschool Buyers Co-op has just for summer. It's a great way to see if you like a curriculum and they have so many free and fun things to try.

G
Garden studies. You can grab my free Feasting and Foraging Unit Study and Lapbook here.
Grass
Grasshoppers
H
Hurricanes
Horses
Hogs
Hiking
Hygiene
Hydration/heat
Herb garden

Something else fun is easy backyard science. Don't make learning science in the summer more complicated than it needs to be. We love this book Backyard Science.

I
Insects. You can grab my free Amber Unit Study and Lapbook here.
Ice cream
J
Jewelry making
Juice, jelly, and jam making
K
Kites
Knots
L
At the lake
Lighthouses
M
Mountains. Look at How Does the Power of Ice Shape Mountains here.
Mice
Moon
Mammals
N
Nocturnal creatures
Night study (astronomy)
O
Ocean studies. You can grab my free Ocean Unit Study and Lapbook here.
Outdoor movie theater
Ocean animals
Otters
P
Pizza
Peninsulas
Popcorn
Picasso. Grab free Art Study Curriculum and Notebooking pages here.
Precipitation
Police
Pond life
Picnics
Punctuation
Q
Qatar
Queens in history. Grab my free Famous Pharaohs and Queens lapbook here.
R
Rivers
Reptiles
Rainforest. Grab my free Amazon Rain Forest Unit Study and Lapbooks here.
S
Sea shells
Shores
Sailboats
S'mores
Stars
Sun/sunscreen
Spiders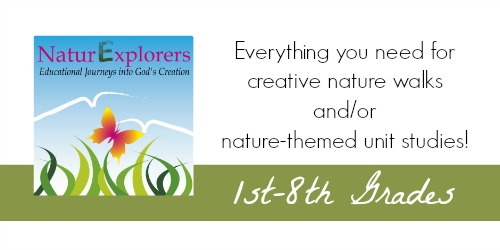 And we always love nature walks anytime of the year and love this series of nature books!

T
Turtles vs tortoises. Grab my free From Egg to Sea Turtle Unit Study and Lapbook here.
Tortillas
Trees
U
Underwater creatures
Underneath the ground
Underwear (history)
V
Vision
W
Water sports
Water crafts
Waves
Watermelon
Whales
X
X-rays
Y
Yaks
Z
Zebras
Zoology
Zoos
Zip lining
You'll love these other ideas:
I hope this list of 100 ideas will get you thinking about hands-on A to Z summer unit study fun!


This blog hop is organized by iHomeschool Network, a collaboration of outstanding homeschool bloggers who connect with each other and with family-friendly companies in mutual beneficial projects.

Click the image below to visit all the other blog articles from the homeschool moms of the iHomeschool Network.
Hugs and love ya,