With summer quickly approaching I thought a fun beach themed activity would be just the thing to keep kids interested and learning even with the end of the year burnout that we often face. I put together a fun activity – how to dissolve a seashell.

Seashell Acid Base Experiment
I remember doing it myself years ago; I like it because it's low cost, easy to assemble, and the kids can do most of it on their own.
It gives them a visual of what might be going on beneath the ocean's surface and truly can give them a glimpse of what acid can do in general in a safe manner. This simple lesson covers chemistry as well as including some conservation awareness.
What is a seashell anyway?
Seashells are mostly made up of a substance called calcium carbonate which is easily dissolved when left in vinegar even for a few days.
A seashell is the exoskeleton of mollusks. This could be an oyster or a sea snail for example.
Vinegar is great for a quick wash and disinfection of the seashells you bring home from the beach, but if you leave them in for too long they begin to eat away at your seashells.
Let's see what happens.

You will need:
white vinegar
seashells
a glass jar
Ocean Acidification Activity
Directions:
You can either use seashells from your collection that you've brought home from your own beach visit or you can purchase a bag at Dollar Tree.
Save the extra for a fun art project or you can place them in a pretty jar for summer decor.


Place a seashell or two in your container of vinegar. Be sure to cover them completely and watch as bubbles immediately begin to form, this is carbon dioxide.

It is a product of the reaction between the acetic acid in the vinegar and the calcium carbonate of the seashell creating a gas. Science is cool, right?
Add in a few fun workbooks like this Ocean Habitats activity book by Evan Moor and it's easy to sneak in learning too.


Check out what's happening. In just 12 hours or less you should be able to see the edges of the shell eroding and maybe some holes in the center of the shell in the weaker areas.

Encourage the kids to check the progress of the shells and vinegar every few hours.
This photo is after 24 hours of soaking in vinegar, after about 12-15 hours the acid left in the vinegar will no longer be effective at dissolving the shell so you can dump it out and add fresh vinegar.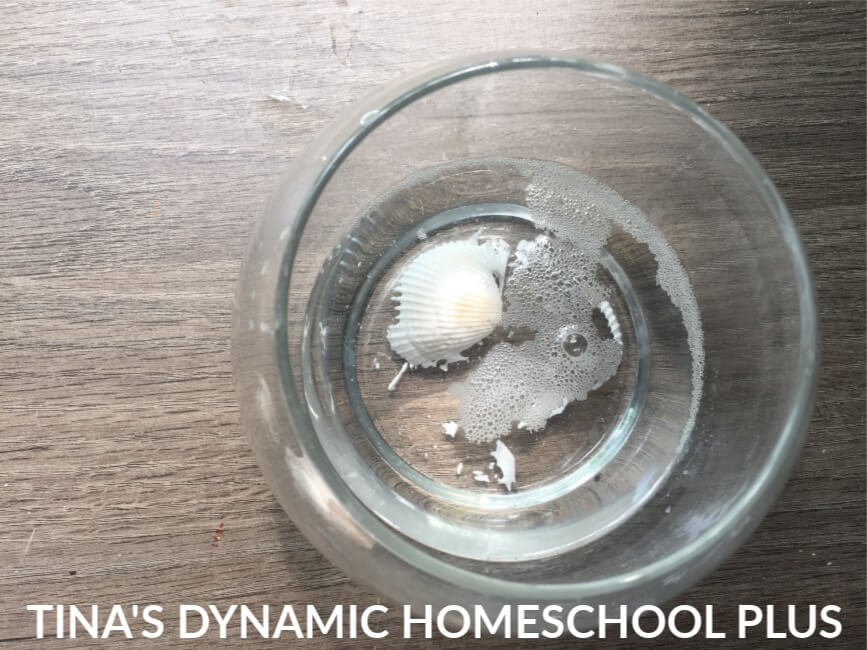 We changed ours out three times during the experiment and it took about three days for the to seashells to dissolve completely.
Ocean Unit Study Activity
After 2 ½ days, all we have left is just a few remnants of the seashell. It is amazing how quickly this common acid begins to change the seashells, thin shells will go even quicker.
This is a great lesson to talk about the impact that pollutants have on our oceans.
Chemicals which are dumped intentionally or even accidental runoff of chemicals can affect the delicate organisms that live there and eventually larger animals.
Ask your child what they can do to change things in the future or what impact, positive or negative, that they can have on the oceans and other nature.
We also choose a few books to learn about shells more in-depth.
For anywhere from preschool to Upper Elementary the Let's read and find out science books or one of our favorites for delivering information in a more fun and engaging way than a textbook might.


Shell guides are a great item to take to the beach with you, you can quickly and easily identify the shells that you find while you're there and because they're laminated there reusable we take them to the beach every time we go.


Ocean Seashell Chemistry Activity
You can take this experiment a step further by choosing 2 or 3 other liquids to soak your seashells in. Try placing tap water in one jar, vinegar in another, soda, lemon juice or even salt water in others. Label each container with the contents so that you know what is in each.
See how long it takes for the seashells to erode, does the water or saltwater do anything to the shell? How quickly did you start seeing changes to your shells? Be sure to have your child record their hypotheses, observation, and of course the results in their science journal.


This project would make a great science fair project.
Your child can share it just with the family, as an end-of-the-year project, or if your Co-op has a science fair it would be a wonderfully simple demonstration to share with a group.

You'll love these other ocean themed activities: