Summertime homeschooling is the time to add spice to your routine. Because summertime conjures up lazy days at the pool or a trip to the beach, also take advantage of a more relaxed schedule.
Besides, summertime is not only a great time to begin homeschooling, but a way to have a relaxed start to the new year. Kids won't even realize they're still learning with these fun summertime schooling ideas below.
Whether you want a break from a more rigid schedule, feel like last year's curriculum left you feeling less than inspired, or want to use summertime to put a foot in homeschooling, you'll love these eight tips.

8 Ways to Use Summer Time to Kick Start the Homeschool Year
Mix and match these tips or use one to put the spark for learning in your new homeschool year.
ONE/ Target one element of language arts like writing.
Although many new homeschoolers think they have to wait until the fall to begin their year, it's so much better if you get a feel for teaching by focusing on one subject.
It may be a subject your child is struggling with or a subject which interests him.
When I have summertime with my high school teens, being absorbed on one subject like their writing keeps it from being overwhelming when they have a heavier load at the beginning of the year.
I love the courses by Writing Rockstar.

For example, one year we focused on strengthening writing skills through a course set to my teen's pace.
Slowing down and lingering on a subject like composition encouraged my son's love for writing; it allowed him time to pursue his passion of writing without the pace of a hectic schedule.
Also, whether you're looking for a poetry class, an online fun self-paced course for a high school teen or your younger kids, you'll love the variety of wonderful literature at Literary Adventures.
THREE/ Dive deep into a subject which gets overlooked like ART or MUSIC
Art is a subject that can easily get overlooked during the year. Have you seen this fun Art History Kids.

Until we started taking online art classes art was a struggle for us. I'm not an artsy person, but we love art.
During the long relaxed days of summer, it gives us a time to indulge our love art.
Then,, music study is a much overlooked study, although it shouldn't be. You'll love these courses.
These are high school courses, but Music in our Homeschool has something for just about every age.
Kids love the feeling of doing authentic jobs, and kids these days really need creative work to do with their hands. Your Kids will love their courses.

FIVE/ Add fun subscription boxes.
And subscription boxes nowadays rock our world with fun learning. They keep our homeschool day fun and lively. Try one or two!

SIX/ Watch educational movies.
Educational movies make a great start to school. It's easy after pulling your kids from school to jump straight into book learning.
You may think that is what homeschooling is about. Beginning your year with educational movies puts the whole family in a relaxed mood.
Pop some corn and grab one of these movies from the list below to begin your learning journey.
Grab my Free and Useful Editable Movie Report For Homeschool to learn with movies.
SEVEN/ Don't forget refreshment and education for the educator.
The worst thing you can do in the beginning of your school year is to focus solely on the needs or your kids.
Taking time to educate yourself about homeschooling or just grabbing some refreshment will give you the boost you need for the new year.
I love the fact that Fortuigence has a free course for parents about writing. It it a subject lot of us struggle to teach.
EIGHT/ Homeschool unit studies nurture a love for learning. Do one or two.
When children have control of their learning, school can go a lot more smooth. Unit studies have a way of nurturing a love of learning because you can pick topics that pique your children's interests.
I have volumes of free unit studies here on my site. Here are some of my 26 Free Nature Unit Studies for Multiple Ages.
Living books for multiple ages is also a great tip when your budget is limited. These nature living books I use below are from – NaturExplorers.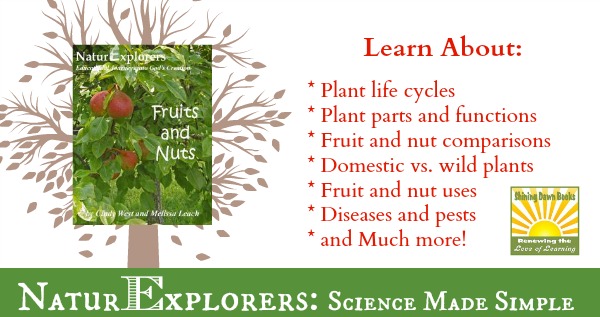 Pick one or two and recharge your kids' love for learning.

You'll also love these other ideas to use summertime as way to put your foot in homeschooling:
Hugs and love ya,