Amber – Freezing Gold Lapbook and Unit Study
In ancient times it was called the gold of the North. Amber has been called freezing gold, a window to the past, a time capsule, captured sunshine and a golden tear. It is all of these things.

Amber has long been prized for its beauty in jewelry. The beautiful warm golden color fascinates jewelry admirers everywhere. However, it is so much more than a piece of art.

Ant in Amber
Pict. Att: Mila Zinkova – Wikipedia
When amber captures and holds insects, some intact, it becomes a treasure, a fossil. Each and every form of fossil is precious. Why? Because they provide so much information about past life on earth.
What is amber? How is it formed? Why are insects attracted to it? What kind of insects became fossilized in tree sap?
It's a sticky situation…

Have you ever seen a dead bug or insect and wanted to preserve him? Amber is a natural preservative, an embalmer. It is a piece of history frozen in time. Even scientist cannot make a better storage system than one that is already provided by God. The Bible says at Psalm 104:24, "LORD, howmany are Your works! In wisdom You have made them all; Theearth is full of Yourpossessions."
Amber – nature's freezing gold just touches on the many facets and fascinating topics about insects and science.
Because this unit is aimed at a middle school student or an introductory unit for a high schooler, I have just generally classified fossils in two groups. If your student is older, he can determine the difference between an imprint and trace fossil.
Insects-a blessing or curse is another topic to discover. Insects play a vital role as scavengers and soil builders. What would happen if these insects were wiped off the earth? Flowering plants depend on honeybees, bumblebees and moths to name a few for their existence and pollination.
Finally, what do these small chunks of treasures tell us about the fascinating creatures of God that they hold prisoner?
Language Art Ideas About Amber
A poem we liked by Garry Platt:
'Amber, the freezing gold, that is not hot and is not cold
Has caught within its dreaming arms, the insects and the flowers charms
Time has kept as still as death, holding instant, every breath
Now from out our fading past, a scene which can forever last'
















We enjoyed the poem so much by Gary Platt that we made a simple notebook page with some scrapbook font, illustrated his poem in the oval and we all memorized it. So it can be used as memory work or a notebook page. However, we did not have the kids write it, just enjoy it and soak up all the beautiful words that were so moving to us.
Also, here is another poem which is beautiful and would make an excellent choice for copywork:
Pretty in amber to observe the forms
Of hairs, or straws, or dirt, or grubs, or worms!
The things, we know, are neither rich nor rare,
But wonder how the devil they got there.
—Alexander Pope (1688-1744)
Books About Amber
Then whether you agree with their findings or not in this book, What Bugged the Dinosaurs?: Insects, Disease, and Death in the Cretaceous you'll love the exotic insects fossilized in amber. It's for a middle and high school level. It talks about dinosaurs and diseases and can be quite graphic in describing death.
The Amber Forest: A Reconstruction of a Vanished World was written by the same authors as the other book, but it treats the material in a very different way. This book looks at the forest ecosystem as it may be understood from what has been preserved in amber. While small insects are by far the most common things found, other creatures have been caught as well.
Also, look at a few of these fun hands-on ideas for the younger kids:
This Free Amber Lapbook is a Subscriber Freebie. Follow me, get access to my Exclusive Subscribers Library to access this lapbook and my other free printables.

This is how you get access to these pages quickly.
► 1) Sign up on my list.
► 2) Go to your inbox and confirm your email from the automatic reply I sent you.
►3) Look for the automatic reply giving you the password to the private subscriber's area. You should have it soon.
Amber and Insect Unit Study Resources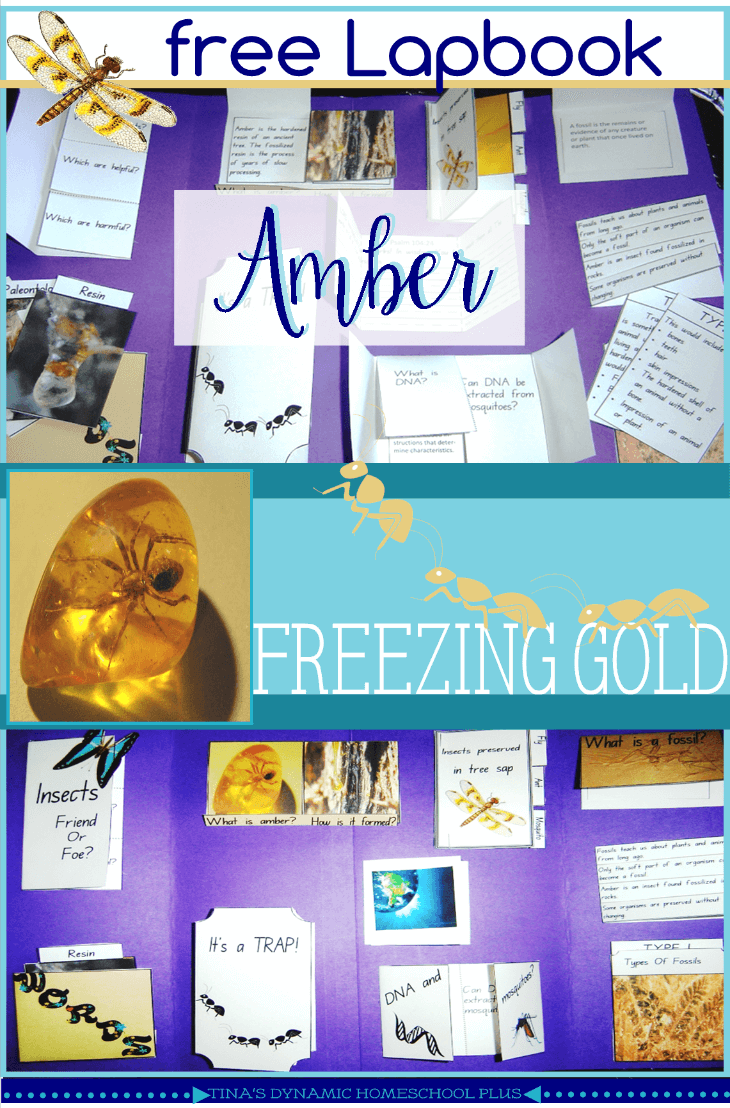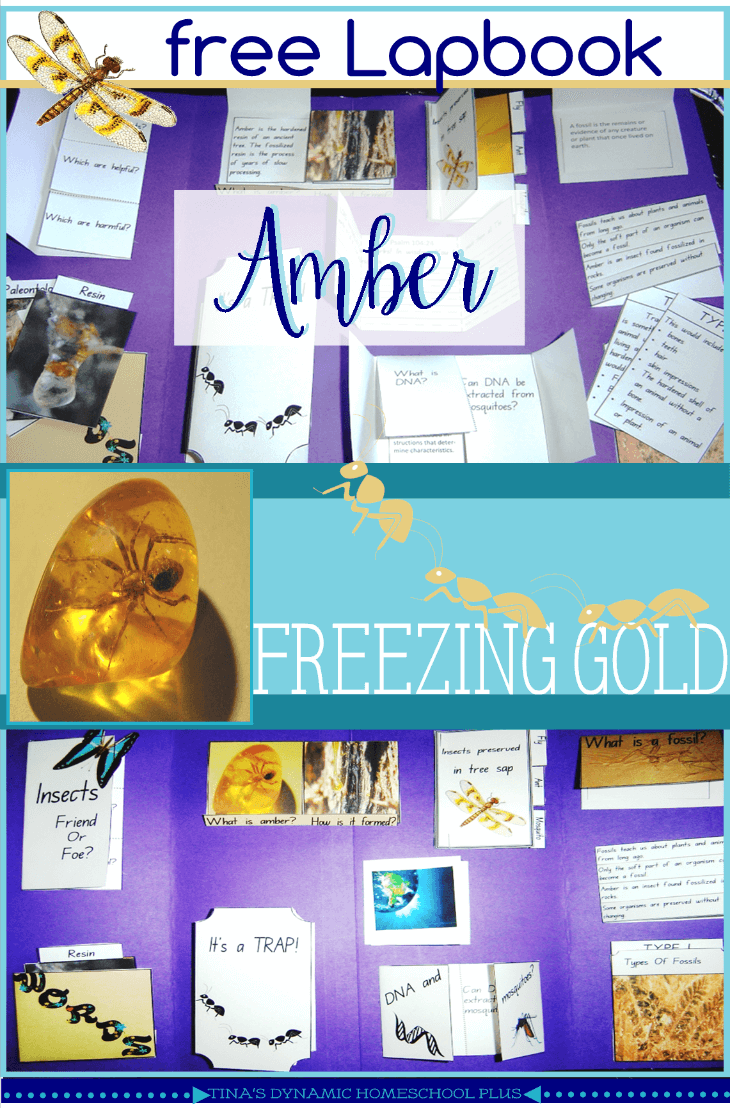 If you love this lapbook and nature study, you'll love these other unit studies: