Day 22: Homeschoolers with Preschoolers – Truth or Dare?
Day 23: But the Dear Doesn't Want To Homeschool
Day 24: Finding Curriculum For Unique Learners
Day 25: Homeschooling Happily Through Highschool
Day 26: Rebel or Resister – Are You the Cause?
Day 27: Easy Ways to Break Out of a Homeschool Rut?
Day 28: Over Scheduling, Over Planning, Over Load!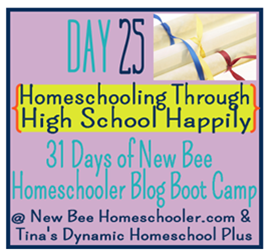 One day quite a few years back in my humble homeschool beginnings, Kelley and I paraded right to the very front row of a workshop about homeschooling highschoolers. It was one of our first homeschool conventions.
Sitting happily, hoping as if by osmosis that we could devour every seasoned veterans' experiences about high school, we both realized as the speaker started to talk that no bolt from the heavens would come down and infuse us instantly with highschool expertness.
Bewilderment turned to plain anxiety when the speaker ask that parents of 14 and 15 year old kids come to the front row now so that he could assist them with the other parents presently sitting there.
A graceful and fast exit we tried to make as we had determined that we could not find a teen among our 3 year old and 5 year old. I still get a huge chuckle today when I think about this, but it also reminds me of the deep seated fear that I had of the high school years.
I agree with Sir Frances Bacon when he said: "Knowledge is Power" and especially when it comes to homeschooling in high school. Knowledge is acquired over time so that it becomes of value and you will acquire it too. Instead of focusing on exactly how you are going to do it, focus on foundational pegs that will keep you moving to homeschooling while in highschool.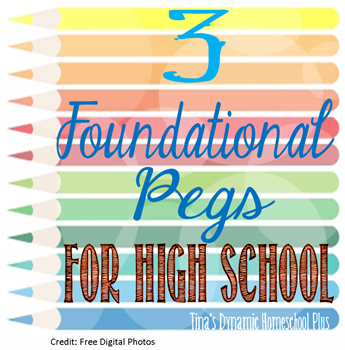 Here are some foundational pegs to take notice of:
Highschool is Just A Continuation of Education. Keep in mind that you still ARE the best teacher whether you arrive at highschool after many years of homeschooling or whether your teen has just left high school. Highschool is a readiness program for adulthood. You as the parent are the one most qualified to do that.
Focus on the 3 R's and on creating a unique experience for your teen by pinpointing subjects that he will need. I heart this motto and have kept it in mind as I planned courses for Mr. Senior 2013 and now planning for Mr. Awesome: "Always be a first-rate version of yourself, instead of a second-rate version of somebody else" by Judy Garland. How VERY true in high school.
Plan Backwards by Looking Forward. Plan for life after high school by looking forward and working your way back for courses to fulfill. If your child is college bound, then take time now while they are a teen to find out what the requirements are for college and adjust your transcript accordingly. Not all highschoolers are college bound, but may prefer a vocational school or missionary service. You still need to look forward at the requirements and work on those over the teen's course of middle school and high school.
Learning to weed out knowledge or courses that are not relevant to your final goal should be accomplished during high school. In other words, high school is not the time for busy work, but rather for subjects that will help your teen reach his goals.
Your Hat Changes from Teacher to Supervisor. A few parents my yammer at the thought of given their child the teacher's manual. However, how can they teach themselves if they don't have access to it? Sure, in the beginning a teen just out of highschool may use it to find answers. Then again that is all he may have been taught from his previous educational experience. When he realizes that he actually needs to learn the subject, he builds an appreciation for learning. He sees that you have placed confidence in him and that he needs to take his learning seriously. Both of my older boys work their problems, then look at the teacher's manual. However, I check their work by having them tell me at ANY given time what they know. That is mastery of learning and the teacher's manual becomes a tool.
Resorting back to the teacher's hat too during the high school years is common too.
It may sound absurd when I say you actually need to homeschool until 12th grade, but it is very true. It is the manner in how you homeschool a young adult that will change. They need your guidance and patience as they apply for colleges, looking for part time work, look at missionary work or take care of their first car.
There is life after graduation and high school is just a continuations of the journey.
Hugs,

Also check out these links:
Homeschool High School The Must Cover Subjects Part 1
Homeschool High School The Must Cover Subjects Part 2
Homeschool High School–How to Log Hours for High School?
Homeschool High School Readiness?