Day 22: Homeschoolers with Preschoolers – Truth or Dare?
Day 23: But the Dear Doesn't Want To Homeschool
Day 24: Finding Curriculum For Unique Learners
Day 25: Homeschooling Happily Through Highschool
Day 26: Rebel or Resister – Are You the Cause?
Day 27: Easy Ways to Break Out of a Homeschool Rut?
Day 28: Over Scheduling, Over Planning, Over Load!

When I first started leading classes for new homeschoolers, I thought the most challenging parents I had to help were those with triplets. Then, numerous parents who are homeschooling children with special needs or unique learners entered my workshops throughout the years. My journey of understanding their needs began because I do not have a special needs child. How would it be possible to help somebody if I didn't have a child with special needs? I did have one child with speech delay so I could sympathize, but it is still not the same.
By helping families that have children with ADHD, dyslexia, processing disorders or autism, I learned that these parents have to be the best advocate for their children. There is no way another person can fully appreciate what a parent goes through that has a unique learner.
These parents seem to find an inner strength that I admire. They share with me how their special needs child slapped them in the face because the child didn't know how to deal with feelings of frustration. They find a way each day to look past those types of things and go on. Parents with unique learners are the backbone of the homeschool community. They know the traditional way of learning in a classroom will not meet the needs of their children, most of whom are very bright.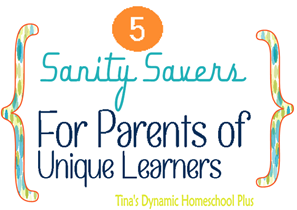 My best advice to these parents who are determined to homeschool with a hardiness that a lot of us can learn from is this:
1.) There is nobody else, even professionals who knows your child better. Make it your determination to know EVERYTHING there is to know about your child's strengths and weaknesses.

2.) Without trying to make you feel defeated, I want you to know that there does not exist curriculum that is just for unique learners. There is curriculum that is easier to tweak for your learner, but most of it does not fall into the boxed curriculum method..

3.) Do not try to follow the scope and sequence of ANY curriculum. Children that learn differently develop skills, for example, like reading at a later time. Teach to their strengths. They may be developmentally ready later for reading but excel at math. Focus on what they can do instead of what they cannot do.

4.) I have learned that visual aids help challenged children chart their progress. Because a lot of unique learners may also be right brain learners they have to "see" math or "see" language arts. They can be learners that learn whole to parts, which is opposite of the way that phonics is taught. This is opposite of the way a lot of public schools teach.

For example, phonics is taught through letter sounds put together to form words, then sentences and then paragraphs which is parts to whole words and sentences teaching.

Challenged learners sometimes learn better by seeing the whole picture first or globally, then focus on the parts.

5.) Resources that educate you are far more important in understanding curriculum than looking for years in frustration trying to find curriculum that your child can use. They help you to turn any resource into something that a unique learner can use.

Look at these resources:
Learning in Spite of Labels by Joyce Herzog

 Upside-Down Brilliance: The Visual-Spatial Learner by

Dreamers, Discoverers & Dynamos: How to Help the Child Who Is Bright, Bored and Having Problems in School (Formerly Titled 'The Edison Trait') by Lucy Jo Palladino

The Highly Sensitive Child: Helping Our Children Thrive When the World Overwhelms Them By Elaine Aron

The Out-of-Sync Child – Recognizing and Coping with Sensory Processing Disorder By Carol Kranowitz
Look for curriculum that is more visual along with learning aids or hands-on that makes it easier to teach children that learn differently.
An example of some of the curriculum resources that parents have used for unique learners are: All About Spelling, Math U See, Living Math, Brave Writer, Handwriting Without Tears, Explode the Code, Games like Stack the States on the iPad, Eyewitness Book by Dorling Kindersley, Kidspiration Software and Life Of Fred.
Some take delight in making lapbooks.  My blog has lots of free lapbooks and so does Homeschool Share.
Tapping out music to sounds they are learning or creating art to learn about history are other creative ways to learn. DVDS about history and geography, drawing significant events in history and even playing Mine Craft are strengths of visual learners.
Please do not discount creative ways like playing games as not learning. Children of any age can learn any subject by playing a learning game, but unique learners especially benefit.
Apps that use a stylus and help form letters are now making their entrance into our world.

Look here at Letters Makes Words.
Check out the apps too on my Pinterest page, click on the picture below.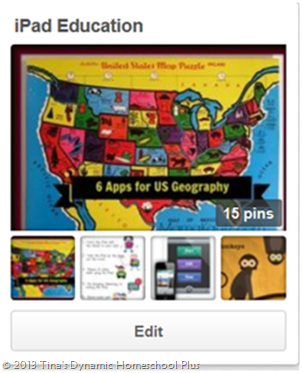 More importantly than finding curriculum is understanding the fact that you are teaching a child and not curriculum.
Do not get on the band wagon of those who always use a left brain measuring stick for progress. If you do, instead of realizing the brilliant child you have, you may feel like you have a child that is always behind.
When we all accept that our children learn outside the box and equally praise a gifted artist right alongside a child that read early, then we have tapped into the real meaning of an excellent education.
Struggling with the challenges of a unique learner now produces a confident teacher later.


Look at my article: Can I really homeschool my special needs child?
Look here at Sharla's article: How Notebooking Worked for Us
Hugs,