Day 22: Homeschoolers with Preschoolers – Truth or Dare?
Day 23: But the Dear Doesn't Want To Homeschool
Day 24: Finding Curriculum For Unique Learners
Day 25: Homeschooling Happily Through Highschool
Day 26: Rebel or Resister – Are You the Cause?
Day 27: Easy Ways to Break Out of a Homeschool Rut?
Day 28: Over Scheduling, Over Planning, Over Load!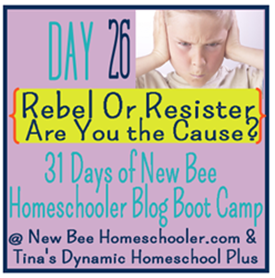 Channeling a self-willed child can be compared to either hitting a concrete wall or floating along a calm stream. I am firmly convinced that a child alone does not determine whether you hit this wall or float calmly. Our children, like us, are products of what they have experienced learning to be at this point in their lives. They are a reflection of positive or negative experiences. A well informed educator can repel problems or at the least be prepared for them.
Day 26: Homeschool Rebel or Resister – Are You the Cause?
I agree that it can be hard to look at the positives of a self-willed child, but we need to understand the difference between a rebel and a resister. They are not the same. But, because I could talk about this subject for 2 hours and I do in my No. 5 Workshop: I Don't Wanna, I want you to understand that a rebel is somebody that consistently disobeys authority.
On the other hand, a resister is somebody who can refrain or just not do something or they may actually just resist you.
Even the most well informed parent has a hard time telling if it's resistance or rebelliousness.
Take a look at some of these tips to decide which is which and put them in your homeschool arsenal for when you need them:
1) Does your child only express what you think is rebelliousness during school? If so, then it may be resistance no matter how ugly the show down between you and your child was. This tells me that whatever assignment he is doing could be causing some anxiety. Is it too hard? Is he gifted and it's too easy? Are you presenting curriculum that is hard to learn because it is not his learning style?
On the other hand, if he is rebellious about doing his school, doing chores and is cruel on a daily basis to his siblings and shows disrespect to you as his parent, it may be rebelliousness and not the new homeschool routine. It becomes a case of discipline.
Hear my heart on this. If this is the case, you are not alone. Some children do grow out of this, but just have a hard time dealing with body changes and hormones. Don't be too quick to pin the label rebel on him, but if it does happen, cut back your school to focus on what is important and that is your relationship.
2) What value is learning if we can't investigate our interests? Children, like us want to learn about things that interest them too. A child may become self-willed if he was forced to bend to another one's will or stay in sync to a scope and sequence that was not a good fit. If that force was not motivated by love as it is by parents, then a child might be asking "why risk getting hurt?" Then rebellion sets in and it becomes a battle of the wills. Again, place a precious value on what your child tells you and this helps them to resist the urge to be a rebel.
Even if his ideas are far-fetched for how he should do his school work or what he should be learning, he knows you gave him a listening ear.
3.) Boundaries equal limits and children thrive within them. A rebel will push and test the limits. Inconsistent discipline, inconsistent school schedule and inconsistent rules breeds a rebel. All three of these things can be taxing to get a handle on when you're new to homeschooling.
It is better to do less in the day and keep expectations clear so that you are not frustrating any of your children, than it is to push ahead and then take off days because you are behind.
Consistency, no matter how small keeps mutiny in homeschool to a minimum.
Create boundaries and a few rules so that they are easier to remember. A flexible, but clear schedule posted in a prominent place helps everybody to see how to get the day started.
We all have buttons that can be pushed, so we need to realize when our child is pushing them. If we have to postpone discipline because our emotional tanks are empty, do so. When both a child's and parent's emotional tanks are empty, this is a collision course and not the best time to correct behavior.
You are not alone. We ALL deal with resistance and rebellion and as long as we're human we can't completely eradicate it, but we can cope successfully with it.
Hugs and you know I love ya,