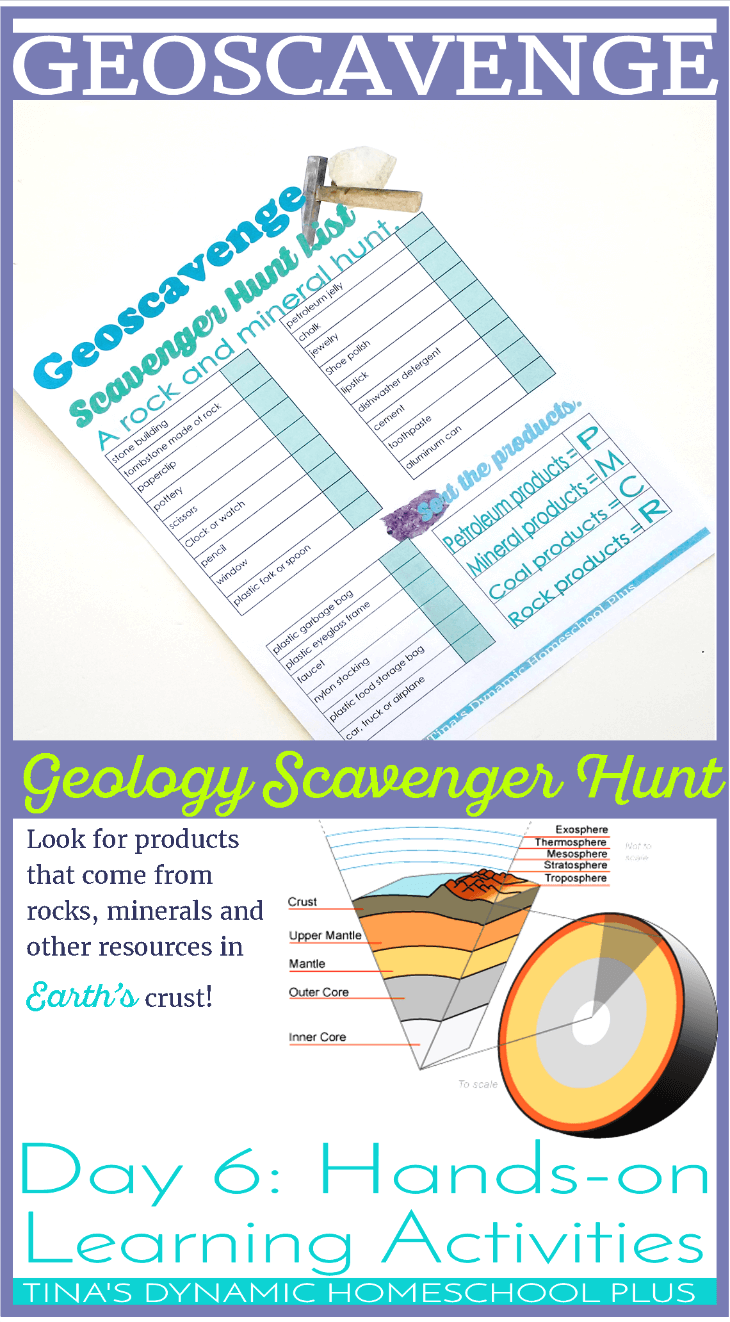 I think we've skipped winter here in Texas and are going straight to spring. So to celebrate spring, I've prepared this geoscavenge or a scavenger hunt list for a rock and mineral hunt. I geared it toward middle school, but younger kids can join in too. Just print how many copies you need.
Hands-On Geology
I put a slight twist on it for middle school which is to not only find the items while your kids are out and about but to also identify which items are petroleum, mineral, coal and rock products.
This can also be fun done as a team if you're doing a co-op. But the point is that it gets your kids outside while learning.
Too, I have another fun hands-on idea if you're studying rocks. Look here at my yummy recipe for metamorphic edible rocks and notebooking pages.
To help you out with the geoscavenge, look at this list of items I made of where products come from. This is just a quick list to help your kids. You probably can think of more to add to it.
Petroleum Products: plastic food bag, nylon stocking, plastic eyeglass frames, plastic garbage bag, petroleum jelly, plastic fork or spoon and even lipstick.
Mineral Products: pottery, windows because most glass is from sand, dish washing detergent, toothpaste, chalk, pencil lead, clock or watch, metal scissors (steel),
Coal Product: shoe polish. My dad still uses this.
Rock Products: cement, stone building and rock tombstones.
DOWNLOAD THIS FREE PRINTABLE GEOSCAVENGE HUNT HERE.
Also, if you're on a hands-on activity roll like we are, grab some other ideas.
Day 1: Make a Hair Hygrometer, Day 2: Desert Sand Art, Day 3: Make Zopf (Swiss Style Bread), Day 4: Exploring Edible Cactus (Learning about the Desert), 365 Days Hands-On Homeschool Activities – One for EVERY Day of the Year and How to Build the Alamo: Day 5 Hands-on Learning (Free Texas Unit Study).
Hugs and love ya,

Don't forget to follow BOTH of my Pinterest accounts for AWESOME pins.
Visit Tina Robertson's profile on Pinterest.