Since the time my kids were little we've always incorporated some of our Texas heritage and history. Today, I'm sharing a few links for a Texas Native American history unit study.
Studying about Texas history has so many topics to choose from, but studying about Native Americans will help to keep Texas history in a manageable chunk.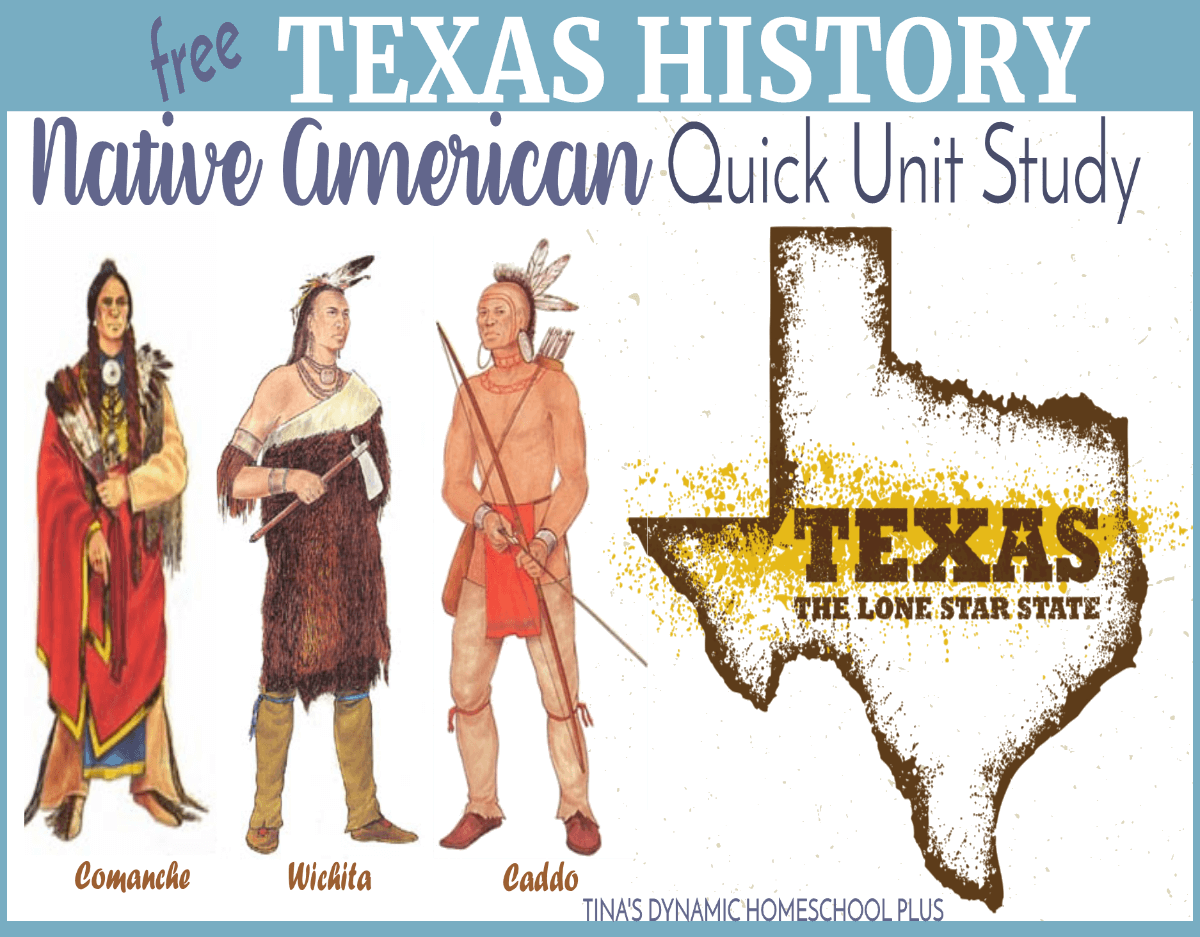 First, look at ten of the tribes native to Texas. I've tried to hone in on these in this roundup so this topic doesn't become overwhelming.
10 Tribes Native to Texas.
Apache
Atakapa
Caddo
Coahuiltecan Region
Comanche
Jumano
Karankawa
Kiowa
Tonkawa
Wichita
Glancing at the geography of Texas will help your kids to understand how each group adjusted to their surroundings.
Geography of Texas
The Geography of Texas.
Learn about the plant and animal life.
Texas Native American History Lesson Plans/Guides/Resources/
Download these lesson plans for activities and background information.
Download this 17 page free guide for background information about Texas Native Americans: The Texas Revolution: Exactly Who Where the Texans.
Brief overview of the major tribes that existed at the time of the first European exploration.
Fascinating background information about the Karankawa. A free 10 page download.
Heads up: You'll want to look this over and glean the points you want to teach your child because it addresses all issues the Karankawa faced including very intimate ones.
And no, there are no pictures, just text. But I've listed it because it is so comprehensive in helping us to understand their every day life and one of the better resources I found.
This 19 page download covers background information about the Jumano, Karankawa, Caddo, Apache and Comanche. Even though it's says it's a fourth grade lesson plan, it really is helpful for comparing tribes.
Free 26 page download with great pictures and facts which list just about every tribe.
Understand the importance of the buffalo to the Comanche. Grab this free curriculum guide.
Learn about smoke signals like the Karankawa used.
Free Native Tribes of Texas 26 page download with facts and pictures.
Texas Indians: Southeastern and Gulf Cultures. 4 page reference on Caddo, Coahuiltecan, Karankawa, and Wichita.
Background information on Jumano, Caddo, Karankawa, and Comanche.
Texas Native American Hands-on Ideas
Download this awesome 73 page free Idea Book all about activities for Native Americans. Great for hands-on activities.
More than a free whoppping 52 page coloring book about Texas Indians, but great background information and activities.
Also, grab my free Plains Indians unit study and lapbook.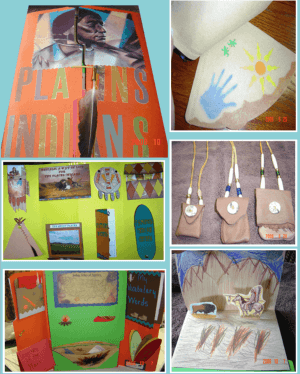 Interactive.
Examine the interactive images about the Apache and Caddo.
YouTube about Coahuiltecan.
YouTube about Caddo.
YouTube about Karankawa.
YouTube about Comanche.
YouTube about Apache.
YouTube about burn out canoes like Karankawa used.
Texas Beyond History – Virtual Museum of Texas' Cultural Heritage. From an interactive map, to games to lesson plans to history, this site is one of the ones we have enjoyed most and spent hours on. Prepare to stay here on this site for days.
From the website: Texas Beyond History covers not only the prehistory and history of Texas' true native peoples, but also much of the early history of the Spanish, French, Mexican, and Anglo explorers, missionaries, soldiers, miners, traders, and settlers who lived and often died in Texas. And later history, too—that of German farmers, Black freedmen, and Mexican-American laborers among many others.
Caddo. Be sure to click through to learn their history and how they live today. Also, click on the games page and download this printable free board game.
Language Arts
Plains Indians Free Writing Prompts. For Elementary, Middle and High School Homeschooled Kids
Books

Indians Who Lived in Texas – A beautiful story of the 10 native tribes of Texas.



A History of Texas and the Texans – An outstanding history of Texas for a serious budding Texas history buff.



Legend of the Bluebonnet.


Texas Field Trips
The Bob Bullock Texas State History Museum.
San Jacinto Museum. Also grab the HUGE 449 page free Educator's Guide with lesson plans, pictures, and activity ideas.
Washington on the Brazos Historic Site. We've been many times because it's a great place to visit. It is the final home of the last president of the Republic of Texas along with a hands on history room and museum. Be sure to download the educator's guides at the bottom of the page.
Also, you may love to use my 10 Westward Expansion History Fun Coloring Pages! You know the quality of my work here and I don't use baby-ish clip art. The coloring pages are suitable for middle school even in high school.
Here is what the 10 page download contains. I put a few key words to explain each picture on the page. This way you can use the coloring pages as title pages too.
Page 3: Native American on horseback,
Page 4: Lewis and Clark Trek,
Page 5: Lewis and Clark and The Piegan,
Page 6: Lewis and Clark Exploring Rivers,
Page 7: The Plains Indians,
Page 8: Pioneer Life,
Page 9: Moving West,
Page 10: Westward Ho,
Page 11: Settlers, and
Page 12: Fur Trappers and Mountainmen
You can grab them below!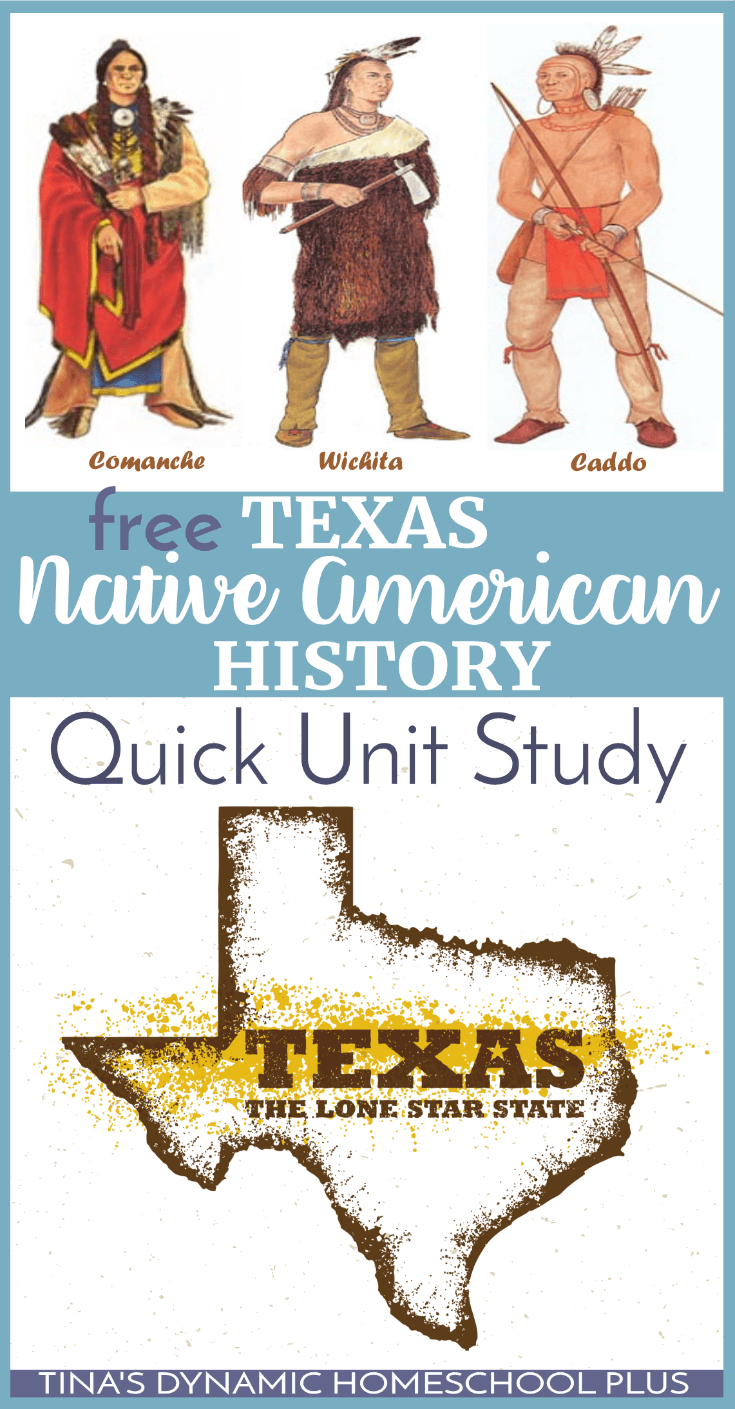 You may also love these hands-on ideas that can bring this unit study alive!
This is suppose to be a quick unit study but we love studying about Texas history. So I hope you'll find a few of these resources inspiring and helpful.
Hugs and love ya,