Fall Unit
 1
{Pumpkins, Leaves, Corn, & More}
We love this time of the year! Here in Texas as least we have some leaves that change colors not to mention how wonderful spices and sweet potato pie smell!

First, I want to share our family recipe for sweet potato pie.  We like it better than pumpkin pie.
Sweet Potato Pie
♦ Note: When I make sweet potato pie for family and friends, it is not usually just one. So this recipe calls for four sweet potatoes. By the time you add your ingredients, you can generally estimate about one medium size potato equals one pie. So adjust this recipe for your family.
4 sweet potatoes

1/2 T. cinnamon

1 tsp. nutmeg

1 1/2 c. brown sugar (you can use only one cup,but we like it sweeter)

1 c. white sugar

2 sticks butter

1 can evaporated milk

5 eggs

1 1/2 tsp. vanilla

1/2 tsp salt

4 deep dish pie shells or home made ones. In a pinch, I prefer Marie Callendar pie shells. Normally I don't care the brand, but with this recipe this one tastes flakier and better.
Peel, cut and dice sweet potatoes. Add enough water to just cover potatoes in your pot. By not adding more than what is needed, it  keeps it from being real soggy later. Add your salt now in the water. Boil until soft.
While the sweet potatoes are boiling, get out your butter and let it soften in a medium size bowl that you will use to mix all your ingredients in.
If potatoes are soft when you pierce with a fork, drain water and add them to your bowl. The butter will melt nicely. Add the rest of your ingredients. Tip: You have to use this many eggs in order to get the rich custard taste of this pie.
Cream together ingredients and bake for about 45 minutes on 325 degrees. <yum yum>
 Fall Unit 1 Unit Study and Lapbook
We enjoyed doing this lapbook. Your child's thumb can be used for finger stamping leaves on the front cover and throughout the book. After he finishes finger stamping, outline the leaf or add some lines inside.
We have found by using scrapbook quality stamp pads, the ink is more vivid and last longer than regular finger paint
I used cardstock too instead of file folders. It seems that you get more color choices with cardstock.

Fall.pdf (3788 downloads)
Fall-cover-1.pdf (2383 downloads)             Fall-Cover-2.pdf (2163 downloads)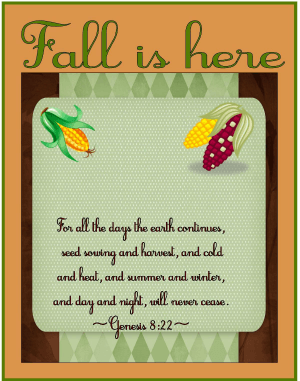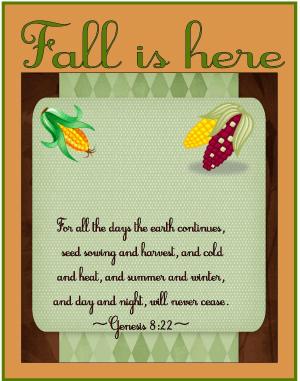 Pumpkin-life-cycle.pdf (2668 downloads)

Pumpkin-book.pdf (2401 downloads)

Photosynthesis-Wheel.pdf (2356 downloads)

Fall-months-cover.pdf (2196 downloads)
Check out the Fun Fall Chalk Pastel Book. Art Fun Can't Be This Easy.

This Farmer in the Dell Book is a little time consuming but after you get finished you can use it over and over again.
I added a few more characters to help the younger children in our co-op work on memory skills and comprehension. This picture helps you to see the end product for the next three mini books.
The hay page goes glued to the very back of your page and the pockets are folded and glued onto the hay. After you color your characters you can even put contact paper around them to preserve them.
My son colored these with scrapbook quality fine markers. He added in with Prismacolor Premier Soft Core Colored Pencils, which are higher quality than regular map colors. The colors are more vivid with the markers. I guess we all like brighter colors.
Note: If you have an older child this year, look down further for "Know your leaves" mini book that fits in the same place as this Farmer in the Dell book.


Farmer-in-the-Dell-cover.pdf (1932 downloads)

Farmer-in-the-Dell-inside-back.pdf (1917 downloads)

Farmer-in-the-Dell-inside-pocket.pdf (1926 downloads)

Know-your-leaves.pdf (2407 downloads) You can add in some science so your child gets familiar with the words hibernate and migrate. Sort the animals that hibernate or migrate to prepare for the winter months.

Migrate.Hibernate-cover.pdf (2025 downloads)

Migrate.Hibernate-inside.pdf (2050 downloads)
Note: If you have an older child this year, see the "Why do leaves change colors?" mini book to replace this one.
We did  art by mixing the primary colors to see the secondary colors they made. It is so much more fun if they can mix the colors and then use their finger print to answer the questions. If not, I added the colors on a strip so they can cut and paste the answer to the question. Some kids just might not feel like getting messy today. lol

Leaf-cover.pdf (1853 downloads)

Leaf-inside.pdf (1989 downloads)

Why-do-leaves-change-colors.pdf (2311 downloads)

Fall would not be complete without studying about the busy little squirrels.
This is a picture of a Red Squirrel my sons liked.
Cut out the squirrel on the next two mini books and stick him inside this tree so he is ready for winter.


Squirrel-book.pdf (2032 downloads)                      Squirrel.pdf (1986 downloads)

With all the variety in squash, I know the recipes can be endless at this time of the year. I guess that goes for apples too. But something we did not know is that pomegranate is a fruit that is in season too during the fall. For us here in the U.S. the season starts around September or so and lasts for a few months into winter. So I added the pomegranate to our bag full of fresh fruits and veggies.


Paperbag-cover.pdf (1861 downloads)                 Paperbag-inside.pdf (1862 downloads)
Note: Also for a little older child, you can substitute this book for the paper bag or squirrel book.

What do we get from trees?
Outside mini book                          Inside view of how pockets fold.


Fact cards to be cut,memorized and placed in correct pockets.


What-do-we-get-from-trees.pdf (2013 downloads)

Fall Poetry Copy work
Where do we put ours? A lot of times we place them on the back since they won't be cut through like they would be if you placed them on the front of the file folder. Then use clear packing tape to cover the whole page. You will have a nice well preserved spot of your child's work. Also you can place it on the side flap but folding the paper in half, glue only the part that will stick the page. Too, you can staple a ziploc to the inside of your lapbook and keep your work in there. Be sure to staple only the part that is attached to your lapbook and not on the ridge where you need to open/close the bag.
We usually make our own copy work so that our child can draw his or her picture on it and so that they also see the original form without the dotted lines. Sometimes the dots and lines can be distracting. In addition, it is good for them to learn to go back and forth between the top and bottom to help train their eyes. So the blank box at the top is provided so they can draw a picture to illustrate their work or color/design if they want.

Fall, leaves, fall; die flowers away;
lengthen night and shorten day;
Every leaf speaks bliss to me
Fluttering from the autumn tree.
~By Emily Bronte~
Fall-Leaves-Poem.pdf (1802 downloads)

For all the days the earth continues, seed sowing and harvest, and cold and heat, and summer and winter,
and day and night, will never cease.
~Genesis 8:22~
Bible-Poetry.pdf (1737 downloads)

 Autumn Art – Memorization Cards



Note:This can be used for an older or younger child. Cut out cards, fold in half and glue. One side has the picture, the back side information about the artist. Cut out and store in pocket and glue to your page OR instead of using pocket, put them on a "O" ring put punching a hole in one corner.
About Corn

Some of the first corn farmers were the American Indians,  the Aztecs, the Incas and the Mayas.
How does corn grow? The kernel is the seed. The seed is planted in the soil. The stalk begins to grow. The stalk is the stem. Leaves grow from the nodes.
Ears of corn grow from the nodes. Each plant is male and female. The silk catches pollen from the tassels.
Then pollen travels down the silk and fertilizes the kernels.
Corn Words
diclinous – A corn plant is diclinous because the stamens and pistils (male and female reproductive parts) are found in separate flowers.
kernel – The kernel is the corn seed.
tuft – A cluster of hairs like silk also called tassel are at the tip of an ear of corn.
tip cap – The tip cap attaches the kernel to the cob.
cob – The core or center of the ear. The kernels of corn are attached to it and grow in rows.
Two minibooks to download below. This is basically the same minibook but it can be made a couple of different ways. The first minibook the child labels the parts of the corn plant and colors the pictures and cover page. The bottom minibook has color pictures, the corn plant parts are labeled and there is minimum coloring. They can both be downloaded and mix/match the pages.


Corn.pdf (2509 downloads)





Check out these Fun Fall Learning Resources