"I was born upon the prairie where the wind blew free, and there was nothing to break the light of the sun.
I was born where there were no enclosures, and where everything drew free breath.
I want to die there, and not within walls."
~Ten Bears, Comanche Chief~
Before we started studying about Native Americans in our co-op, I think a lot of us had ideas about Native American life conjured up by those in movies.
You know, like "The Searchers" starring John Wayne. By the way, this is one of our very favorite movies.
Plains Indians





But actually, we chose the picture of Chief Ten Bears because we feel it really captures the true spirit of Native Americans.
We know Ten Bear's quote above can't be the "voice" for how every Native American might have felt— but we certainly feel this was the voice of how many actually did feel.
They weren't people that needed to be "civilized" or forbidden to speak their native language.
"White men" brought with them sickness and diseases that the Native Americans never knew.
Most Indians were friendly, peaceable and wanted to live their lives free of cages or restraint.
Yes there were some that might be considered "savages" and I guess this is the stuff movies are made of. However, our respect and admiration for Native Americans really grew with this unit study.
---
Note: To learn more about Native Americans see our Lewis and Clark Lapbook , our Iroquois Lapbook, our Trail of Tears Lapbook, our French and Indian War Lapbook and our Arctic and Inuit Lapbook.
---
PLAINS INDIANS
Quote from Plains Indians by Colin F. Taylor
The plains Indians powerful and warlike people, proud, haughty, defiant well over six feet in height, strong muscular frames, and very good horsemen, well dressed, principally in skins, and robes, rich in horses and lodges; have a great abundance of meat since buffalo, elk, antelope, and deer abound in the country. They say they are Indians and do not wish to change their mode of living.
GEOGRAPHY OF THE PLAINS
What is the area referred to as the Great Plains?
The area is some some 2500 miles long. To the west is the Rocky Mountains, to the North into Canada, the East boundary is formed by Missouri/Mississippi rivers where it is prairie with rolling hills and wooded areas.
The southern boundary follows the Rio Grande but not as far as the Gulf of Mexico. It is mostly flat and wide. The North is free of trees and not really good rainfall.
Why was this area or the land important to their survival?
Because everything they got from the land they used to either make a shelter, food, or clothing.
Homes of the Plains Indians
(Below is a picture of the various tents and patterns on them to help give you some ideas if you want to make your own.) Siouan Tents (look at the explanations of each tent)

B. Tent of Little Cedar, belonging to the order of Sun and Moon shamans. The circle represents the sun in which stands a man holding deer rattles.
C. Those persons who belong to the Inke-sabe sub-gens known as Keepers of the Pipes, paint their tents with the pipe decorations.
D. Used by a member of the order of Grizzly Bear shamans. When they have had visions of grizzly bears, they decorate their tents accordingly. (George Miller.) The bear is represented as emerging from his den. The dark band represents the ground.
E. Sketch furnished by Chief Dried Buffalo. The circle at the top represents a bear's cave. Below there are lightnings, then prints of bears paws.
E also represents the grizzly bear vision.
Song of the Buffalo Hunt
Sioux
The whole world is coming,
A nation is coming, a nation is coming,
The Eagle has brought the message to the tribe.
The father says so, the father says so,
Over the whole earth they are coming.
The buffalo are coming, the buffalo are coming,
The Crow has brought the message to the tribe,
The father says so, the father says so.
Uses of the Buffalo
Edible parts – fresh meat, marrow, tongue, intestines, liver
Preserved parts – jerky, fat, marrow
Hide-tanned – tipi covers, dolls, leggings, moccasin tops, robes, breechcloths, bedding, belts, caps Rawhide – rattles, drums, saddles
Horns – cups, spoons, ladles, powder flasks, toys, rattles, headdresses
Bones – knives, arrowheads, shovels, paintbrushes, war clubs
Hair – padding, stuffing, ropes, halters
Hooves – glue, rattles
Tail – fly brush, whips, ornaments
Bladder and Stomach – cooking vessels, water vessels, cups, pouches
Sinew – thread, bindings, bowstring
Brain – hide tanning
Chips – fuel, ceremonial smoking
Rivalry over the buffalo (Below is a Comanche drawing on a buffalo shoulder blade)

The Indian chase is by arrow; the white man's by the lasso, gun, and spear.
The rivalry is indicated by half the buffalo being drawn as belonging to one race, half to the other.
The white men are supposed to be Spaniards.
The shoulder blade was found in the Comanche country, in Texas.
PICTOGRAPH In the book The Mystic Warriors of the Plains, it says
"There was a strong connection between Indian sign language and pictography. Some have pointed out a single hand gesture spoke an entire sentence and that in many cases the shape of a hand gesture conformed exactly to the lines used in a drawing. The tree picture sign was given with the fingers upraised like branches, and a jagged lightning line was shown by zigzagging your hand."
Plains Indians Lapbook
This unit was one of the earlier ones we did when our group was small, so we were able to decide as a group to spend a few more dollars on crafts and leather.
The children were younger, so this unit was prepared for the younger child in mind. But like all lapbooks, it can be expanded for the older ones.
Too, we have updated and revised our minibooks from our original unit to make them available to you.
We do think that sometime in the near future, that we will either cover another group of Native Americans or preparing a lapbook with the older child in mind….uhmmm or maybe both. lol.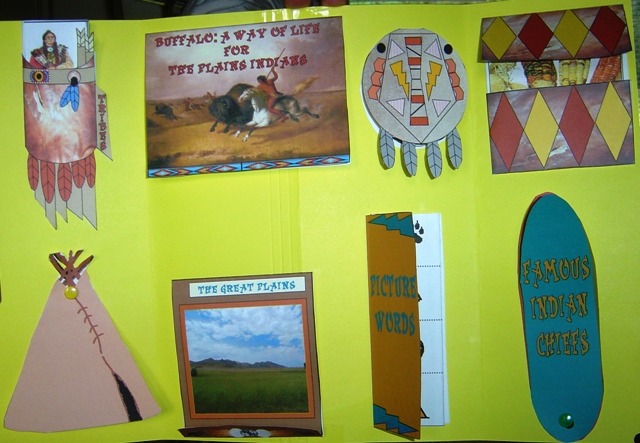 Tribes of the Plains


Tribes-of-the-Plains.pdf (4278 downloads)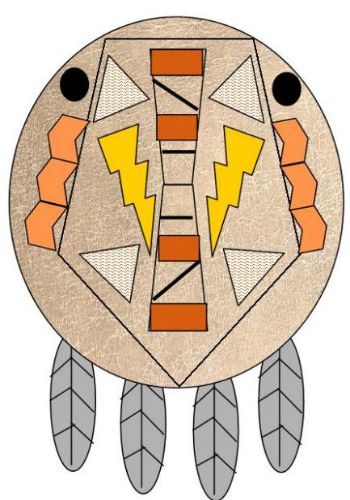 Spear-and-Shield-Dance.pdf (2639 downloads)


Food-of-the-Plains-Indians.pdf (2778 downloads)




Leather-Tipi.pdf (2311 downloads) Or Tipi-with-pictograph.pdf (2316 downloads) Or Tipi-create-your-own-design.pdf (2215 downloads)


The-Great-Plains-geography.pdf (2641 downloads) Buffalo-A-way-of-Life-for-the-Indians.pdf (2657 downloads)



Picture-Words.pdf (2800 downloads)
What's in a name?
We learned how important a name was, sometimes the tribe would even delaying the name of a child until much later.
Plains Indians by Colin F. Taylor said
"He might be named after a great name giver, or an animal or something seen in a dream."
So the first class of the co-op we had to give ourselves names and we had to call each other by that name for the rest of the classes.
This actually was a big "hit" with the kids and they spent more time deciding what they were good at and how they looked to give them a "proper Native American name ."
I had them make a mini accordion book using pictography to illustrate their name and at the second class we had to guess all of our names.
Of course, we had to "reenact" the actual motions by hopping, standing or running.
So my name was "Mama Bear of the Feast" (lol..seems like all I do is cook and clean) and my sister's name was "Crooked Quill".
Here were the names each kid came up with:
Erica – Jumps in the Leaves
Tre- Dark Warrior on the Great Plains
Trever – Thunder Warrior with Lightning Speed
Chloe – Girl of the Handstand
Haylee – Storm Dancer Girl Chief of the Buffalo Country
Raychel – Hopping Sparrow
Tristen – Golden Eagle
Menu during one of our classes
Beans cooked by Mama Bear of the Feast
Corn cooked by Crooked Quill
Corn Bread Prairie
Chicken cooked by Crooked Quill

About this picture: By Eanger Irving Couse "The Captive" We didn't particularly like how sad this picture made us feel–but because it had a historical background, we were drawn to know more about it.
We too wondered if she was dead or alive, but here is the story based on a true incident in Oregon History.
In 1838, Dr. Marcus Whitman and his wife came to the Oregon Territory to establish a mission to the Cayuse Indians under the sponsorship of the New England Mission Board.
They were accompanied by another missionary pair, the Spaldings. In time, immigrants also came to the area and settled around the Whitman Mission. All went well until there was an epidemic of measles.
The Indians were stricken by the disease and, though treated by the Whitmans, were not able to respond so well to medical treatment. Angry and terrified, they accused Dr. Whitman of deliberately poisoning them to get their land.
In late November of 1847, they attacked the mission and murdered most of the staff, including Dr. Whitman and his wife.
A number of others were taken captive, among them Lorinda Bewly. Lorinda, a seventeen-year-old teacher at the Mission, was spared from death by a Cayuse chief named Five Crows.
When he saw her he decided that he would like the novelty of having a white woman for a wife. Needless to say, this did not meet with a favorable response from the captured girl.
Couse's painting shows us a dramatic scene — Lorinda is lying on the floor of the chief's tepee, unconscious, with bloody bonds testifying to her terrified but courageous struggle in the face of death.
Five Crows is seated on the floor, staring at her and unable to fathom her behavior, her aversion to him. Couse has shown us two cultures side by side.
Tragic yes–but we are able to have an understanding of each culture.
---
Links we used:
Scholastic – PDF download of a map of the Tribes of the West that pioneers might have encountered, some sign language and a parfleche pattern to make your own.
Beacon Learning Center – PDF download of Native American Symbols. sample blankets and a craft for a simple tipi.
Free Coloring Book – These make great covers. 8 pages and has coloring pages on woman making basket, story telling time, hunting with bow and arrow, dog travois and cave painting.
Free Coloring Pages from Big Bend,Texas – Has Indian Cave Drawings, Indian Rock Art, Indian Camp.
Interactive Coloring and print – My little guy loved this and these make great looking covers and dividers. They print off nice and so many color choices. This is from the site: "Use the interactive crayon to color these Native American sheets. Printable pictures include bow and arrows, a deerskin shirt, Indian making a fire, Indian gathering berries, Indian grinding corn, a warrior headdress, Indian hide, Indian Chief, a warrior, a Kachina doll, an Indian on horseback, a Kachina, Moccasins, Native American pottery, a seed pot, and a warrior's shield."
Learn About Texas Indians – Even though the title of this coloring book and information is Texas Indians, it is about plains Indians. 52 wonderful pages about early life in Texas. It has all kinds of coloring from medicinal plants, tools, daily life, to coloring pages about horses painted with symbols amd how to make a mat.
Tracking the Buffalo – About buffalo hide painting and an interactive picture to show how the different parts of the buffalo are used and how to make your own buffalo hide painting.
Native American Health recipes – this is a nice 134 page pdf on being healthy and has tons of recipes.
---
Crafts:
Make Arrows – Make an arrow the way Native Americans did long ago. Pdf download with nice pictures and instructions.
Native American Wobbler – Cute Indian Girl on styrofoam look at the picture here and download the pattern here.
Plains Indian Boy and Girl – paper dolls with clothes. Freed pdf download. There is also a coastal and woodlands dolls. Be sure to click on the related to get the clothes.


Because all of our kids were real young when we did this co-op, we kept some of the crafts real easy.
I had some cones shaped coffee filters and some prismacolor colored pastels

and I bought some cheap eye shadow sponge brushes

so they could apply pictures with pastels on the filters.


Also, I had them use their hands color pictures that the Plains Indians would have seen. We also had stencils. We made pouches over our neck with the left over leather that we had from our leather outfits we made below.


My sis makes Native American bone chokers and she had a whole assortment of top notch beads.


The kids picked out the beads they wanted and we helped them to stitch the sides closed.
We probably spent more on this than we should, but then again, my sister had a high standard for making jewelry and many years later now, my boys each still have their leather pouches for momentos.
We're glad we used high quality materials for something so meaningful.
---
Co-op Pictures: After we study Native Americans, we held a Pow Wow at the local park.

We had a few "frontier" women that came to visit. 🙂 The leather outfits were made by us. We used leather from Tandy Leather.

Yep it was a little expensive, but we kept this co-op smaller because some of the moms wanted to make it more "real" and spend the money on this "one time event". But too for the younger kids, you can use the chamois wipes from Walmart that are in the automobile section. You know the rags used from washing/waxing your car.
It's basically the same material. Tiny had a shirt made from that material.
It is cheaper and real easy to work with. We just used light colored cotton bottoms like warm up bottoms.
The moccasins you can buy from Hobby Lobby and sew together yourself. That is what we did and used more time on our bead work and outfits.
The leather outfits and bead work we did by hand. We used a leather hole punch and tied the sides together by thin leather straps.
One thing I learned from this is to save EVERY bit of scrap. It makes me think of how resourceful the Native Americans truly were.
This was truly an amazing co-op with all the work that went into our outfits and we can still use the outfits.

Another activity we did was to have the kids do "pictograph" on a canvas bought at home depot. They all painted their names and wrote any "stories' they wanted to on the tee pee. Later we erected the tee pee at our Pow Wow.

Here is a picture of the actual tee pee. All the kids loved playing in/out of this at our Pow Wow.
Reader Interactions