As a history lover I find dates meaningless; I totally sympathize with home educators and kids alike who hate anything school-ish, but I especially feel your pain when learning history. With these 15 history ideas for homeschooled kids who don't like school, I know you'll find one or two fun things you can use.
The first tool I use to bring history to life are (1) lapbooks.
I'm not the craft lover. However, I found a way to use lapbooks for my kids which benefited them and brought history to life.

Using lapbooks as a way to feed a kid's passions and adding enrichment has been one of the best ways I've taught my kids.
I came close to giving up lapbooks because I over worked it. We almost went from lapbook lovers to lapbook haters. Read how I fought back and made lapbooks suit our purpose. My tips are here at Beware of the 3 C's of Lapbooking. Don't make my mistakes for beginner lapbookers.
Also, I have more than 30 history lapbooks here on my site.
Click on UNIT STUDIES on my site for the drop down menu where I divided the lapbooks by time period.

Another way to teach your kids is to do what kids naturally like which is to read (2) stories or to be read to.
15 History Ideas for Homeschooled Kids
You can present history stories in at least two ways.
First, you can use laid out history curriculum like Story of the World which has a reader and hands-on activities to go along with each period of history.
We loved this series.


Second, use a living book or story book.
Look at these series of books.
Another series kids love is the Horrible History books which has British humor. The books are full of jokes about history.


Your kids will love learning about the smelly parts to history. Horrible History also has a YouTube channel which I listed below.
Homeschool History Field Trips
Additionally, history just doesn't come from stories, but it's learned through (3) field trips.
If your kid is turned off to books because he learned from boring books, then take field trips in person and take virtual field trips.
Taking a trip through a cemetery brings enough mystery into learning history for the day.
Walking through the house of a pioneer family or visiting a one-room schoolhouse gives your child a picture of what life was back in the day. A tiny spark of love for the past can be ignited from a fun field trip.
Look at my post 22 Awesome Homeschool History Field Trips for ideas of places to visit and look below at a few ideas for virtual field trips:
Too, a (4) geography twist makes a wonderful slant on history.
We used the Ancient Empires to learn about continents and not only did we learn about countries we found interesting, but we learned their history while having fun with a group of other homeschooling families.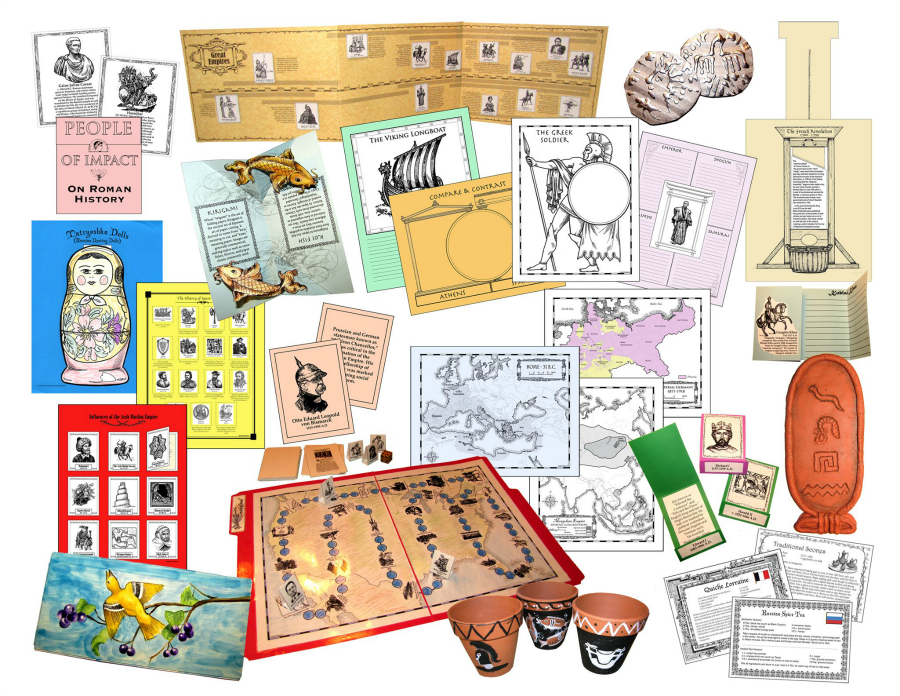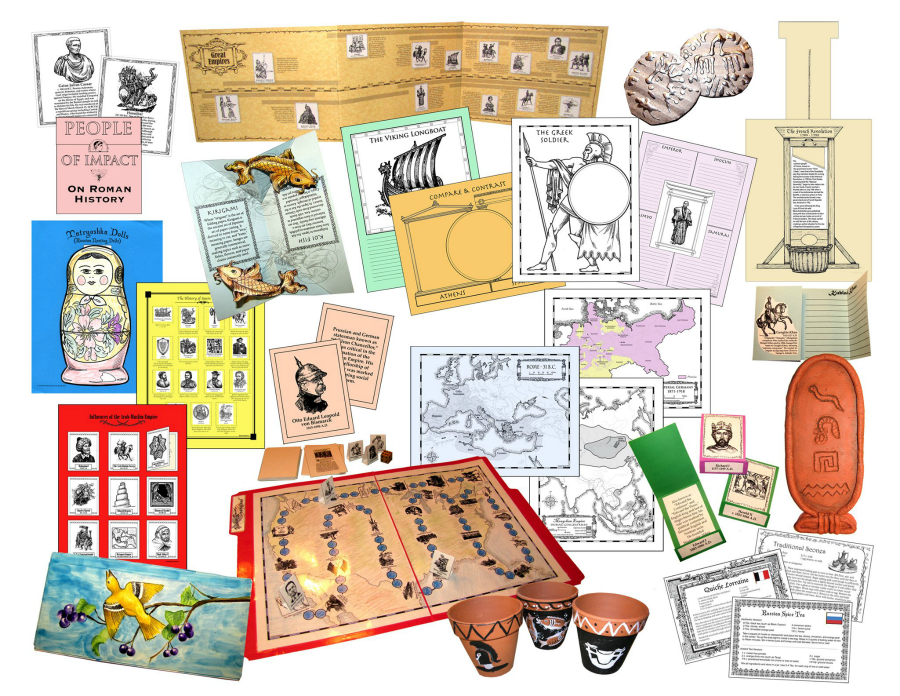 In our co-op each family chose a country, created a pizza box display, came in costumed dress for the country they represented, and made a delicious recipe to share with others.
Look here at my post Amazing Hands-on History Activities for 14 Ancient Empires (free notebook cover too) to see how we used it.

Make your co-op as big or as small as you want. However, some kids do quite well learning with others about subjects which they consider boring.
Homeschool History Curriculum
Another study of history and science with a geography angle using living books is one by Beautiful Feet. Your kids will love the science slant.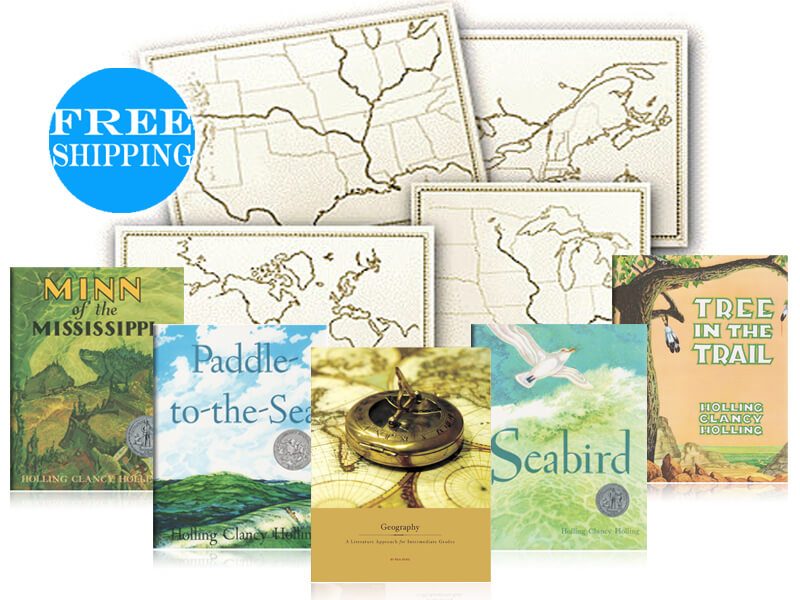 There are no shortages of FANTASTIC ways to cover history through geography by focusing on a country.
Case of Adventure is another one we loved.

What I like about Case of Adventure is being able to focus deep on just one country through a story and lapbooking and notebooking type of activities.

Another interactive way to learn history is to (5) look real close at your own circle of family and friends.
Use what you already have at your disposal. Most people, even acquaintances, love to help educate kids.
Interview people who are from other countries or who lived through certain periods of history. It can be your parents, grandparents, or extended family member or even a friend who is well-traveled.
My kids interviewed my mom who grew up picking cotton and farming; they interviewed a close family friend of ours from Africa. The friend of ours from Africa cooked my kids soup from her country and showed them handmade objects in her house from her native country.
Speaking of connections, another friend of ours was an international flight attendant. I got creative again. There is no harm in asking.
We ask her to take pictures of each country she visited and pick up a few mementos. She was happy to oblige and told us it gave her something to do on the layover. We gave her a few dollars to spend.
She couldn't bring back a lot from different countries since her suitcases were small, but candy and key chains make great mementos to study about from other countries.
We still have our kimonos from Japan. The items from Japan were some of the ones my kids really loved. Mementos gave my kids something to hold and look at which cemented cultural awareness and love of people and history.
Homeschool History Unit Studies
Did I mention the pictures she took of the local people, food, and costumes made for a fantastic study? We couldn't wait for her to get back from each flight.

Another slant I took with my kids which they really loved was to look at a period of history through a (6) real person or (7) event/place which piqued my boys' interest.
Feed and fan a history love for your kids by basing your teaching on your kids interests.
An example of how I did this was our Wyatt Earp unit study for a history character and the FBI for an agency or interesting place to learn about.
Choosing a character or event/place has a helpful side benefit. Your topics and time period are considerably narrowed. Your child and you have a starting point for learning history.
Look at Free American History Lapbook – The Old West Through the Life of Wyatt Earp.

Narrowing your focus only to the time period of your history character and learning where he lived and traveled, what was life like during his lifetime, and significant events in his life ties history to a real person. It's a life study.
This same outline of how to teach history focusing on a person applies to a place. The FBI unit study topic was narrowed down to when it came to existence and events during modern times.
Homeschool History Media and YouTube
In addition, (8) media and/or YouTube channels can revive the love for learning history.
Look at a few of these.
Studying (9) art history is another unique way to study history.
If you have an art lover or even a kid who loves to draw, they'll tolerate history with a focus on culture.
Art is the way persons or cultures of the past express emotions about day to day life whether it's appeasing their gods or crafting items for everyday use. It's a great angle to teaching history.
Look at Art History Kids.

Homeschool History Tips
Look at these other unusual approaches to teaching history. (10, 11,12,13,14)
Finally, the last fun way to make history fun for the kid who is most challenging to teach is to use (15) history games. You can learn so much from board games and they don't have to cost a lot.
Look at these 13 Free and Fun BEST Printable History Board Game. Also, check out the ones at Homeschool in the Woods.

Recap 15 History Activities
Look at these ideas in a nutshell for you:
Lapbooks
Stories
Fieldtrips
Add a geography twist
Look to family and friends
Look at history through a historical person
Learn history through an event
Watch videos/use media
Learn history through art
Study women in history
Learn history through cooking
Learn history through fashion
Lean history through a movie
Learn history through a novel
Learn history through a game

You'll love these other resources I have:
What do you think? These 15 unusual homeschool history ideas should at least get a nod or two yay from even the most stubborn learner.
Hugs and love ya,