Today, I have the newest lapbook, which is the American history lapbook, learning about The Old West through the life of Wyatt Earp finished.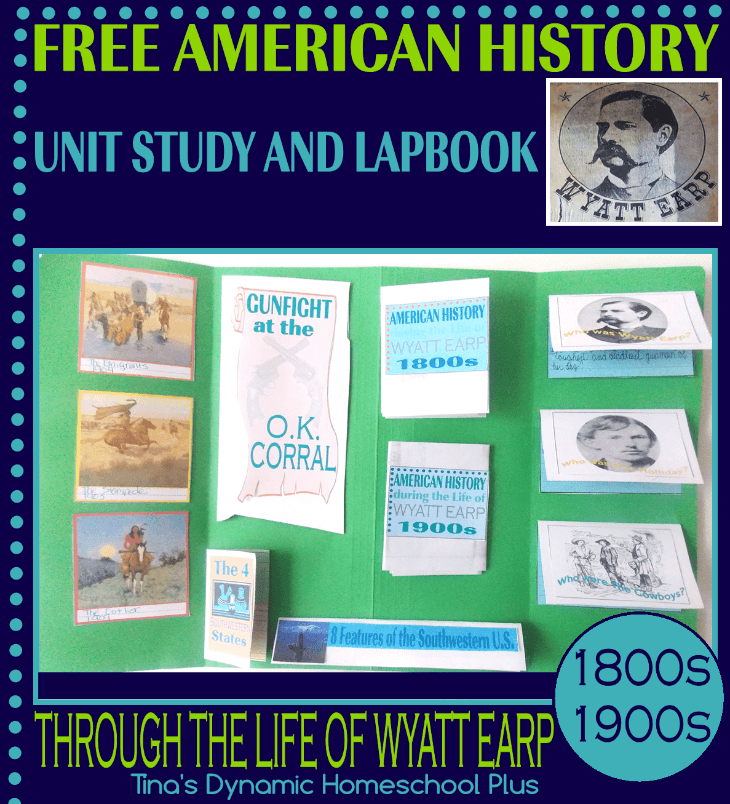 We finished out lapbook and unit study and really soaked up life during the time period Wyatt Earp lived, which was the late 1800s to early 1900s.
Life in the 1800s and 1900s through the Life of Wyatt Earp
Too, I have the rest of the minibooks to share with you.
After doing the notebooking pages, it was time we focused some on the art of that time period. Frederic Remington was an American painter and sculptor who specialized in depictions of the Old American West, especially during the time period Wyatt Earp lived.
American History Lapbook – Keeping It Fun

So we read about him and studied a few pieces of his art. I have a few of his paintings below on the art cards to add some fun and appreciation for art period of that time. There is just enough room on each card to write down the title of the painting and the date.
There are enough of his paintings and work free online that it's worth taking some time to look through them to understand the changing time of American through his art.
And then also because Tiny wrote about life during the 1800s and 1900s in the notebooking pages and wanted to include those on this lapbook as minibooks, I created some covers to go on the outside of the notebooking pages after they have been folded to add to the lapbook.

Be sure to look at this post at how to turn a worksheet into a fun minibook.
By the way, Tiny glued all the minibooks on there and forgot to include the minibook he did on Tomstone, but you can include that one if you want to.
Here are the other posts for Learning American History through the Life of Wyatt Earp Unit Study.

Hope you savored this unit study as much as we did.
Hugs and love ya,