Unit study curriculum has ten key benefits. Today, I will identify what is unit study curriculum, how long a unit study should last, and what makes a good unit study curriculum.
Besides identifying what a unit study means, you need to know how to use unit study curriculum with your multiple aged children.
And knowing how to identify what is not a unit study or unit study curriculum keeps you from wasting your time.
First, knowing what is unit study curriculum will help you to see the benefits of it.
Unit Study Curriculum
Unit study curriculum takes one topic and includes as many subjects as possible. It builds an entire curriculum around the topic covering subjects like language arts, math, reading, art, history, science, and geography with hands-on application.
Also, unit study curriculum can build lesson plans around a piece of literature, a famous author or person.

For a history slant, a unit study can be created using an event or learn about a famous person. Regarding science, a unit study can use topics from past or current events, inventions, or focus on a scientist.
Studying character traits is another way to build unit study curriculum. On top of that art can tie in history, science, crafts, and math when art is the main topic.
Extensive Unit Study Curriculum
Next, identifying the differences in extensive versus limited unit studies will help you to make a better choice.
Extensive unit study curriculum can include lesson plans or lesson plan ideas, language arts and maybe math. Math is the only component for both extensive and limited unit study that is normally purchased separately as well as including some aspect of it in daily learning.
In addition, it should include components of hands-on activities and project ideas.
As you can see the topics can be endless which is a huge appeal to learners of all ages.
A few choices I like for extensive unit study curriculum are:
Limited Unit Study Curriculum
Next, don't think because a unit study curriculum is limited that it won't be of value.
The ideas or content may be excellent starting points or give extensive background knowledge. Perhaps limited unit study curriculum just gives an idea for the day versus a daily lesson plan.
Furthermore, the focus of some of unit studies are narrow; that is a huge benefit when too much information is overwhelming.
Not everyone wants day to day hand holding especially if you have an eager learner. You may just want a framework of knowledge on the topic. There are many ways to use limited unit study curriculum.
A few of the ones I like are below;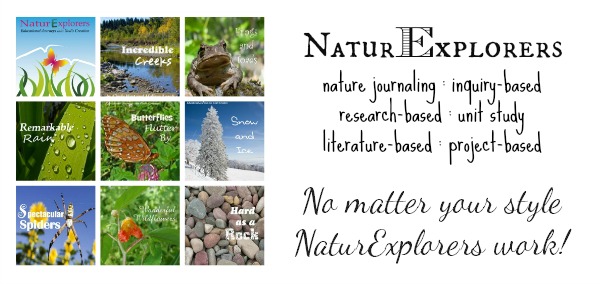 In my 25 years of homeschooling, I've seen an explosion of unit studies. Some welcomed by me, others not so much.
What is NOT Unit Study Curriculum
What is not a homeschool unit study is busy work and it's not an approach you do alongside another approach.
Because there are no rules, you can be as detailed or loose in your planning as you desire. There is no one way to do a unit study.
Additionally, because it's an integrated thematic study, prepared laid our boxed curriculum doesn't usually align with this approach. You need less all-in-one curriculum and more topical or thematic guides and books.
What Makes Good Unit Study Curriculum
With that being said, what makes a good unit study curriculum is one that makes your job easier. Too, it should give you support to create a richer education for your children while saving you time and stress.
How Long Should a Unit Study Last
Then, depending on the ages of your children and their interests, your unit study could last anywhere from two weeks to several months.
A few topics my children wanted to study longer, I wanted to move on to cover other topics for the year. Just know that sometimes you're the one that wants to move on.
However, I've had topics planned to do for a month which only lasted two weeks.
A good rule of thumb is to plan for at least two unit studies a month. That way if your children lose interest in one topic which you had planned to do longer, you can easily move on to your next topic.
Another tip for you is to use unit studies with all your children. Having these solid tips will show you how to use unit study curriculum with all your children.
Using Unit Study Curriculum with Multiple Aged Children
Aim for a resource which targets the age of your middle child or most mature learner. Tweaking assignments to meet the needs of younger learners is easier than crafting ideas for older learners. Especially if you're new to unit studies, this sanity-saving tip will help.
Doing unit studies together does not mean you have to be on the same subtopic. For example, your family may be studying about sharks. An older learner could write a research paper, your middle learner could practice his reading on a book he or she has selected, and your kindergartner may be coloring a picture or crafting a shark. Different activities while you're on the same topic is the sanity-saving secret. All doing the same lesson plan is not.
Let each younger learner stop when he or she is immersed. The unit study approach is immersion into the topic. Like everything else, your youngest learner has limits when interest has piqued. Keep going with your older learners until their interest is piqued as well. Chances are you'll cover the topic again later in your journey and the younger ones will pick up where they left off.
10 Benefits of Unit Study Curriculum
Lastly, the best part of unit studies and unit study curriculum are the benefits.
Including all of your children together with each working at their individual levels, maximizes time.
Children are immersed in a topic which they chose or better known as delight-directed studies.
Willing participants in learning instead of forced learning nurtures independent learning.
Moving at your family's pace allows each child to be masters of their material. They are working individually for mastering not in comparison to other children their age.
Through hands-on activities and living books, learning sticks. Retention is higher because children are doing and not just reading about the topic.
Instead of learning bits and pieces about topics, children stay on a topic long enough to connect their knowledge to the greater body of knowledge.
Separated curriculum with various topics have no unifying effect unlike the unit study approach.
One giant reference book which spans many ages can be used with your multiple children saving a budget strain. In addition, the books can be used for several years unlike grade level curriculum.
Learning is a privilege and should not be rushed to stay in step with scope and sequence. Using the unit study approach makes the approach fit your family, not keep up with a curriculum schedule.
My favorite benefit is that the whole family is together with a relaxed pace and fostering sibling togetherness. The focus is on maximizing the time and your kids can easily lose track of the time spent learning. Fabulous!
Ultimate Unit Study Planner
I would love to give you a copy of one of my pages from my Ultimate Unit Study Planner! It is a page I start with when I call bubble planning. I plan my thoughts and possible subjects around the main theme. You can see a sample of it here How to Create a Homeschool Unit Study – Step 2: Separation.

ID: 15102
Free Unit Study Planner Printable Page

This is a subscriber freebie.
That means when you sign up to follow me, you get access to my Exclusive Subscriber's Only Library which has this freebie in the library.
This is how you get access to these pages quickly.
► 1) Sign up on my list.
► 2) Go to your inbox and confirm your email from the automatic reply I sent you.
►3) Look for the automatic reply giving you the password to the private subscriber's area. You should have it soon.

IF you are already a follower/subscriber, PLEASE do NOT email me asking how to find it. You may not want to wait on me replying since I get bombarded with emails.
Find the MOST RECENT email from me and the password and link to the Subscribers Area are ALWAYS at the bottom of every email.

What do you think? Are you ready to give unit study curriculum a try?
Here are some more unit study helps: