Whether you want to create a standalone creditworthy American history course for your teen or you want to enhance the interest level of your current American history curriculum, you'll love these tips.
Homeschool American History Credits
Here's a seasoned veteran tip. Use lower grade level resources to put important topics in a nutshell.
To get a quick glimpse of major events, use what you have at the house or that you can get at a library to get a quick glimpse of major events. Lower level resources can give you an easy starting point when teaching a new topic.
Then, look at these 5 seasoned veteran tips that will make creating your own American History high school course easy.
ONE/ Be sure you know your state's law.
Be familiar with your state homeschool laws so you can meet the requirements as you build an American history course.
TWO/ Track your teen's time.
The rule of thumb is that one course credit is equal to 120 hours. Obviously one-half a credit is 60 hours.
What is not so obvious is deciding how to meet the hours requirement. It also does not mean that all of the hours need to come from textbooks.
THIRD/ Don't hem in your teen's creative expression on how to meet the hour requirement.
If you have the control in your state to determine how to fill the credit requirement, then think beyond what public school dictates as traditional learning.
Look at this list of ideas to add to your course and ways to meet the time requirement. Mix and match these activities to meet the needs of an American history credit.
Read a textbook
Read living books
Essays
Hands-on projects
Prepare a speech
Review primary resources
Learn history through art
Learn history through geography
Learn about fashion of the period
Focus on one or more history makers like Abe Lincoln or George Washington.
Learn history through music
Take field trips like attending a play, music performance and art museum
Apprenticeships
Watch movies
Cook a time period recipe

FOUR/ Determine if history will count as a one-half credit or full credit.
The fun part begins when you and your teen decide if he will cover only history for the whole 120 hours or if you'll mix and match with other subjects.
The beauty of homeschooling is that you can adjust a course to a teen's likes and passions.
For example, if a teen is a writer, then he can focus on writing while learning history. So history could be a .60 credit and creative writing about history a .60 credit.
Alternately, if you want to add a literature element, then history may be a full 1 credit and literature could be a one-half credit.
If your teen is a budding artist and doesn't like history so much, then he can cover history while doing art. You and your teen determine how to divide up the hourly credit.
FIVE / Begin American History in middle school.
By starting in middle school, your teen can go slower or take his time and dig deeper if there is a passion for history.
As long as the resource you're using is high school level, then you can count the credit on the transcript.
American Homeschool History Outline
Although my teens had some say in the topics, they didn't have the final say. I wanted to be sure my teens were exposed to a wide variety of topics, but it's not necessary to cover all of the events, people, or topics at the same depth.
I find that looking at the table of contents of any American History textbook can serve as a beginning point for an outline. You can easily use it as a reference or make your own course outline.
Look at one I created to get you started.
Columbus
The First People of America
The American Colonies
The American Revolution
Creating the Constitution
The Age of Jefferson
The Age of Jackson
Religion and Reform
Manifest Destiny
The Civil War
Reconstruction
Industrial Growth
The Gilded Age
World War I
The 1920s
The Great Depression
Truman and the Cold War
The Eisenhower Years
The 1960s and Vietnam
Present
---
5 American History Enhancements
As you can see you quickly can draft a diy American History course that your teen will be passionate about.
After doing American History several times with each of my grads, I mixed and match different resources. Key to keeping it easy is to have a variety of resources at your fingertips.
Look at these 5 American history resources that you can use to enhance or flesh out your course. It's not that hard, I promise.
ONE – Use Fun Lesson Plans.

America: Ready-To-Use Interdisciplinary Lessons & Activities for Grades 5-12. I loved this resource because it helped me to have ideas to include my younger kids while teaching my high school kid.
Too, I could expand an idea in the book to a high school level. Like it says, it's a great big book of ideas to teach about American history.


TWO – Add in Living Books for Literature.

Use living books which bring history to life.
One of my son's favorite authors is Albert Marrin. His books make it easy to cover topics using a story format and avoiding boring textbooks.
Here are a few of his books to get you started; matching book to topic is easy because they're are so many at this level.


Another favorite series is the Genevieve Foster series of books. In addition to being well-written they too have images and pictures that one of my sons used to add art to his history notebook.


THREE – Use other fun resources to learn about events, do timelines, or learn about the time period history makers.

Another fun resource if you want to inspire a teen is the American History: A Visual Encyclopedia. It begins with Explorers and moves forward.
Just a heads up, it says grade 3 to 7 on the description, but it's an excellent coverage in chronological order.
Remember topics are not grade level. The writing and reading do need to be high school level.
So the point is to use encyclopedias as a spine (i.e. your main resource) and add in grade level reading. This encyclopedia includes maps and visuals to spur on writing about events and people.
This is an excellent description from the site. Created in collaboration with the Smithsonian Institution . . . gives detailed historical information and brings it to life with more than 750 photographs and paintings, plus extensive maps, charts, and state-specific information.


FOUR – Read about history in a narrative format.

Another love of ours is A History of US: Eleven-Volume Set: Paperback Set.


This used to be a 10 volume set and only recently have added an eleventh volume. This is a well-written series with an attention to detail.
It's hard to pinpoint a grade level for the series because I feel they are different for each book.
The illustrations and pictures are fantastic. The sidebar information and style of writing makes history come alive. You can certainly use these to kindle a love of history.


FIVE – Add in hands-on games and fun if your kid loves hands-on.

Hands-on history is not just for the young. If your teen learns best by hands-on then assign one or two projects as a grade.
I used Home School in the Woods projects to help me come up with ideas for my teens.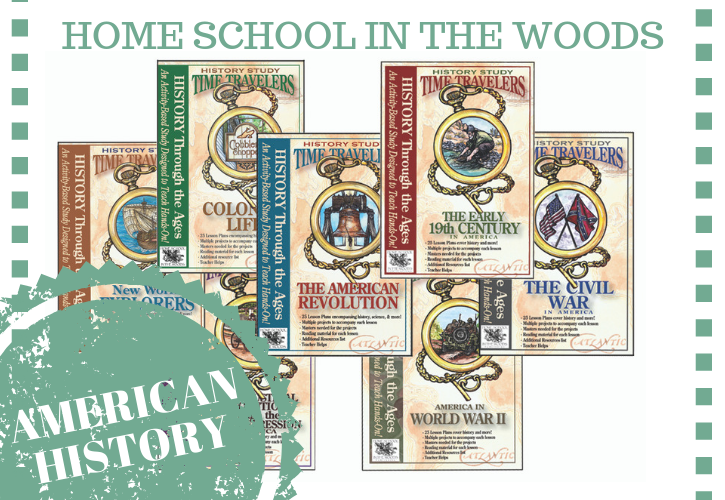 Another way to engage your older child is to add a few games. I love what the Classical Historian offers.
Include your younger kids too and the day can be fun while your teen gets his credit hours.

I love this format because if you have to teach American History a few times over, there is always room for a unique slant or perspective. Avoid the boredom and blahs by using different resources.
What else do you like to include for your teen?

I have other resources to make teaching history at this level fun and unique: