American Revolution Unit Study and Lapbook 1775 – 1783

Please note: As with all of my units, there is no way we can cover every topic or theme and because there is a wealth of information free on this subject including minibooks, we just tried to cover some of the major issues. Too, as with all of my units, we revisit them frequently so we can add to them.


Other units here on my site to go with this one.
Find out how the Iroquois influenced the Founding Fathers:
Click here to read about the Iroquois Confederacy
Click here to go the Iroquois Lapbook

Poem/Song: The Rich Lady Over the Sea
There was a rich lady lived over the sea,
And she was an island queen,
Her daughter lived off in the new country,
With an ocean of water between.
The old lady's pockets were filled with gold,
Yet never contented was she,
So she ordered her daughter to pay her a tax,
Of thruppence a pound on the tea.
And then she called out to the island queen,
Oh mother, dear mother, called she,
Your tea you may have when 'tis steeped enough,
But never a tax from me!
Listen to the music and read it in it's entirety here.
Who is the Rich lady over the sea (no doubt it is England) and the colonist are viewed as her children.


Lord Cornwallis and George Washington
The American Revolution was the political upheaval during the last half of the 18th century in which thirteen colonies in North America joined together to break free from the British Empire, combining to become the United States of America.
After the French and Indian War ended in 1763, peace and prosperity came to the Thirteen Colonies.
The ports of Boston, New York and Charleston were booming! The colonials were proud to be subjects but had been left alone for years to manage their own affairs.
Each colony was independent and elected its own governor.
Now at peace with France, the British government intended to keep the growing colonies under strict control.
Colonies:
New England Colonies
Connecticut
New Hampshire
Massachusetts
Rhode Island
Middle Colonies
Delaware
New Jersey
New York
Pennsylvania
Southern Colonies
Maryland
Georgia
North Carolina
South Carolina
Virginia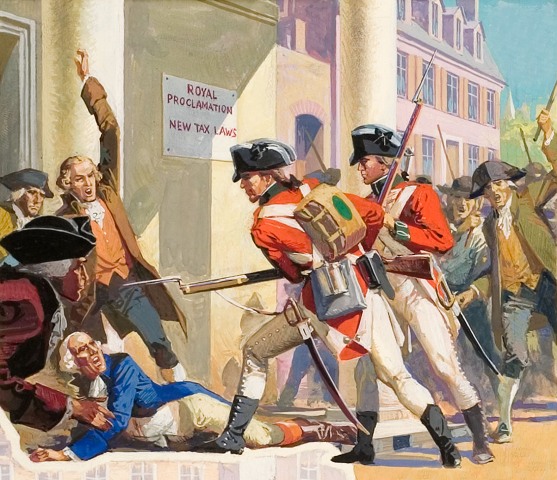 "Taxation without Representation"
Adopting the policy that the colonies should pay an increased proportion of the costs associated with keeping them in the Empire, Britain imposed a series of direct taxes followed by other laws intended to demonstrate British authority, all of which proved extremely unpopular in America. Because the colonies lacked elected representation in the governing British Parliament, many colonists considered the laws to be illegitimate and a violation of their rights as Englishmen.
 Background prior to the American Revolution
The American colonies fought for England whenever England and France were at war. The Seven Years' War of 1756 – 1763 was a world wide struggle between those two countries. In America it was called the French and Indian War,
The Virginian George Washington gained valuable military experience in this war along with being noticed by both the colonist and Britain.
At the battle of of Jumonville or l'affaire Jumonville, a battle between the French and English for the control of the Ohio Valley, ended in a British victory lead by George Washington.
George Washington said "I ordered my company to fire" and before Washington could stop the killing and accept the surrender of the French, ten of them were dead, including their commander.
This conflict made Washington famous along with his gaining military experience.
As wrote by Paul Johnson in his book A History of the American People he said "Horace Walpole, in his History of the Reign of George II, was more accurate: "The volley fired by a young Virginian in the backwoods of America set the world on fire".

What were some of England's reasons for taxation and war?
England increased control over its colonies and the steps they took to do it:
 England desired to remain a world power
 England imposed taxes, such as the Stamp Act, to raise  necessary revenue to pay the cost of the French and Indian War
What were some of the colonist reasons for being dissatisfied?
 Colonies had no representation in Parliament
Some colonists resented power of colonial governors
England wanted strict control over colonial legislatures
Colonies opposed taxes

 What was significant about the Proclamation of 1763?
 The Proclamation of 1763 hampered the western movement of settlers
They had a sense of adventure and a spirit to want to move beyond the Appalachian mountains.


Who were the colonist?
From Activity for Kids
"Tinkers, Tailors, and Candlestick Makers
The English thought of the colonies as 13 wayward children disobeying their mother country.
For decades, the colonists had been happy to be the children of England, but now they felt they were grown up and ready to do things their own way. They had proved, by settling in the wild new land and building thriving communities,that they could do things on their own.  In their struggles, they had developed a habit of independence. "

About the setup of the LAPBOOK
As we were finishing this unit and I was almost completed with helping my sons with the layout of the minibooks, the boys decided to make this layout similar to the way we laid out the file folders for the War Between the States Unit.
Basically, we took two file folders and added them together to make a bigger lapbook (portrait). Adding two file folders together is not complicated and Homeschool Helper Online has a picture and instructions here on this link as to how we did it.
Look at these useful and helpful lapbook resources

Initially, I had created each minibook to fit in ONE letter size folder with ONE flap extender, turned LANDSCAPE.
Got all of that?That means there is more than one way to do lay out the minibooks.  You do not have to set up like we did.
Some of the Covers you will notice have been set up to fit landscape on the outside of the file folder.
Here is a picture of how they fit and how I originally created the unit for the lapbooks to go in.
LANDSCAPE LAYOUT
Picture is of a file folder open with an extender page added and turned landscape. I have pictured where the minibooks are placed so they fit.






Covers and Decorating Pieces for the Unit
Covers for file folders turned Portrait


AR-Cover-1-Portrait.pdf (3608 downloads)                                              AR-Cover-2-Portrait-BW.pdf (3107 downloads)
Silhouettes are a type of shadow picture and became very popular during the life time of George Washington

Covers for file folders turned Landscape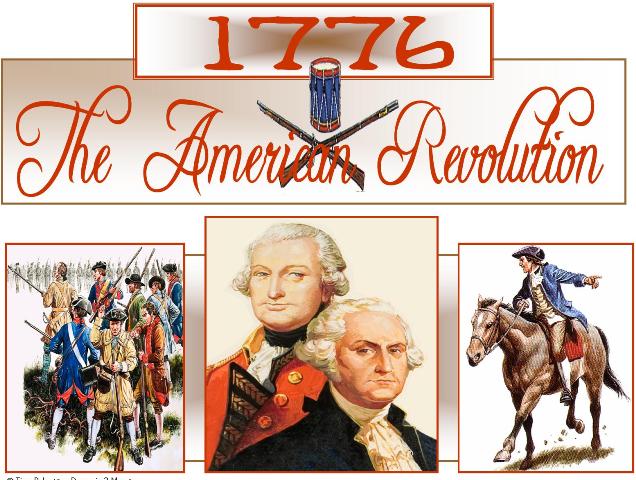 AR-Cover-page-11.pdf (2758 downloads)                 AR-Cover-page-2.pdf (2372 downloads)

AR-Cover-Page-3.pdf (3288 downloads)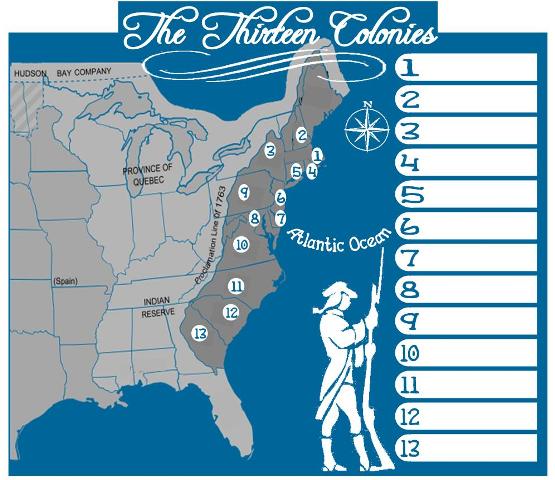 Map-of-13-Colonies.pdf (5469 downloads)


Battles.pdf (4738 downloads)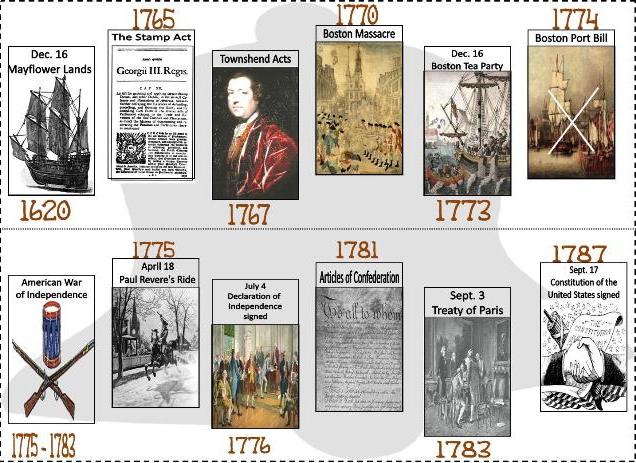 Who-was-King-George-colonist-royal-proclamation.pdf (3365 downloads)
Stamp-Act-and-Ride-of-Paul-Revere.pdf (3764 downloads)


Taxation-Without-Representation.pdf (3611 downloads)


Fun Resources We Loved When Studying the American Revolution
Links/Downloads/Free Lapbooks to go with this:
George Washington's Rules of Civility – Download this copy and use for copy work.
So much to choose from that is free! (i
sn't that nice)
Since there are so many other nice free lapbooks and notebooking pages, we wanted to be sure you saw them.
Sometimes we want to pick and choose so we listed some links here so you can choose some from "here and there" to make your own unit or you can use ours entirely. Your choice.
This picture is of Betsy Stout's lapbook over at Notebooking Nook. She did a beautiful job.
Click here to go there Free American Revolution Lapbook
(Picture copyright Betsy Stout – Notebooking Nook)

Another Free American Revolution Lapbook – Lee also has a very nice free lapbook with a WHOPPING 47 page download as well as some nice notebooking pages. Again, another beautiful job!

Scholastic has a free 4 page minibook download from their Fun-to-Read American History Book.
Free Boston Tea Party Lapbook on Homeschool Helper.
Free Constitution Lapbook on Homeschool Helper.