I was given this product for free. ALL opinions are my own and I will always tell you what is on my mind. When I do accept a product it's because I'm giddy to tell you about it. Read my full disclosure here. Now on to the fun stuff!
Hands-on History Activities 
Ancient Empires
Over the years I have shared my passion for hands-on history activities which breathes life into lifeless events of the past. So when planning our year end history co-op, I decided to use the Great Empires Activity Study, which is an activity study by Home School in the Woods. I have to say a fair amount of swooning was involved because of the scope of empires that the Great Empires Activity Study covers. Your kids will love these hands-on history activities for 14 Ancient Empires.

Great Empires Activity Study by Home School in the Woods covers fourteen empires:
Ancient China
Ancient Egypt
Ancient Greece
Ancient Rome
Arab-Muslims,
English Empire
French Empire
German Empire
Japanese Empire
Mongols
Russian Empire
Spanish Empire
United States and
Viking.

Not wanting to make a choice using the eeeny, meeny, miny and moe method between any of these swoon worthy civilizations for our history loving co-op, I decided to cover a little about each of these empires through hands-on projects.
Organizing and assigning hands-on projects for our Great Empires co-op was easy and enjoyable because of how the information is laid out. After reviewing the download of the material I received, I noticed the files are organized by master, texts and projects. The projects page for each empire, I found extremely useful in wading through all of the excellent material.
The project page is like your weekly lesson plan at a glance page and the master is your lesson plan for the day. The master pages include a helpful teacher's key reference, which is a map marked with key areas, boundaries and other helpful features for each region covered by that empire.
Glancing at the project page, we could select all the hands-on activities that we wanted to do and find them among the 107 master pages.
Too, background information on each empire is vital in covering the topics like we did because we wanted to savor a morsel of each empire. The text pages for each empire are 2-3 pages. However, one gem about the text pages is that they cover the empire at its height.
Non-history loving folks don't like history because they can get caught up in a quagmire of details that can drain the life out of a history lesson. Unsure of which invention, event or key point to highlight, a budding history buff may come away more confused.
However, the text pages by Home School in the Woods shaves off non-essential details for the elementary age child but builds appreciation by covering key events that are significant for each civilization.

If you are a give-me-the-facts-only type of person, you will enjoy reading about each empire in the condensed text because you won't come away feeling overwhelmed. Beyond covering key events for each empire or covering significant inventions, the text unifies the past to the present. Your child comes away with a better understanding of the impact previous civilizations made in today's world. Keeping it simple without being boring makes the text a nifty feature.
However, if you already have a basic framework of history knowledge and want to explore beyond that foundation, you will enjoy the additional reading suggestions in each projects page and the extensive links found in the text which directs you to a website page at Home School in the Woods. Easily, you could spend a week on each empire.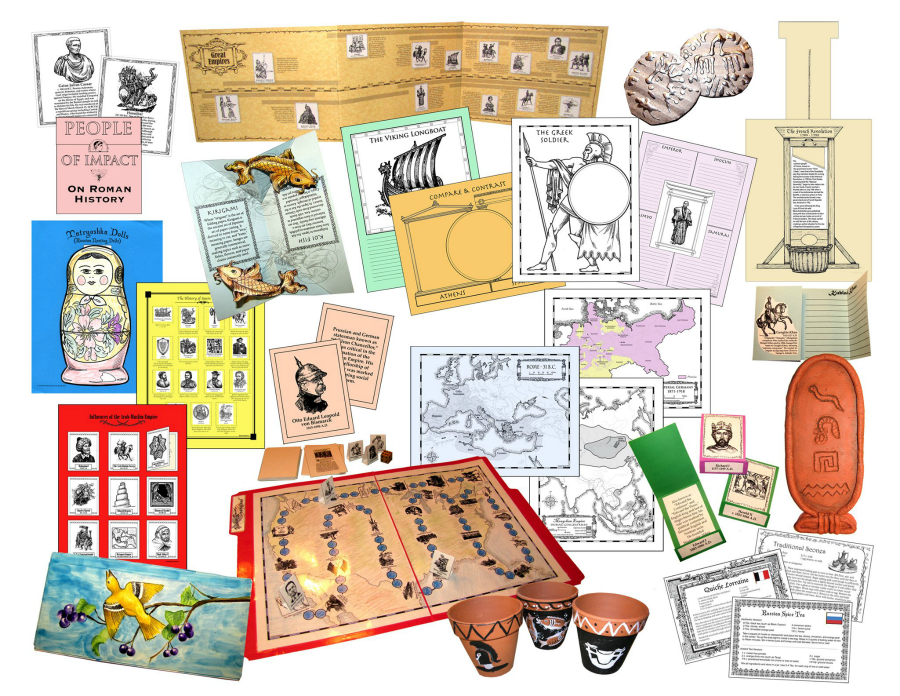 Because the Great Empires Activity Study is about exploring, discovering and hands-on learning, you will find plenty of activities for each empire from making scones when learning about the English empire to making an Egyptian cartouche. Activities vary with each empire from learning about history through cooking, painting pottery like the Greeks and printing minibooks about famous people to Japanese kiragami.
Hands-on History Projects
You will not find cheesy analogies of history clip art in this product. All of the clipart, projects and pictures have amazing detail. If you are a non-artsy person you will enjoy assembling the easy to do projects because a lot of them are printable. You decide if you want to color or not.

Here is what I find most appealing about this product:
The scope of empires covered. If you have been lagging behind in covering history topics or are trying to follow the 4 year cycle used by a lot of homeschoolers and it is going slower than you would like to, using Great Empires Activity Study would be a useful tool if you want a bird's-eye view.
It can be used as a stand-alone history curriculum because you have the option with additional reading material listed in the projects pages and links provided by Home School in the Woods to extend each empire. With the abundance of reading recommendations and because we love history, I personally would take two weeks to cover each empire if I were using this as a stand-alone curriculum. Doing one hands-on activity per week would not be overly time consuming and you could easily end up with a year's worth of history.  What a bargain for the price and you are using it for all of your children.
If you are using a history text and would like the flexibility of adding in an activity to enrich your reading, then Great Empires Activity Studywould be a nice fit.
Great Empires Activity Study allowed a lot of room for flexibility in our co-op setting because it allowed each family to focus on the topic that interested them.
History clip art matters to me because pictures are important in history. The fine detail and high quality pictures can be used for a timeline, history notebook or to add to a lapbook.
Many of the creative activities can be printed and do not involve a lot of teacher supervision or tons of crafty artsy items on hand to do them.
The constant in all the empires is the beautiful teacher's key map. Providing a key map for each empire is like having a mini geography curriculum as a bonus.
I feel that persons can vary tremendously on what each one thinks is a disadvantage in a product. I prefer using the word considerations because it gives you pause for thought to see if your circumstances fit that product.
Considerations for this product would be:
There is not a lesson planning guide or checklist for each day's activities. For some homeschoolers that may feel like freedom to explore and breathe but for others having a to-do checklist each day may feel a bit more secure.
Some of these activities are ones that history lovers may have already done if they have been homeschooling for a while or find them easy, but again the product is aimed at the elementary aged child.

You know I have to organize most products I get and this one was no different. I have created a printable for you to use as cover page for your binder when covering these empires.

Home School in the Woods is an excellent example of showing how history does not have to involve a textbook or always acquiring random uninteresting facts.
With background information on each past civilization and several creative activities to choose from on each empire, you will not be disappointed with Great Empires Activity Study.
Whether you are studying about the legends of Crete or are exploring the adventures of Captain John Smith, adding in hands-on history along with a huge dose of field trips and a history co-op or two is a sure way to making learning about the past meaningful.
You'll also love these other helpful posts with activities:
Hugs and love ya,