I debate constantly at this age whether I should include World War II historical fiction books to teach middle school or stick only with nonfiction. I end up mixing both types of genre.
On one hand I don't want to gloss over the ugly side of war at the middle school age, but on the other hand there is still so much time left in a child's life to get the real facts.
With Mr. Senior 2013, I tended to swing to brutal and real when choosing books and only used nonfiction references. But now, I realize that even at middle and high school level, a young adult is entitled to enjoy reading about history without having to read about all the cruel facts.

Besides, there is so much time as they are older to wrestle with all the issues.
Mixing both types of literature keeps learning about war topics balanced. Fiction can bring the time period alive while nonfiction reminds kids that this part of history is real.
WORLD WAR II HISTORICAL FICTION
Look at these 8 World War II historical fiction books I rounded up for middle school. I think you'll love them.
Alex, Who Won His War (Walker's American History Series for Young People) This paints a vivid picture of the events of World War II as Alex tries to solve a crime. A bit of a stretch in the plot, but the details for the historical time period are there for an enjoyable read.
Night Crossing This book is about a girl living in Austria having to leave her home when the Nazis come and brings to life the feelings of those that had to leave their home with just what they could carry.
The Shadow Children A summer visit to his grandfather's farm turns into an adventures staged during World War II. The charcoal drawings are beautiful which makes this book good for an art study.
The Spy Who Came From the Sea. A teen tells the kids at school that he stumbles upon a spy, but nobody believes him.
Journey to America. A family fleeing Nazi Germany is reunited after being separated and enduring different trials along the way with some adventure.
Behind the Bedroom Wall. This one we haven't read it, but sounds so fascinating because it's from a different perspective. A local teen girl is part of the Nazi party thinking it's going to be good for her community but her parents are part of the underground movement to protect Jews. Sounds great and we can't wait to read it.
Stepping on the Cracks. Margaret's brother is overseas fighting, but learns about a deserter in her midst. It's a good book to teach about pacifism because teaching complex war issues can be hard.
Under a War-Torn Sky. When a nineteen year old pilot's plane is shot down,he finds himself behind enemy lines.
I hope you find one or two to use as a history spine or just as a way to bring this time period alive.
I think you'll also love this free unit study and World War II history unit study.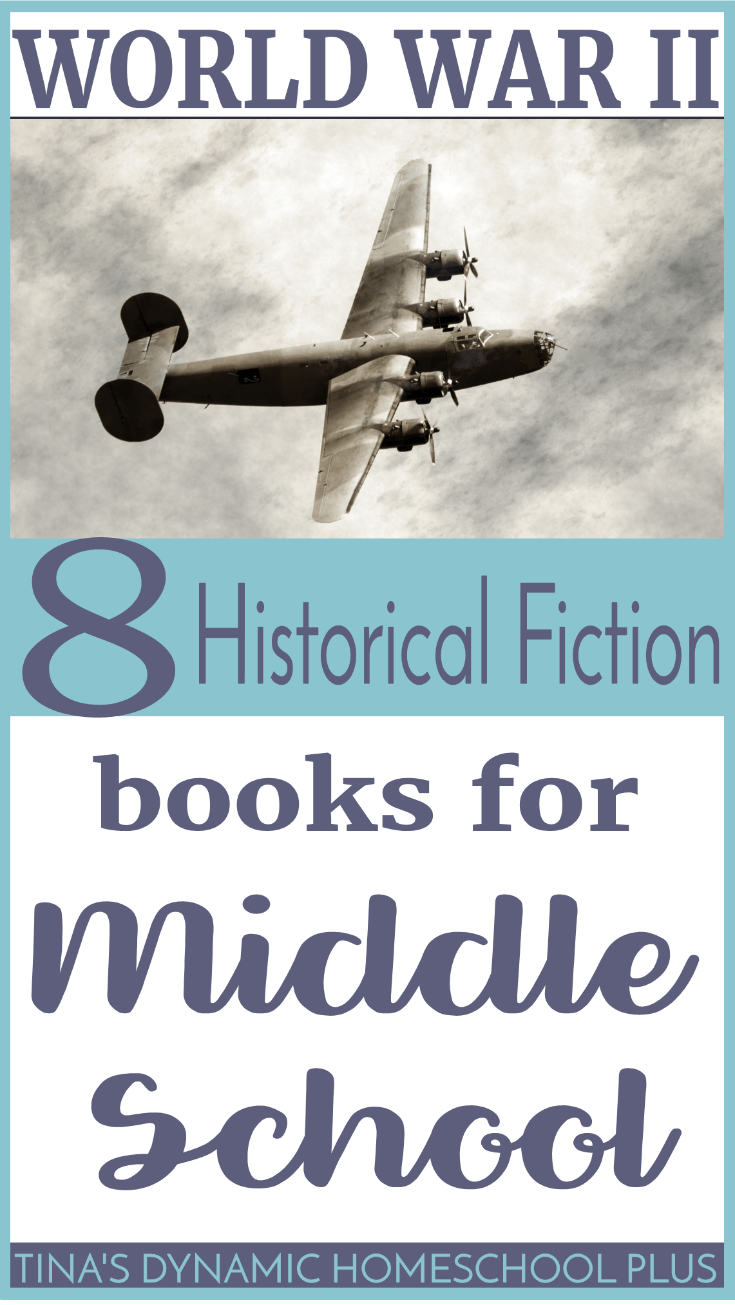 If you're looking for more book lists, you may like:
5 BEST Books to Create an Around the World Unit Study (and Hands-on Activities)