Written by Selena of Look! We're Learning!
Learning to read longitude and latitude is a major part of reading maps. With these measurements, geographers can locate any place in the world, simply by finding the correct degree coordinates.
It's important to learn what these terms mean and it's important for kids to understand how to use these coordinates. But there's no better way to teach it than by doing a fun, hands-on geography activity!
This fun longitude and latitude mapmaking activity is a great way to help kids get involved in making maps. Plus, it helps the concepts of longitude and latitude to really "stick"!
Hands-on Geography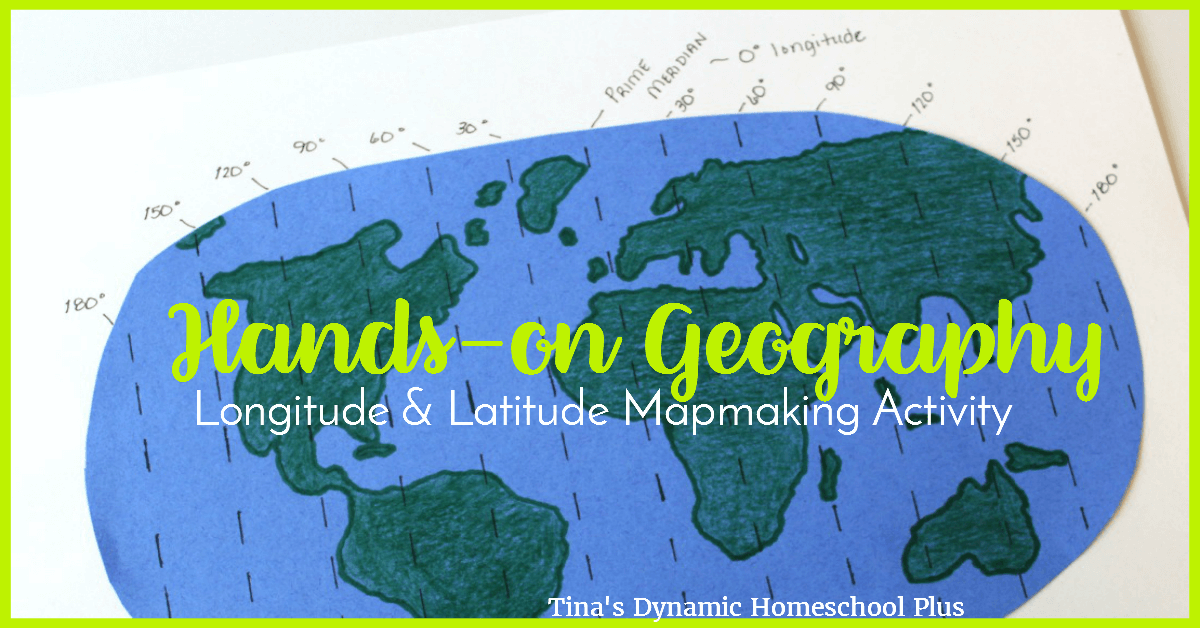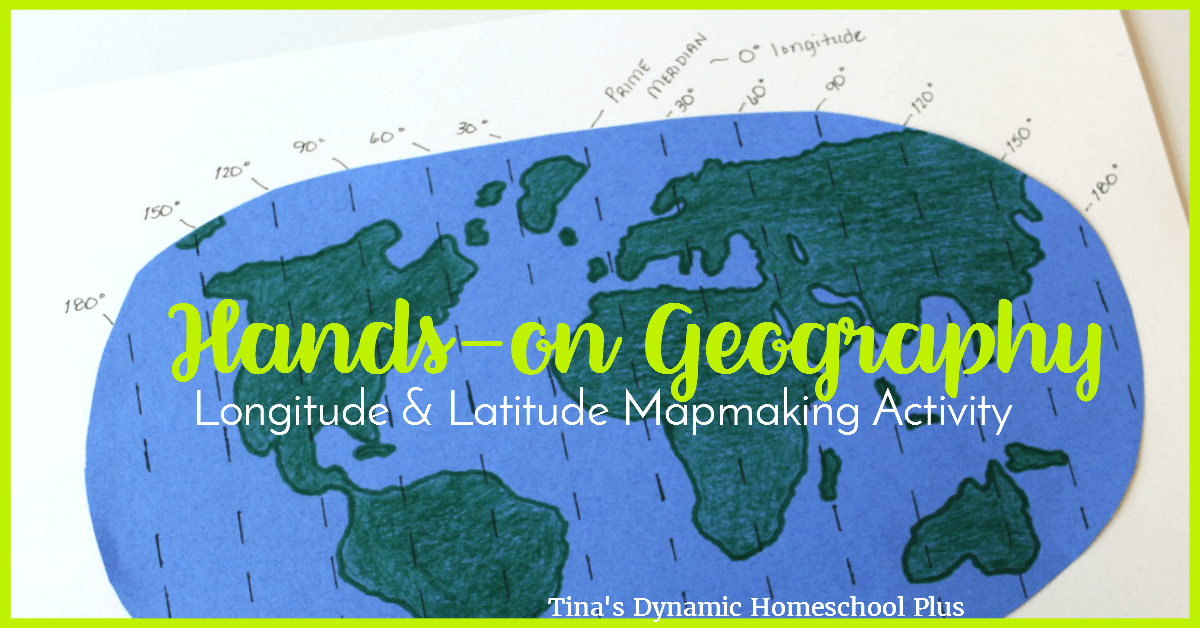 Longitude and Latitude Mapmaking Activity
When I was a kid in geography class, I would always get longitude and latitude mixed up. I couldn't seem to remember which measurement traveled in which direction. Eventually, I came up with this memory aid:
Longitude measures the earth the "long" way around (vertically)
Latitude measures the earth the wide way around (horizontally)
That might be useful to your students as well.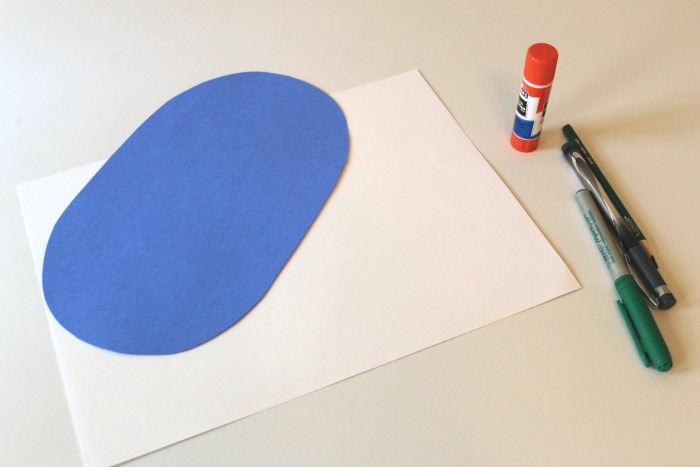 To do this activity, you'll need:
One piece of blue construction paper
One piece of white construction paper
Scissors
Glue stick
A green colored pencil
A green marker
A black ink pen
A ruler
And pushpins (if desired)
To begin this activity, cut an elongated oval out of blue construction paper. You want the oval to be large enough to depict the world, but small enough to fit onto the white construction paper.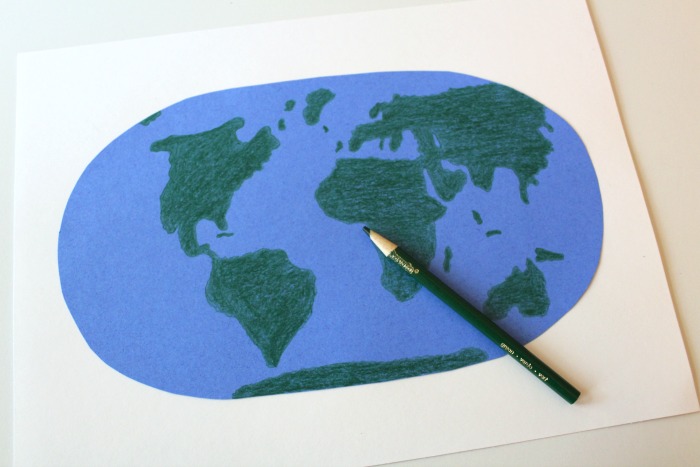 Glue the blue oval onto the center of the white paper. Leave enough space around to write your longitude and latitude measurements later.
Using the green colored pencil, draw an approximate map of the world on the blue oval. We just looked at a world map and drew it freehand. That's why the continents don't look exactly right. If you wanted to skip this step, you could print a world map and glue that onto the white paper, but I think drawing it out helps kids feel more connected to what they're learning.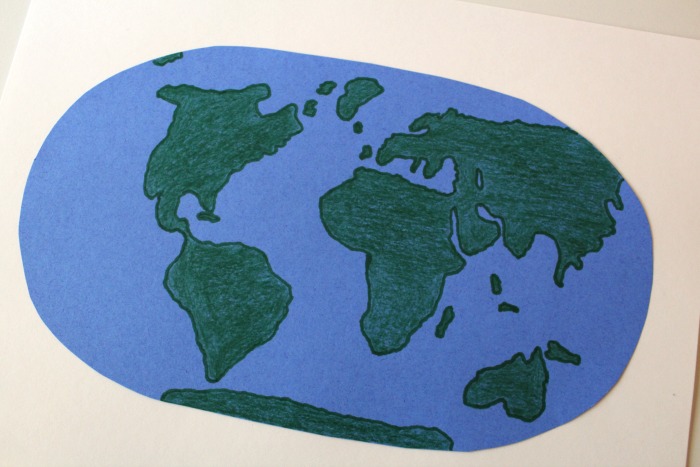 You could also use this part as an opportunity to talk about the distortions that come along with map projections. Anytime a mapmaker designs a map, he or she has to alter the shape of the continents to get them all to fit. Just like we do when we draw the earth.
My favorite hands-on geography program.

Once your drawing is completed, use a green marker to outline the borders and make them stand out a bit.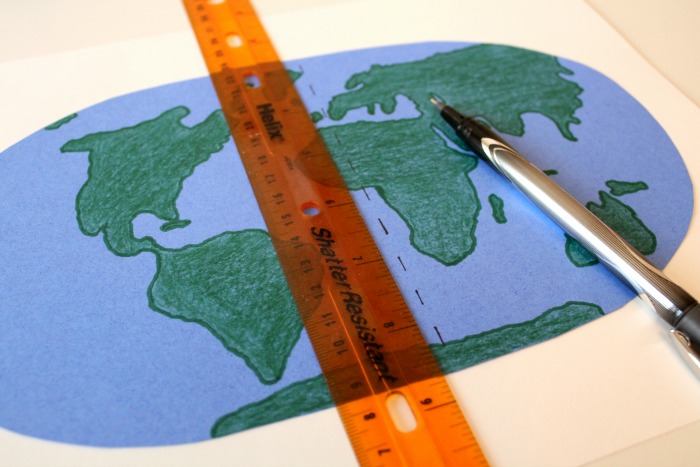 Now, use a ruler to draw a dashed line vertically down the center of the picture.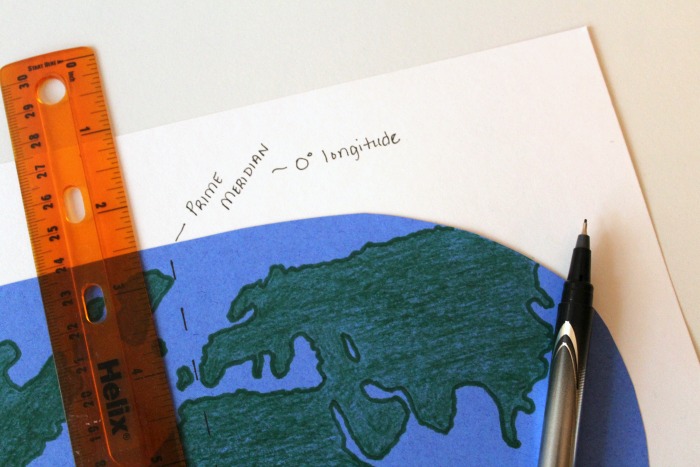 Mark this line as the prime meridian – the center of the earth when measuring longitude. The prime meridian has a coordinate of 0 degrees longitude.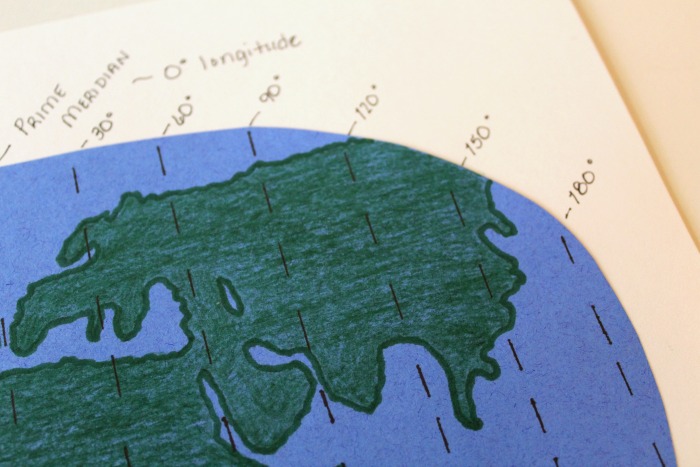 From there, measure out equal distances to draw additional vertical dashed lines. There should be six lines to the right of the prime meridian, showing 30, 60, 90, 120, 150, and 180 degrees.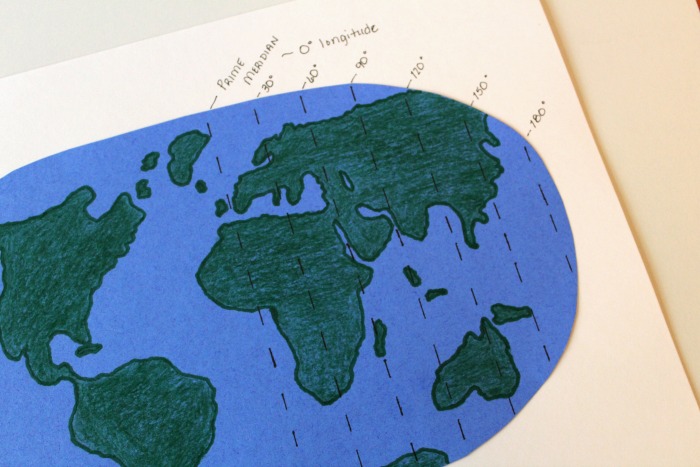 Then label them all.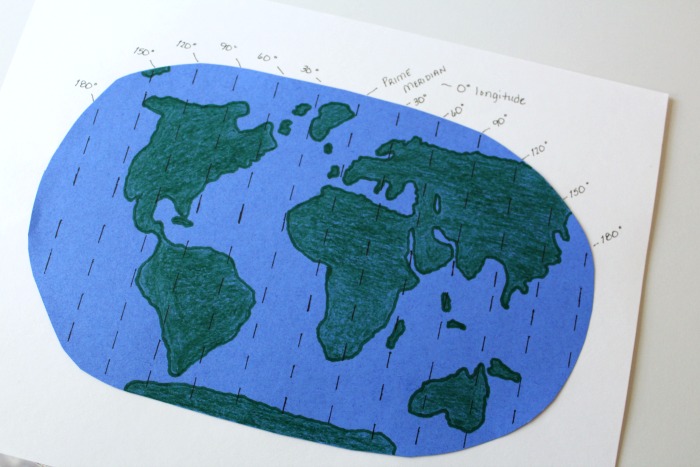 Do the same on the left side, marking six vertical measurements for 30, 60, 90, 120, 150, and 180 degrees. The key is to use an equal distance for each measurement. Ours ended up being 3/4 of an inch apart.
As we completed the left side, we realized that our oval wasn't actually equal, which was going to cause our measurements to be off. We just cut some extra paper off the left side to even it up. Just like mapmakers may have to revise their designs as they go.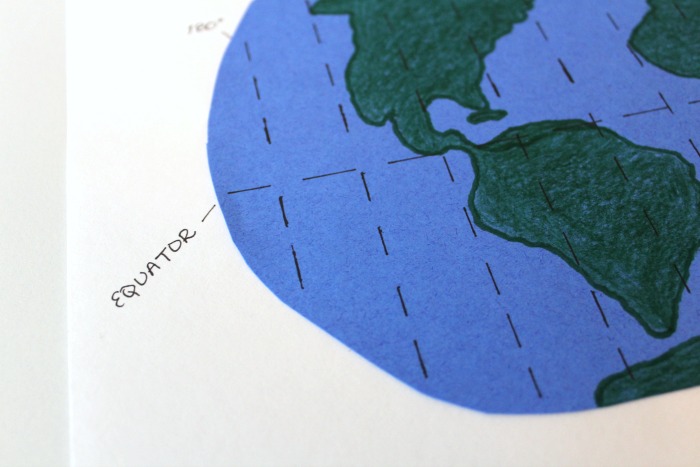 Now it's time to mark the latitude lines! Draw a line roughly across the horizontal center of the oval to mark the equator, which has a coordinate of 0 degrees latitude.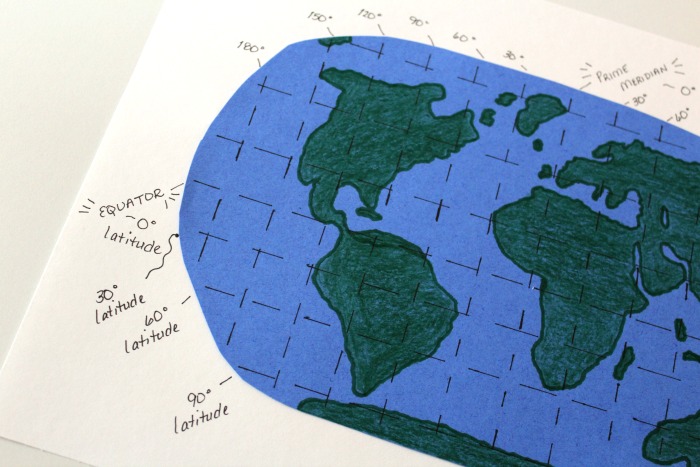 Then add three dashed lines below the equator to show 30, 60, and 90 degrees latitude. Label these lines.
Do the same to add three dashed lines above the equator.

Okay! Now we can practice locating places on the map!
I started by asking my son to find the location marked by 0 degrees latitude and 30 degrees longitude. (We drew our longitude lines first, because there were more of them to add to the picture. But in geography, latitude should always be listed first. Just FYI.)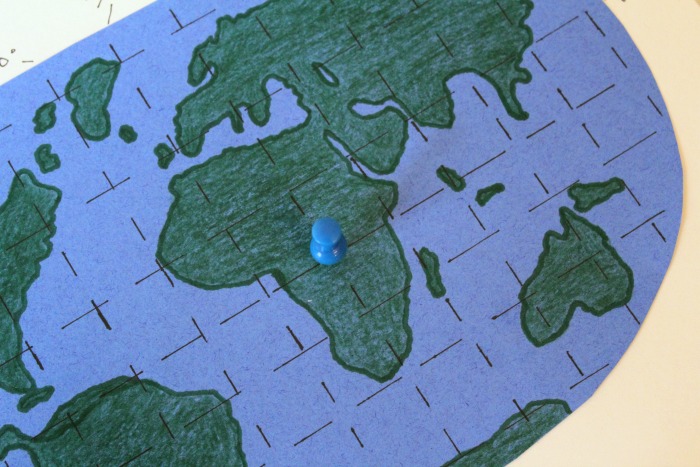 Once we found it, we marked it with a pushpin. If you wanted to find several places on the map, hang this picture on a cork board and let the kids try to spot places based on their coordinates!
A note of caution: This map is not going to be accurate, since it's hand-drawn. So remind the kids that the coordinates you call out and find on this map will not be the same coordinates they will find on Google Maps or a printed official map. But this is a cool way to learn what latitude and longitude mean and how to find them!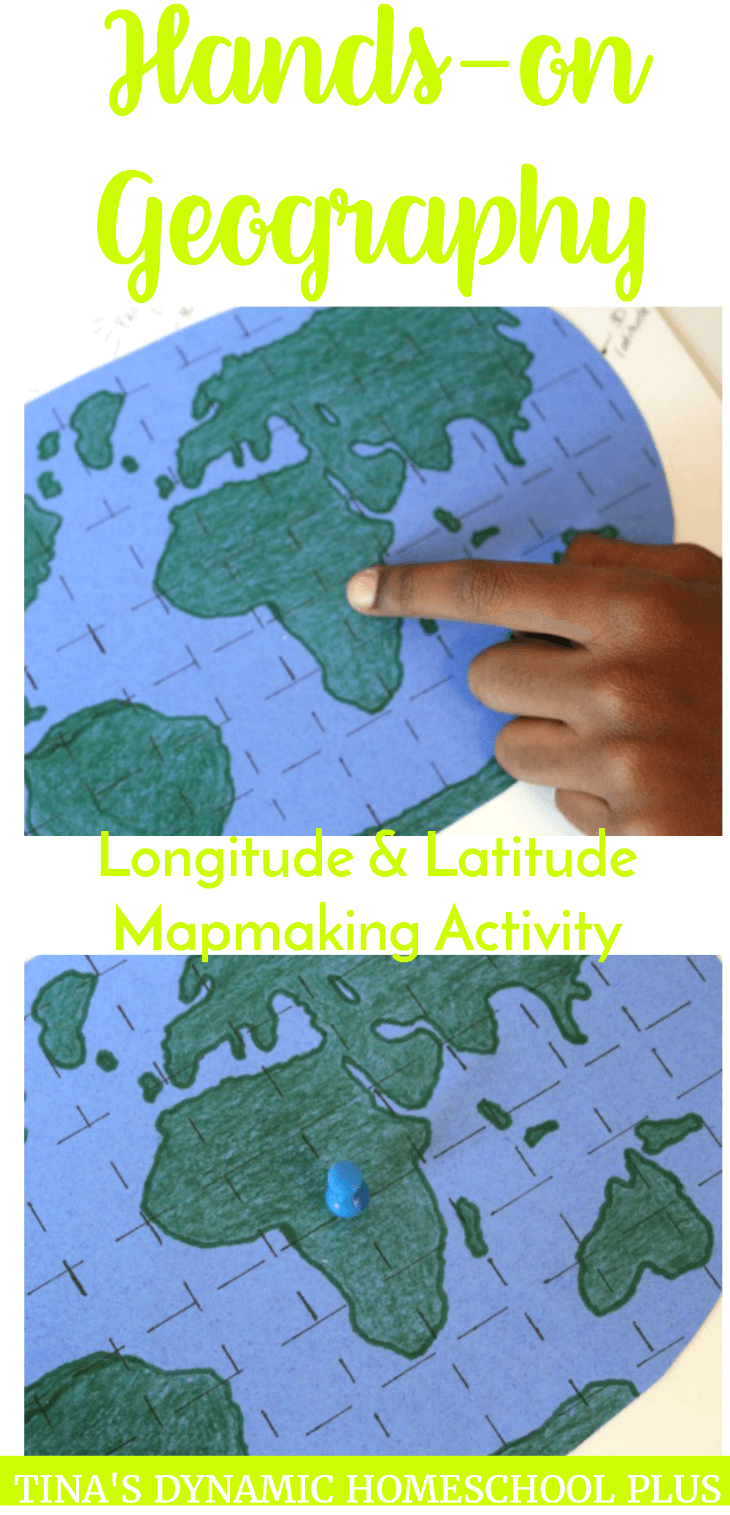 Want more ideas for teaching how to teach kids to read maps? Try these fun ideas!