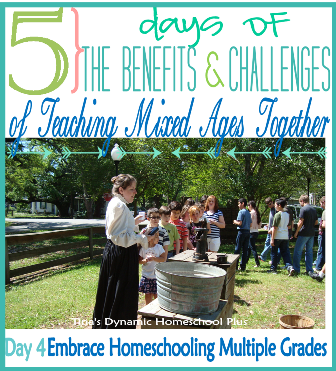 Would you think I was insane if I told you that the word excited is a pretty poor adjective to describe how I really feel about homeschooling my children together? I promise I have no "keep me on a homeschooling high" vitamin, but I feel at times that the unequaled joy and sheer satisfaction of seeing the blessing of your hard work gets overshadowed by the process.
Because homeschooling multiple children can be hard work, I think about this quote; something worth having or in our case worth doing is worth waiting for.
It reminds me of labor in a way (sorry guys I have to go there today). There is a reason it is called labor regardless of how long you were actually laboring. For me, none of my sons were born easy or in a few short hours. The Mr. and I spent more time reading books about the how to process and taking all those breathing classes and relaxation classes than we did visualizing what the actual moment was going to feel like when we held our firstborn in our arms.
As I share these tips today and on Day 5 on the how to of homeschooling multiple grades, I want you to "go there" and spend time imagining what you want from the end of your journey for each of your children.
Teaching Children At the Same Time – Insane?
It doesn't mean it won't be hard. One of the most common mistakes or misunderstandings about teaching multiple grades is thinking that we have to sit all of our kids down together in front of us and teach them at the same time.  While its easier to do this when they are very young, it gets harder to do as they get older.
An insider's tip to teaching multiple grades is to remember that you are teaching multiple lesson plans on one topic. A big difference. So this means you have to know when to teach together at the same time and know when to teach separately.
Your time as the teacher is better spent because you are studying, focusing or gathering facts and resources for one topic, i.e: American Civil War, Inventions or Authors, but creating multiple lesson plans for each grade. Do you see the difference?
Can you see where you may become an expert along with your children on a topic because you have spanned several grade levels teaching one theme? Give yourself some credit because a public school teacher may only teach one to maybe 3 grades during his or her career, but NOT you.
Master the School Subjects.
When helping new and some not so new homeschoolers, I see scrolling huge lists of subjects they want to cover.  I am going to tell you about how to master the school subjects when teaching children together and some tips on how to know when to teach at the same time and when not to. But before I can do that you need to understand how to categorize school subjects.
| | | | |
| --- | --- | --- | --- |
| Math | Language Arts | Bible | Everything Else |
| | Grammar | | History |
| | Reading | | Science |
| | Writing | | Art |
| | Spelling | | |
Above is the secret formula. EVERYTHING you want to teach should fit into one of these general categories on this list.
Math and language arts are considered skill subjects and this means that its very important to understand how you teach these subjects or rather how you build on each concept.
For example, along with reading to your child, it is important to teach phonics. It is hard to learn to spell unless you have a systematic way of teaching phonemic awareness which is a fancy way of saying that your child needs to associate letters with sounds. Too, do you skip right to algebra without learning addition? Teaching these subjects in a systematic order will avoid some of the gaps we all fear.
Content subjects like history or science won't hamper your child's future reading ability if he understands the parts of a cell in 5th or 7th grade.
It doesn't matter if he covers the American Civil War in 6th grade or 9th grade. Content subjects don't really need grade levels. You just cover them to your child's delight and interest.
Grade levels were assigned back in the day to equal work load and the depth of information to cover. Unless, it's high school, you can cover as lightly or as in-depth as you want to. Even in high school you have some leeway but that is another topic we can talk about later.
I have added in Bible too because most of us are homeschooling for Bible based reasons and it is part of our critical foundation so it deserves a separate column.
Now, take ALL of your resources and fit them into one of the columns. I have made it easy for you.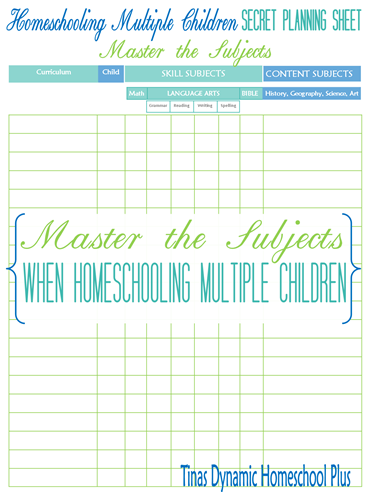 I have created a form for what I visualize in my mind when organizing subjects. Like the track your week form, this too is a working form. In other words, it is a way of seeing all of your curriculum resources that you have or want to use, what it covers and what subject area it falls under.
You can't embrace homeschooling multiple children when covering all of the subjects may be a fog.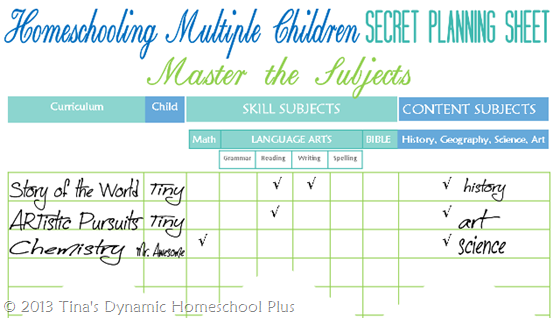 Here is a sample of how to fill it out. Just add ALL of your resources, and pencil in your child's name if you want to and check the box that applies to that subject.
Let's look realistically at how to do this. If you are not sure where a subject goes, give me a holler because ALL of the subjects fit into these categories.
Download Homeschooling Multiple Children Not So Secret Planning Sheet Here.
You know me, I always give you time to mull over my blog posts so take your time.
Switching subjects on you, I will be thinking about you this weekend but we are expecting family from out of town for our Texas Hoe Down Graduation. Even though we had to wait until now to celebrate, it is so much more special since the Mr. is feeling back to his old self.
Here is a quote I am inspired by today as I am thinking about the process of refining how to teach our children.
"You must have long range goals to keep you from being frustrated by short range failures."
~ Charles C. Noble ~
Hugs and you know I love ya,


Read the other posts in this series: