As I learned, choosing a menu goes hand in hand with choosing a venue.
We knew we were wanting to host a graduation with a sit down dinner and not just serve light refreshments.
I feel there are a handful of occasions that come around in life that deserve more attention than normal; graduating high school is one of them. We chose to serve a dinner for our guests. Keeping it small keeps it affordable too.
At first, Mr. Senior 2013 decided he wanted Italian food. We love Italian food. However, I feel when serving to a larger crowd and because not everybody has the same taste palate, a more diverse menu was in order.
Making Homeschool Lifetime Memories NOW
He agreed and in the end we kept to our southern roots and added in something special, like the prime rib. Here is our menu for the night
chicken friend chicken with smothered cream gravy
prime rib
garlic mashed potatoes
southern style green beans (no

half cooked

crispy green beans)
salad/trimmings
homemade bread sticks
Having hosted many parties where I both prepared the food and brought it, I didn't want to do that this time. I wanted to enjoy the out of town guests and family instead of running around serving/preparing food.
Look at these tips I learned when ordering the food through a catering service that saved us some money.
Choose a time of the week when it's not as busy. Saturday is more like a peak time, so having our party on Friday, it was a better price break.
I chose entrees and sides separately instead of paying by the plate. In other words think like you are picking up the food with 40 servings instead of telling them they are catering.
By serving the food ourselves, we didn't have the extra charge for set up, serving and tips for servers.
For us, the venue was right down the road, so the caterer only charged an extra $25.00 for delivery. If the place is further away, having somebody responsible with a huge van works too. For me, having the chef deliver the food worked out better since he had rolling carts and brought his hired help.
At this time, I ordered the cake too. Being the guy that he is, Mr. Senior 2013 only had a few things he wanted. One thing was he didn't want it to look like a wedding cake or "too girly". I think if you have a daughter, she will probably have a lot to say on this.
Homeschool High School Graduation – Party Time!
I think it's hard for cakes to look anything other than plain pretty. I ended up having it made and chose an ombre (graduated color) blue design. Keeping the table simple with candles, flowers and a white cake stand, kept it pretty, simple, and elegant.
As far as the venue, we have a lot of places around us to choose from. I have lived in places where you only have a handful of places that are nice. But, if you have a choice, look for these things.
Is there a fee for set up or cleaning?
Do you have to clean? Can you pay for somebody to clean it afterwards? We got the place clean and so all we had to do was pitch in at the end and clean up. Our homeschool kids are use to doing this because of how many field trips we have had hosted.
We ended up going with a community center that has a nice kitchen so I could keep the food warm when it was delivered. There was plenty of parking and it was easy to find so I didn't have to send out instructions with the invitations. The lobby was warm and inviting.
But, I think the best tips of all are the money savings tips because why not take advantage of them. Who wants to pay full price when we can get a deal?
Remembering that some managers gave me a discount for places we have rented for our homeschool co-ops during the week, my hubby asked them for renting the place on FRIDAY and not a peak time like Saturday night.
They were delighted because hardly anybody rents a room or building on a Friday.
We cut our cost significantly, about 40% by renting it on Friday. Our homeschool friends are pretty flexible and as long as they knew ahead of time, they can arrange their schedules.
Choosing to do some of the serving and cleaning ourselves, the party was fast becoming a part diy party. But that is not the only diy thing we did. You know homeschoolers become true do it yourself people the longer we homeschool. It's true.
Next post, I will share some more things we did to prepare for the decorations and yep, it included getting the Mr. to help us out too.
If you missed the other posts in this series, you can catch up below: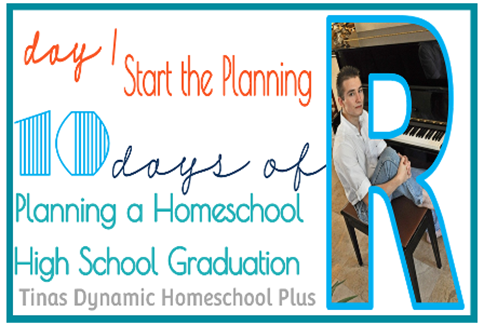 10 days of Planning A Homeschool High School Graduation: Day 1 Start the Planning

Day 2 Senior Portraits/Cap & Gown. 10 days of Planning A Homeschool High School Graduation

Day 3 Homeschool Graduation Invitations–Which Words Matter. 10 days of Planning A Homeschool High School Graduation
You may also like Ten Best Tech Gifts for Teen Boys,  Fun and (maybe Frugal) Homeschool High School Electives and How to Grade a Homeschool Unit Study for an Older Child (& high school assessment).
Hugs and love ya,