Lesson planning is a learned skill when you begin to homeschool. But it won't take that long if you understand some basics.
The skill of how to write a simple but effective homeschool lesson plan is one that you will need your whole homeschool journey.
Basic, But Effective Homeschool Lesson Plans
Too, the advantages of learning how to plan a well thought out and organized lesson can mean the difference between a mediocre home educator and one that soars.
Here is the first secret. Beginning lesson planning start with the basic understanding that lesson planning is part journaling at the end of the day. I will explain more on that in a minute.
Lesson planning for the beginner homeschooler has two components.
One part is journaling (at the end of the day) and one part prior (before your day begins) lesson planning.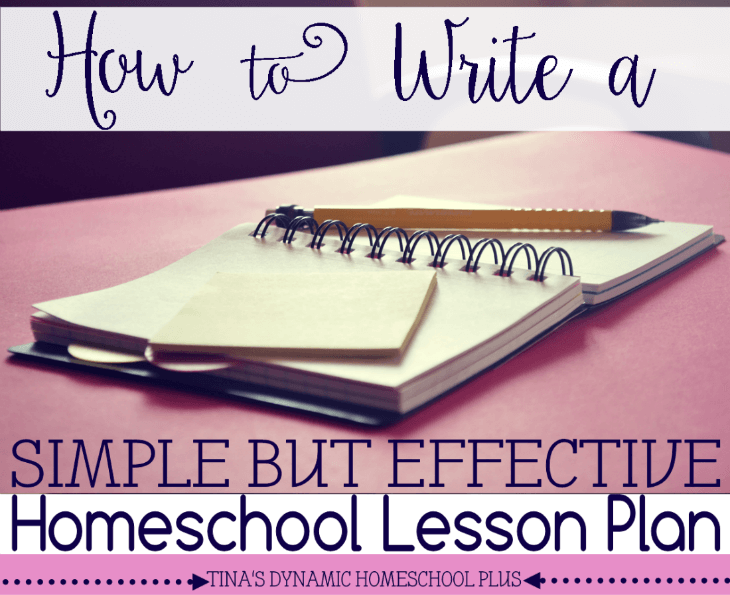 When I learned to lesson plan, I realized I was doing the same thing over and over, which was documenting what we had accomplished for the day and erasing what I had planned for the day.
The two concepts were not the same in the beginning.
Like most inexperienced homeschoolers, I had over planned.
It wasn't a realistic view of what my kids could do.
I learned that if I wanted accurate lesson plans for my children's ages, I had to have a realistic view of what they could and could not do. That meant jotting down what we did for the day as a way to gauge what was realistic.
It's not the way professional teachers learn for sure, but then again I wasn't a professional teacher.
However, it is a creative and extremely beneficial way to learn how to lesson plan.
By jotting down what we did each day, I could then start planning similar activities for the same amount of time.
It was a great way to start off lesson planning because then my lesson plans fit my children's ability.
Lesson Plans Equal Visual Mapping
Too, lesson plans are just visual presentations.
There is no right or wrong on lesson planning. There is just right for your children.
A mom that can visualize where she is going with a subject will get better use with her time when her goals are met instead of the goals not being clear.
Write down those lesson plans.
Look at these parts to the basics of lesson planning that helped me to plan something I wanted to cover for the day.
1. Subject – Start with the subject or topic that your lesson plan will be about.
2. Age/Grade Level – Are you writing this for all your children or designed for one child in mind?
3. Description/Explanation – This is where you describe the purpose of your lesson plan. If you are clear in your mind about what you are accomplishing, your lesson plan will be of great value because you hit your target.
4. Process/Plan – This part is the actual detailed lesson plan of how you will accomplish what you want your children to do. If you don't know and it's not clear to you, how will your children know?
5. Supplies Needed – This is your list of supplies and hands on items you will need for any projects.
6. Assessment – Here I write if I felt like my children learned what I intended for them to or I describe in this section how I could have done something different and I also explain what they liked or didn't like.
All of the above serves as a plan to look back at on when you study another subject.
It gives you a glimpse into what your children liked and did not like.
Lesson plans for us as homeschoolers do not have to be so detailed as to overwhelm us.
Yes it can get time consuming and that may appear to be a disadvantage.
However, the time saved in preparing a lesson plan that does not need a lot of extra work or review is of immense value. Your time is actually freed up to explore other things about that subject or topic.
Don't be intimidated by lesson planning. It is just visual mapping and can be of great help in not being tied to boxed curriculum.
I love this quote.
"You will never change your life until you change something you do daily. The secret of your success is found in your daily routine."
~ John C. Maxwell~
You'll love these other tips:
Hugs and love ya,