Learning how to create a homeschool lesson plan goes hand in hand with choosing a homeschool planner. Besides, how to plan homeschool lessons gives you a strong edge over other homeschoolers who may not take time to learn.
Too, homeschooling means customizing the learning experience.
Learning how to create lesson plan can mean the difference between whining or winning for your kids.
So, whether you create multiple individualized lesson plans or you create only one you'll be glad you have this skillset.
Additionally, how to make homeschool lesson plans can become drudgery. I want you to avoid that while teaching you how to quickly create a lesson plan.
7 Easy Steps to Create a Homeschool Lesson Plan
Look at this example below; I'm using this book we love Air is Not Oxygen.


I'm using it as an example because although it has less pages than other curriculum, it's full of hands-on ideas. I want to show you how to incorporate them into your lesson planning.
Study each step as I have thoughts and questions which you need to ask yourself.
It is an easy way to learn the beginnings of lesson planning.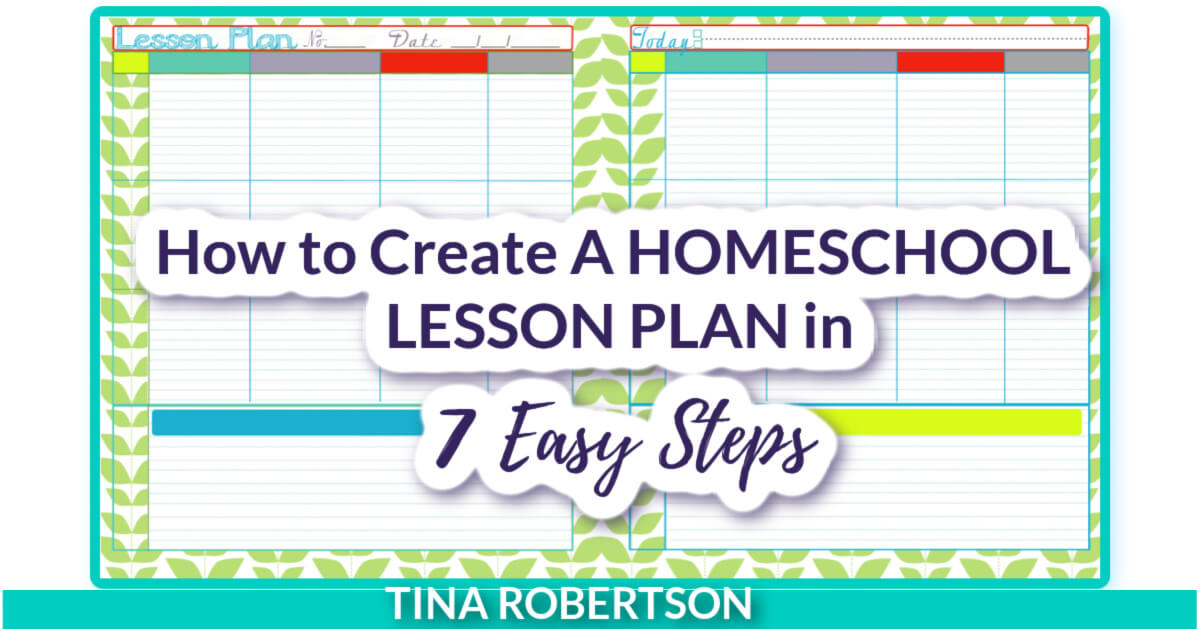 Take a look at these 7 easy steps in how to create a homeschool lesson plan.
Step 1. Determine the total days in your school year or the time period you'll be using the curriculum.
Note: Typical days in a school year are 180. I will use that number too.
This first step is important because it aligns with your scheduled year.
Even if you use laid out curriculum, it may only have 130 or 160 lesson plans or days.
If you're adding the resource you're lesson planning for as a supplement, you'll want to be finished the same time as the rest of your curriculum.
Then, one last more heads up and that is to don't forget your local law. If they determine the number of days you homeschool, that is your starting point here in Step 1.
Step 2. Decide how to divide the resource.
Step 2 is deciding how to divide your resource.
I find dividing by chapters is one way. And dividing it by pages is even easier. My book has 124 pages. I'm using the pages since it will give me the time I need each day.
So, one question you need to ask yourself here is how many days does the curriculum cover.
Because we had not really done a lot of science the year before I used Air is Not Oxygen, I knew we wanted to do something each day.
Additionally, I know the lessons would not be long.
Step 3. Weed out chapters/content that you don't want to cover.
In this next step, this shows the true strength of an individualized lesson plan.
Take time to weed out content which your children already know or have covered.
Also, I look at my resource closely to be sure the minimal amount of review is included.
This way, I can cover exactly what interests my children or cover what is my goal.
Step 4. Determine the content that you will cover, skim, reduce, or take longer on.
Now that you've deleted lessons, reviews, or test that you don't want to include you have a different total number.
However, this may not your final number of lessons. Why? Because like my resource I'm using, it has 2 bonus hands-on activity for every concept I was introducing.
Time to include both activities needs to be added. Right away I can tell that at least 2 days per page is the pace I needed.
This gives us time to do a quick oral lesson and include both hands-on activities or choose one. But the pace is exactly what my children needed that year.
Step 5. Do simple math. Divide, multiple, and regroup to get your final number of lessons.
Finally, here at Step 5 you need to do your first simple division to give you an idea of your pace.
For instance, my resource has 124 pages. And I know I want at least two days per lesson.
I can plan several ways. First, I can double the pages in my resource so my pages doubled are 248.
Remember, I said I was following a 180 day. Right away, I can see that 2 days per 1 lesson won't work.
So my solution at this point is to start with my plan of 2 days per 1 lesson even though I know my year will run out before my lessons – maybe.
Why? Because I know some lessons we may skip although I couldn't find any right now. I just won't know that until I jump in.
Moreover, some lessons we may do 2 for 1 day. It will probably even out through the year.
You may ask, "Why Do the Math?" Because math doesn't lie. And it's not fluff meaning you get a realistic view of what you can actually cover.
So, even if it's easy to figure out how many pages you need to cover, still go through this process. Making mental picture of this process in your mind keeps it cemented there the whole year.
Step 6. Ask: Do You Want to Include Special Projects or Testing?
Next, this is the step where you want to include additional days for special projects.
Too, testing may be required in your state. You need to plan in extra days for those tests.

Step 7. Glance over the material to determine which parts can be covered orally.
In conclusion, keep in mind many lesson plans can be covered orally. They don't all have to be reduced to writing.
This is a good way to cover material when your child needs to work on recall. Also, if your children are working on recall, oral lessons are fantastic.
Look at these other homeschool planner products that I know you'll love!
What do you think, does this give you a great start to making an easy lesson plan?
Look at these other homeschool planner posts: