Sometimes you need to just have a week at a glance for your homeschool planner.
Although daily planners have plenty of room to write, sometimes you just want to write loose plans for the week.
In addition, seeing the week at a glance has advantages because a page full of detailed lesson plans can feel overwhelming.
Some years I've used just this week at a glance alone and other years I've added it to my daily homeschool planner.

If you have followed me for any length of time you know my creative rants for new forms strikes me at anytime of the year. So I have been eyeing the one color choice for the general Week at a Glance form I have on my blog now and needed another look. Now I have a new choice for me you for the curriculum planner or ANY planner since it is a general Week At a Glance form.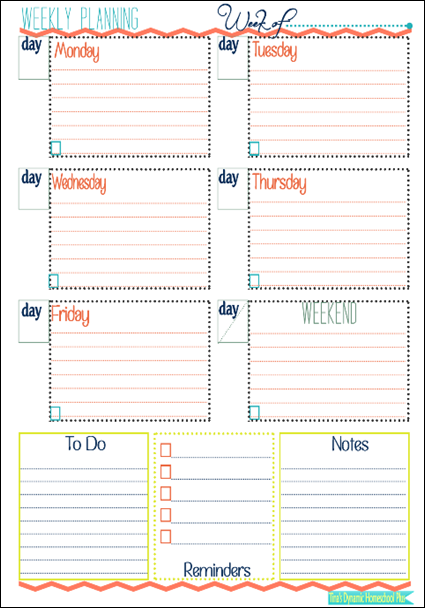 Remember I have 2 different types of Week At a Glance Forms on my blog.
Week at a Glance Printable
One is for school planning and I have several color choices and it is found here on Step 5a. Choose Unique Forms JUST for You Option 6.
And the other one is a general weekly planner and you can use it for anything. You can find the general weekly planner Step 5b. Choose MORE Unique Forms JUST for You Option 17.

Look at these other homeschool planner products that I know you'll love!
You create your own unique planner. Once you try it, you won't download another planner put together by somebody else.
7 Step Homeschool Planner
Step 1. Choose a Pretty Front/Back Cover
Step. 2. Choose Calendars/Appointment Keepers
Step 3. Choose Goals/Objectives
Step 4. Choose Lesson Planning Pages Right For You!
Step 5a. Choose Unique forms JUST for You! Not a kazillion other people
Step 5b. Choose MORE Unique Forms JUST for You!
Step 5c. Choose MORE MORE Unique Forms Just for You!
Save
This free printable is a subscriber freebie.
That means when you sign up to follow me, you get access to my Exclusive Subscriber's Only Library and you get this freebie too.
This is how you get access quickly.
► 1) Sign up on my list.
► 2) Go to your inbox and confirm your email from the automatic reply I sent you.
►3) Look for the automatic reply giving you the password to the private subscriber's area. You should have it soon.

IF you are already a follower/subscriber, find the MOST RECENT email from me and the password and link to the Subscribers Area are ALWAYS at the bottom of every email.Save