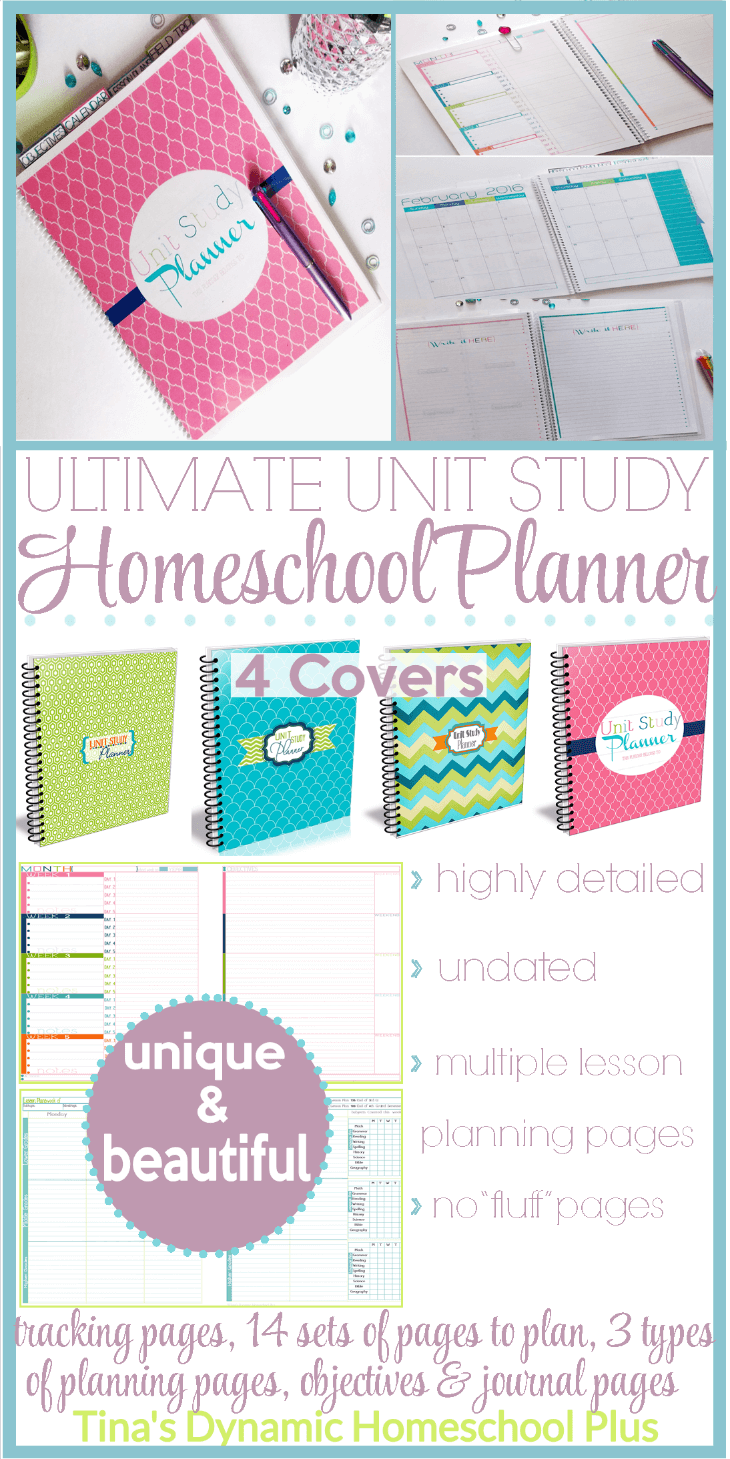 I am excited today about sharing an update to the Ultimate Unit Study Planner and about explaining how best to use the different types of lesson planning pages that are included in it.
There is a reason it is the Ultimate Unit Study Planner because your homeschool journey changes each year and so should your planner.
New Beautiful Unit Study Planning 2 Page Spread
First, look at the new lesson planning page below, which has been added to the other two that were already included in the unit study planner.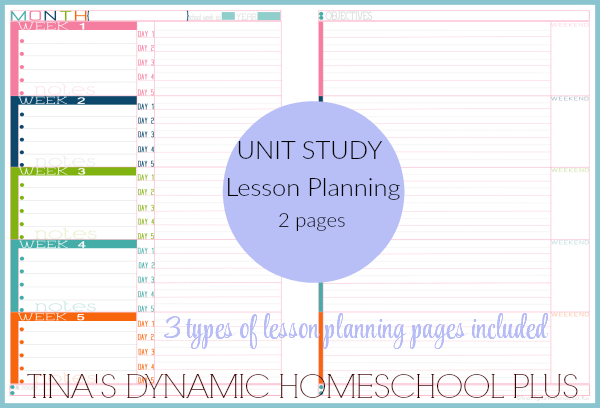 Like I mentioned, your planner needs to change and be flexible. That is why this new lesson planning page was created.
For example, when I first started doing unit studies I was using the multiple level planning pages below (more on that in a minute) because I had multiple ages.
Now, I am down to homeschooling one and I see a very different need.
Look at some of the reasons why you would use this newest lesson planning.
You have an only now and don't need as much room to write.
Each day has two lines so that you can jot down for one child.
Also, I see this lesson planning page mixed with the other detailed one I already have if you want to use it for an older child. Tip: Print off some of the original lesson plannings pages and mix with this one.
Also, I have the need again to track activities on the weekend because Tiny is doing high school level work now.
The weekend notes would also work for those states that have stricter record keeping and where every bit of learning, including weekend activities,needs to be tracked.
Because it only has two lines per day, there is a useful Note section on the far left to jot down whatever you need to track for the week. For me, I will be adding my objectives, lists of supplies for our unit study and books among other things in the note section.
In addition, this lesson planning page can be substituted in the free student planner for an older child.
If you are using unit studies and adding them to your present curriculum, you may not need as much room to write activities. This is the perfect lesson planning page to add your curriculum planner if you're gradually adding unit studies.
A huge change in this lesson planning page too is that it is a month at a glance. Print off 1 (2 page spread) for each month. Can you say thin planner?

Also, this lesson planning page would works for a seasoned veteran, who doesn't need as many detailed lesson planning notes and just needs a guide now.
This works too for those Type B personalities who want to see a few notes or who just need a framework.
As you can see, it is a very versatile lesson planning page that took me months and months to create based on homeschooling my only now and an upper grade child.
Now, look at the other lesson planning page.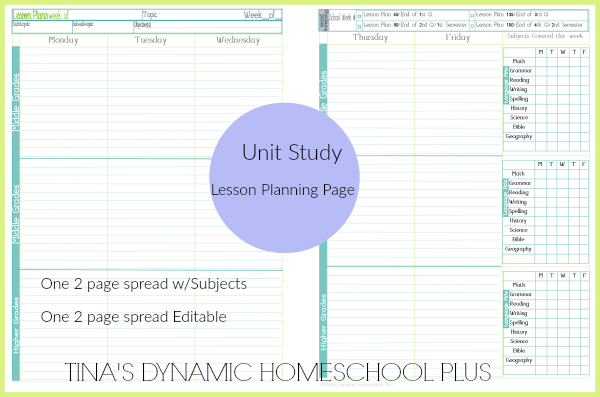 The original detailed lesson planning page has some very useful advantages that can't be overlooked either:
It is divided into three sections, lower, middle and upper grades.
It is for tracking work for multiple ages of children.
On the far right, I listed subjects for you to check off as you cover them in a unit study. Most subjects are covered naturally and there is a place for you to do that each day.
This is the one I used most when I had multiple children.
Too, this lesson planning page is EDITABLE. I actually have two versions. One lesson planning page, I don't have you guessing which subjects to cover, I add them. The other page, allows you to add in your own subjects because as your children get older, you will have a few kids doing upper grade work and some doing lower level work so it gives you more flexibility.
This lesson planning page is better for detailed lesson planning and it is a week at a glance, i.e. more room to write.

You know me and my need to see all this jibberish laid out visually, so I did this quick comparison to show you the obvious differences in the lesson planning pages.
Just remember you get all of them in this planner.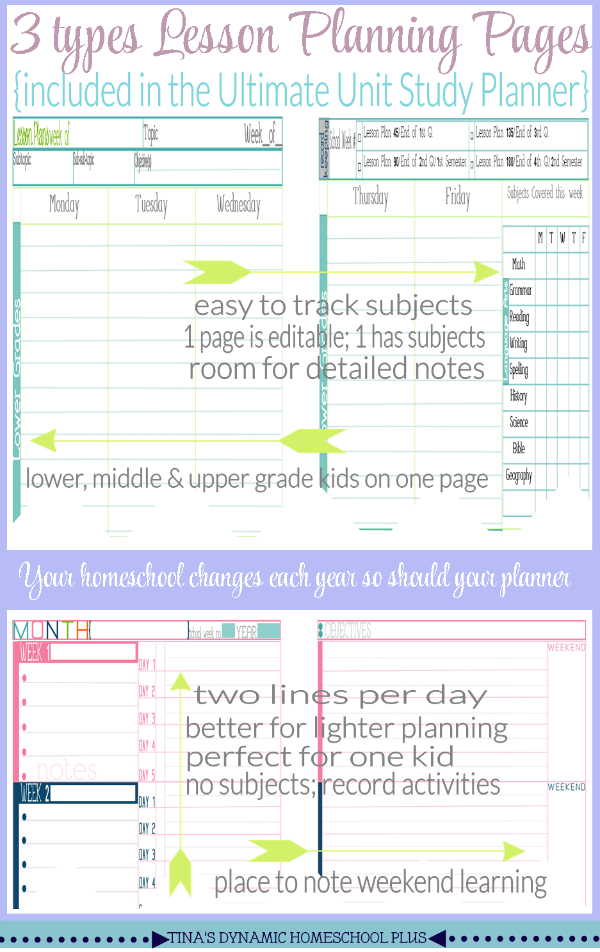 I also added a new cover so that brings the color options to 4 for covers. And of course I had to make some matching note and journal pages.
The Ultimate Unit Study Planner is just what you would expect from an ultimate planner, which is to have everything you need in it as your homeschool changes.
Don't forget:
it is also undated, which means you can use it year after year
has plenty of room to write on for the detailed lesson planing page
has one template that has editable subjects
has forms to track objects and assessments
has 14 sets of pages to plan a unit study. Not only do you have lesson planning pages, but you get detailed pages to help you plan each unit study.
unit study tracking page
80+ pages with printing instructions and sample how to use pages
I hope you like the new lesson planning page added, the new curriculum cover and the new note pages!
You can grab it here and don't forget as you're building it to add the many free pages here on my site to it. Look at this post 10 Things to Include in Your Homeschool Planner – Because Paper Planners Rock!! to see some of the pages in my planner.
I hope you like this new lesson planning page! I am so stoked to use it.
Hugs and love ya,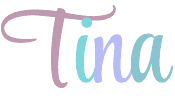 Don't forget to follow BOTH of my Pinterest accounts for more AWESOME pins.
Visit Tina Robertson's profile on Pinterest.