Do you have fitness goals you're struggling to achieve? Have you started that workout plan over for the 7th time this week? Maybe you're kicking yourself because you've let another month's gym membership go to waste? You are not alone! You'll love these 7 simple fitness tips for busy homeschooling moms.
Finding time to meet your fitness goals can be a challenge, but you are worth it!
Disclaimer: I'm not a doctor or professional. Just a busy wife and mom who used to be a lot lazier. I've run three half marathons, love yoga, running, and paddle boarding. I'm happier when I'm focused on my personal fitness goals, but that's all the expertise I have. Please speak to your doctor about your plans and goals. These are some ways I've been able to meet my own fitness goals and I hope they help you too!

Here are some practical tips to help get your fitness goals off to a fabulous start.
ONE/ Make workouts a priority.
When you think about your family's schedule, which seems more realistic:
• Early for morning workouts before the day begins.
• Mid-day slump-busting workouts.
• Evening/night-time sessions after the daily grind of the day.
Find your sweet spot. For me, it was waking up early and getting in my runs before the family even woke up.
I'm naturally a morning person and do better knowing I started the day right. I'm also more motivated to make better food choices throughout the day after having busted my tail working out.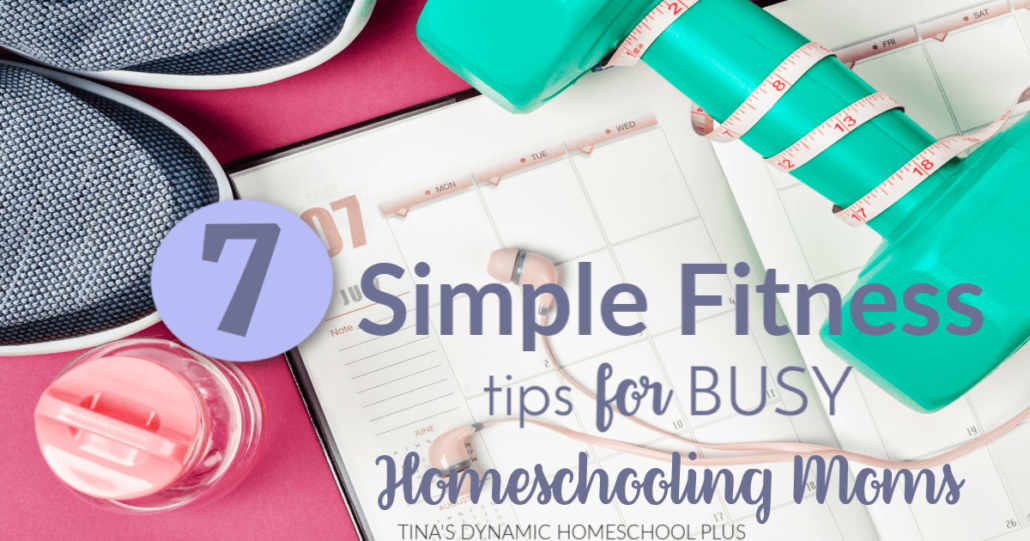 TWO/ Start small.
You want your fitness goals to be a challenge, but don't set yourself up for failure. Set attainable goals that you know you can achieve. Don't run out and sign your life away to a gym or spend a bunch of money on a subscription to workouts you'll never use.
Let's all have a moment of silence for DVDs workouts of years past.
Find a workout plan different than what you've tried in the past and just get moving with a simple goal to workout three times a week. For someone who is starting from zero, it's going to take time getting used to sticking to a workout schedule and prioritizing.
THREE/ Set goals.
Once you have found the workout plan that best fits your needs, set goals. What is the best part of setting a goal and achieving it? The Rewards! Don't forget to treat yourself when you meet your goal.
What are your fitness goals? Write them down. Take a "before" picture of yourself so you can see your progress off the scale as the weeks progress. You'll be surprised how much difference you can see in the mirror before the scale even cares about your workouts!
Fitness Tips for Homeschooling Moms
FOUR/ Create a schedule.
You've got the plan, commitment, and motivation. Now let's make it happen!
Sit down with your calendar and pencil in your workouts when you plan to get them in. Each week is different especially if you're a homeschooling family.
That flexibility of schedule gets too flexible sometimes! Our schedule is often all over the place, so I begin the week by creating a plan with specific times I plan to get to my workout each day.
Saying I plan to workout on Monday, Wednesday, and Friday is all good until Monday comes and I forgot I had to drive to three appointments.
Having a schedule with actual times of the day in the margin helps me so much when carving out time for workouts.

FIVE/ Be accountable to a friend or group.
Find a friend who's willing to go on this fitness journey with you.
I'm positive I would not have made it through training for my first half marathon if it weren't for the daily encouragement from a dear friend who shared the same goal. We wanted to run a half marathon; we found a training plan online and trained "together".
We planned some days for long runs together, but for the most part we encouraged each other by text messages throughout the week, reminding each other to get our miles in.
A little competition never killed anyone. Some days it was a simple screenshot of her run results to motivate me to get off my lazy butt and get my run in too.

You can also find encouragement and accountability through joining a gym, yoga studio, finding a meetup, or event online.
You'd be surprised how many free fitness classes you can find in your area simply by searching through Facebook events. There are also endless options of online fitness programs with active communities.
SIX/ Let go of guilt.
A healthy mom is a happy mom. The time you put in to invest in your health will trickle down to your family in ways you might not expect.
There will be times when focusing on yourself and making your workouts a priority will feel selfish. There will inevitably be a time when you will have to choose your fitness goals over something else.
Don't let mom guilt get in the way of where you want to go!
SEVEN/ Involve the family.
Do you know a great cure for feeling guilty? Invite the family along!
One of two things will happen. They will turn you down immediately and laugh at your invitation to go running and you will be able to enjoy the time alone guilt free or they will join you and get excited about getting fit too. It happens!
If you're doing home workouts, the whole family will see you sweating your buns off in the living room. It's quite the mood booster when my boys are laughing at me trying to work out without dying.
I'll never forget my Brazil Butt Lift DVD days. Those were comical workouts! Lord, help those boys.
Speaking of home workouts…
Homeschool Fitness Tips
Home workouts vs. Gym memberships or in-person classes.
It's hard to know what your magic fitness formula will be, but expect some trial and error. In the beginning just focus on the basics: routine, exercise, and healthier habits.
Finding the right workouts will be key! You want to enjoy your workouts and not dread getting out the door or up off the couch to do them.
What works best for you? Working out at home or joining a gym or club? There are pros and cons to both. Play around with each. Most gyms and yoga studios have a visitor and new member specials.
I don't think I've ever been to a yoga studio that didn't offer some type of first-month rate at an extremely low price.
Home Workouts for Homeschool Families
Pros
• Convenient-You can find just about any workout online. Home workouts can be done at any time of day, any day of the week, so it's easy to fit them into your schedule.
• Low cost (often free)-there are so many apps and online programs to choose from and many are very inexpensive. Even the most popular of fitness apps don't compare to in-person memberships.
• You can work out in PJs-you don't have to get ready or worry about having cute workout clothes.
• Easy for kids to join. (YAY for PE credit!)
Cons
• Easily interrupted-Nothing is more frustrating than carving out the time, getting dressed, or lacing up those shoes only to be interrupted by kids, a phone call, pets, etc. Being home makes it a little more challenging to fully focus on your workouts.
• Low accountability-there are no set times and anyone to motivate you. It's all on you!
• Less mental break-Some days, pushing the coffee table out of the way and sweating in my living room just isn't motivating enough.
Gym memberships & in-person classes for Homeschoooling Families
Pros
• Training-This is a big one for me. You get what you pay for. In most cases, membership is going to give you access to the professional training of some kind. Having someone instruct your positions or teach how to properly use equipment makes a huge difference in your work out and your results.
• Accountability
• Firm schedule
• More mental break – change of environment, getting out
Cons
• Must leave kids, often a challenge
• Cost is usually higher
• Time constraint-not only do you have to make class times, but travel time to and from the class adds to the constraint as well.
• Stress hanging over your head when you can't make it. UGH! I'm guilty of paying for memberships and yoga passes only to let them go to waste. That is a big downer and makes you feel like a failure.
At home or away, you need to find the workouts that are the perfect fit for you! I do best when I mix things up with a little of both worlds.
Homeschool Fitness: Nutrition, Vitamins and Doctors.
I can't stress enough how it important it is to take care of yourself behind the scenes. Drink the water. Take your vitamins. Get your physicals, mammograms, and annual exams! What's the point of taking the time to get fit, if we're not going to get healthy on the inside too?
Deal with anxiety and depression. Those two will really mess up your goals! Don't be afraid to talk to your doctor about medication if needed.
There is NO shame in that! Your fitness journey will be so much easier with a clear mindset when it comes to your health.
Get to those doctor appointments you've been procrastinating and find a healthy meal plan that matches your goals and needs.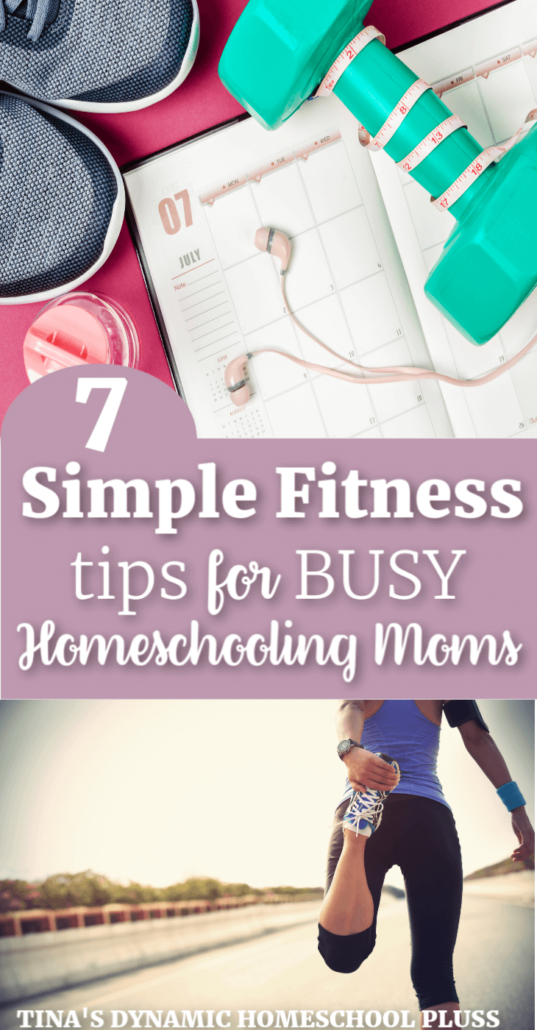 What fitness tips would you add to the list?
Let's make this year count!
You'll love these other reads: