Written by Jen at A Helping Hand Homeschool.
When we learn about events in history, sometimes we tend to look at them through our own eyes. This is completely understandable, since current events and our own way of looking at things is what we know.
Because of that, those events can get confusing. They don't make sense.
There's another way to go about it, though. Events in history aren't just there for us to memorize; they happened to real people and had real consequences. Instead of digging into history through our own way of seeing things, we can try to understand it from the perspective of the people who lived it.
One of the best ways to do this is by keeping a journal!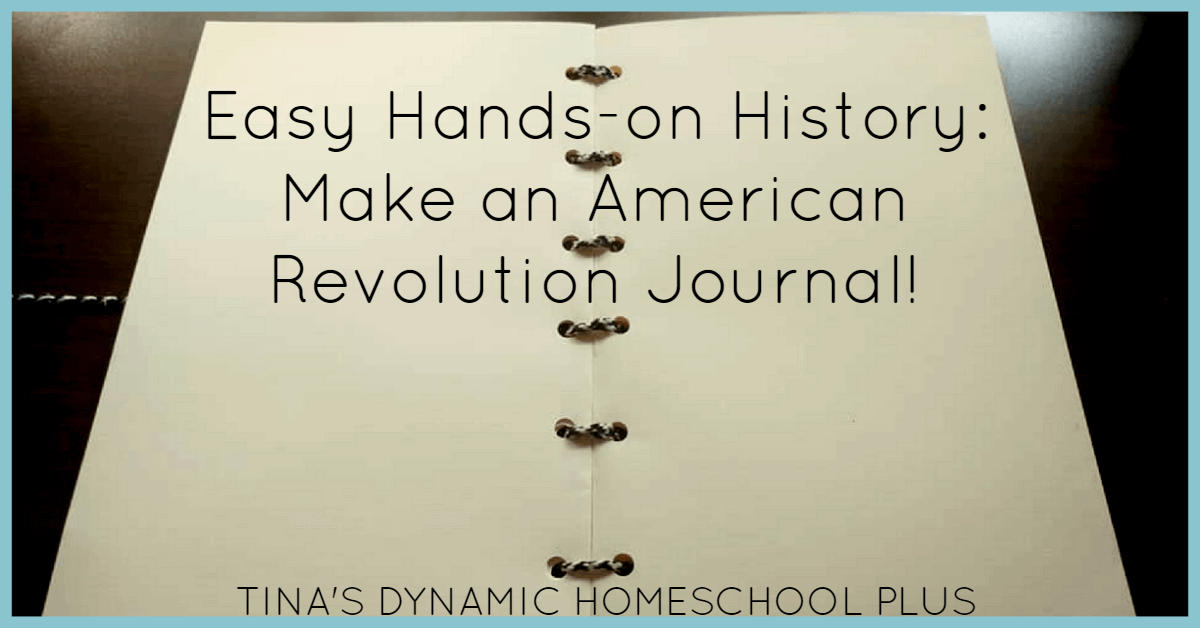 When you make a historical journal, you get to take an adventure back in time. Instead of just memorizing dates and names for a test, you get to discover what it was like to live in another time and place.
Hands-On History: Make a Revolutionary War Journal
To get started, let's cover a little bit of background.
The American Revolution
When we learn about the Revolution today, it is common to think of it as one side being "right" and one side being "wrong." One side lost, and the other won.
Do you ever get the feeling that there's more to the story, though?
To really grasp what happened and why, it is helpful to understand why people did what they did. Why did Britain feel it had the right to make so many laws and taxes? Was it being unfair? Why did the colonists rebel and declare independence? Did all colonists feel the same way?
During the time that the colonies were growing in America, people did not question being under the rule of a king or queen. At that time, it was considered normal and good – it was the way things were supposed to be, at least in their eyes.
The king or queen of Britain was one of the most powerful monarchs in the world for several hundred years, and many colonists were proud to be British subjects. The monarch had to work with Parliament (which is kind of like Congress), but he or she had a lot of power. Decisions made by the king or queen were not often questioned.
Changing Times
During the 1700s, the colonies in what would become America grew very rapidly. In 1700, there were approximately 250,000 people, and in 1776 when the Declaration of Independence was written, there were about 2,500,000. That is an increase of 1,000%!
Protecting all of these people, providing for them, and managing trade in a growing empire was very expensive. On top of this, many wars were fought in America and Europe during this time, which was even more expensive.
Eventually, the British king decided that the colonies should help pay for what was provided for them. In order to get this money, he declared taxes on many things that people used daily. Many of these taxes were on things that the colonists could only get from Britain, so they didn't really have a choice but to pay the taxes.
Some people thought this was unfair, since British law said that taxes could not be imposed without approval from the people being taxed. Since no American colony had a representative in Parliament, this approval was not possible.
Keeping Your Historical Journal
For this activity, you are going to "become" a character during the time of the American Revolution. Instead of just learning about battles and places, you're going to learn about it by "living" it!
You get to choose or make up a character from the Revolutionary War period. This can be anyone – perhaps a child your age, a colonial or British soldier, a Son of Liberty, or a journalist covering the events. Will you be a patriot (someone who thought that America should be its own country) or a Tory (someone who was loyal to the British crown?
Where do you live? Do you live up north or in the south? Are you a farmer or do you work in the city? How old are you, and who is in your family? As you figure out your character, make some notes. This will help you in writing your journal!
When you make journal entries, you will want to date them for the time period you are writing about. For example, you might date your first entry as July 4, 1776 (rather than the current date). Write as if you are the person that you made up. What is happening around you? How do you think people are reacting? How do you feel about the events – are you excited, scared, confused, or happy?
Hands-On Activity: Make a Historical Journal!
For this project, you will need the following supplies:
Two pieces of cardboard, approximately 9" x 6"
5-10 pieces of cardstock, white or cream is best
Twine or fine hemp rope (from a craft store), about 2 feet long
Hole punch
To start, fold each of the pieces of cardstock in half the short way. These will be your pages.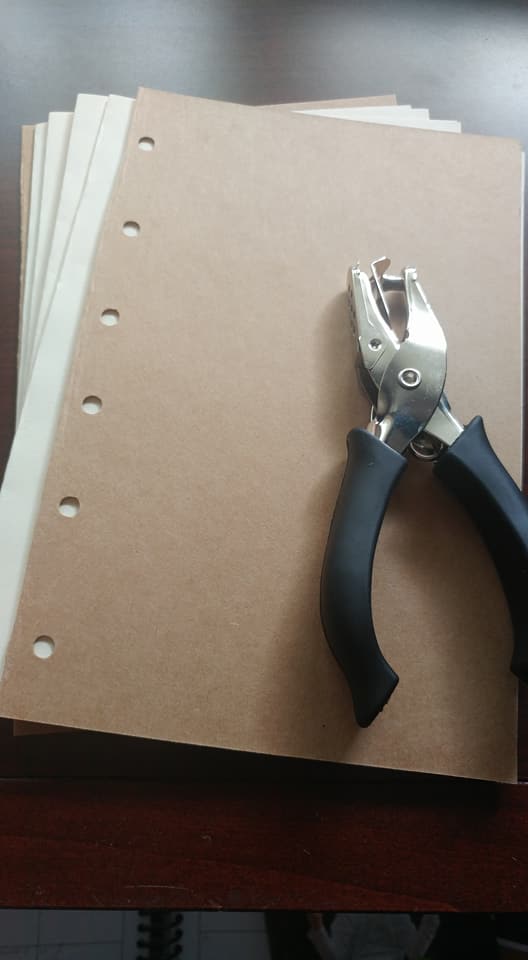 Punch six holes approximately the same distance apart along one long side of a piece of cardboard. Using this as a guide, place each of the folded pieces of cardstock, one by one, under the cardboard piece and make a small pencil mark in each of the holes.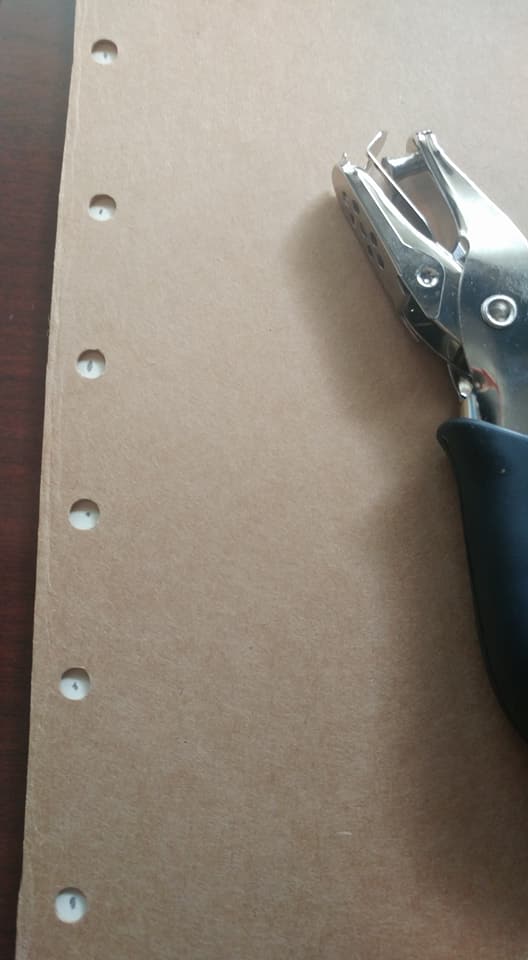 These are your guides; they will show you where to punch the rest of the holes to make sure the pages line up correctly. Do the same with the other piece of cardboard. Punch holes in all of the pages and the cardboard.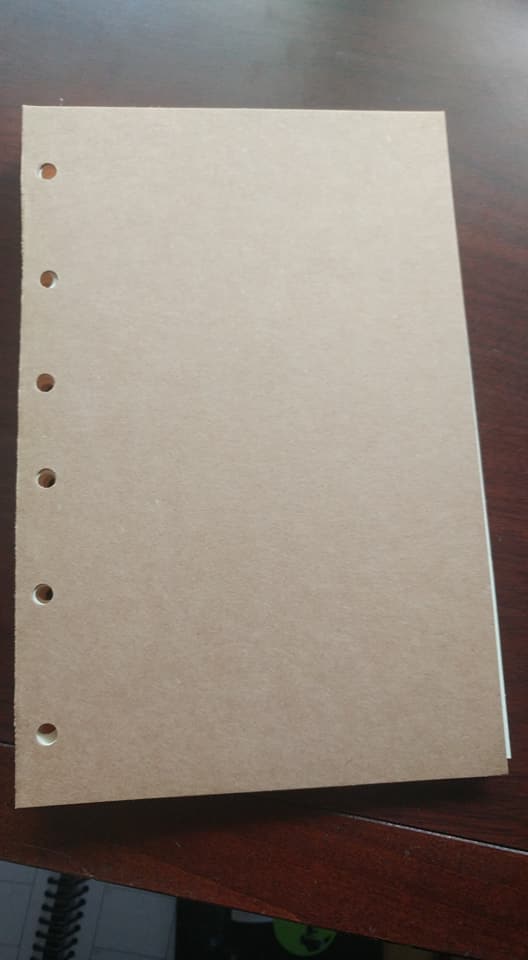 You should now have two cardboard covers and several folded pages. Put them together to form a book. Rather than nesting the cardstock pages inside each other, line them up one on top of the other; this will make everything align properly.
Taking a piece of twine or hemp rope, thread it through the bottom hole of the stack and pull it about half way. (You're going to use the other half in a moment.)
Looping the rope around the back, thread it through the next hole. Do this until you reach the top. Be sure not to pull it too tight – you need it to be a little loose so you can open and close the journal!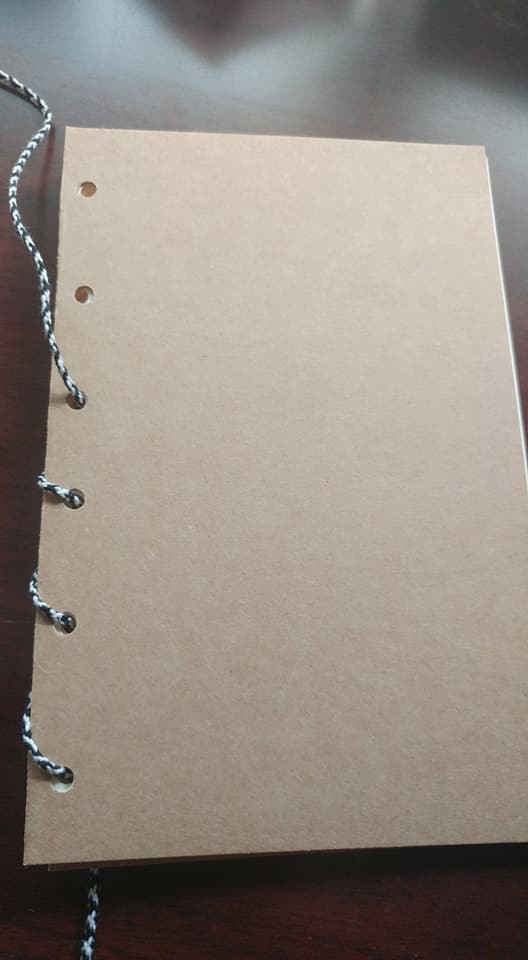 When you're done with one side, start with the other end of the rope. Thread it through each of the holes the opposite way, so that the spine looks like a series of "x's." When you get to the top, make sure that the binding is loose enough for you to open and close the journal easily.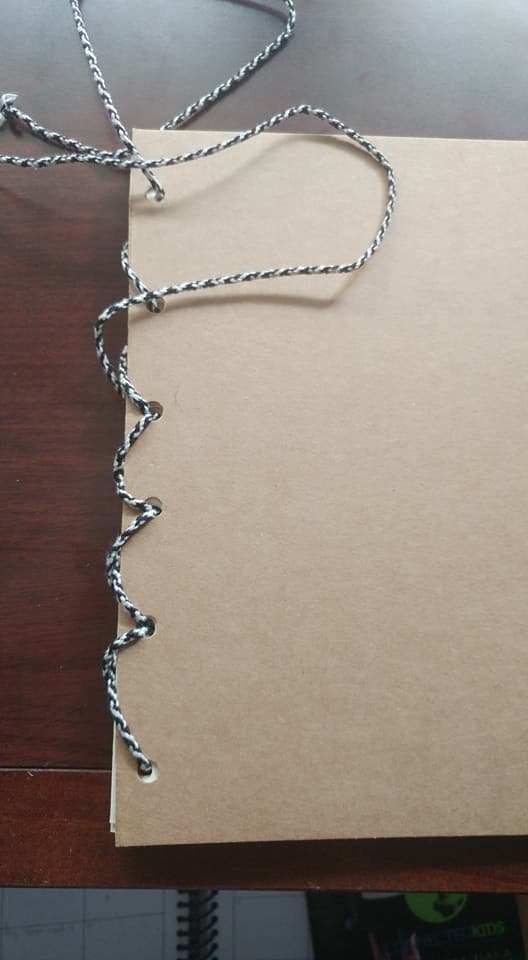 Then, tie a knot at the top. Leave the ends long – these can be tied around the cover of the journal to keep it closed!
Now, you are ready to tell your story!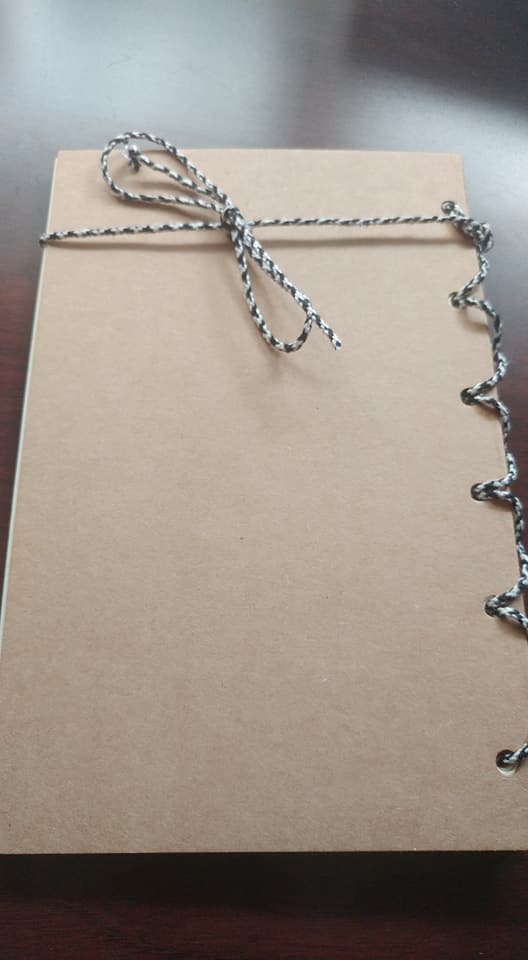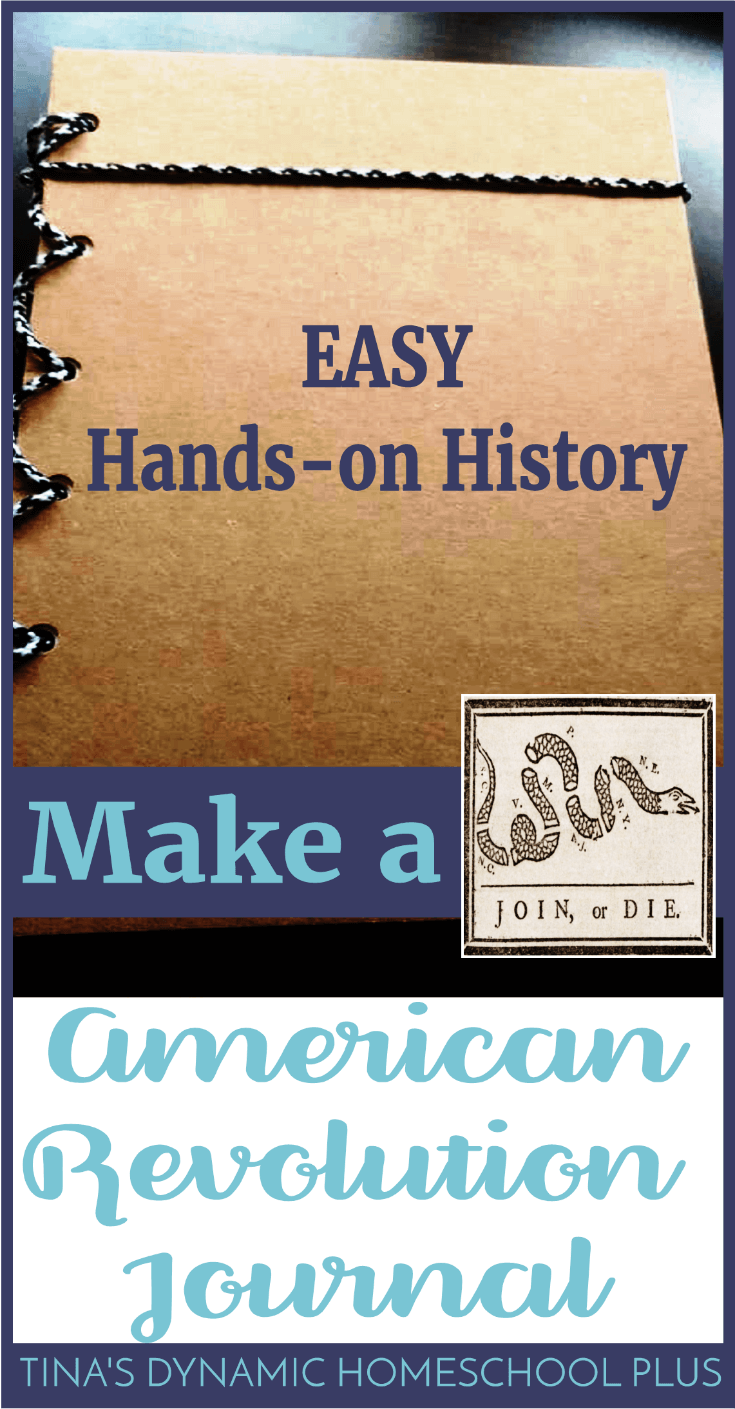 Have fun with this project! The great thing about it is that it is adaptable to any time in history. If you're not studying the American Revolution this year, you can easily use it to learn about any other event!
GRAB THESE OTHER RESOURCES AND HANDS-ON IDEAS

Share more history learning fun with the projects below!