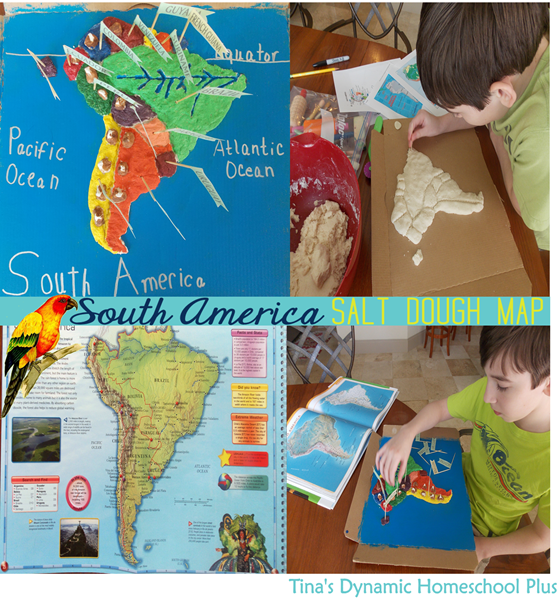 Tiny never gets his fill of doing something fun and hands-on when we start  a geography unit. We did a salt dough map in our Arctic & Inuit Unit Study and he remembered and ask for it again to start our South America Unit Study. Why mess with something working? Besides after you make it, you can use it again and again as review during the unit study. It's so much more fascinating and interactive than a worksheet too.
Before I forget though I want to update the salt dough recipe I had used before because it was wayyy too much. So I cut it in half this time and still had plenty left over. We tend to use left over pizza box lids as our platform and unless you are going to make your salt dough map giganto, you should be fine with this new recipe. Of course, you can double it if you need more.
So here is the update recipe for you which is all the ingredients cut in half. If you want to see how we create it, look at my post on the Arctic & Inuit Unit Study.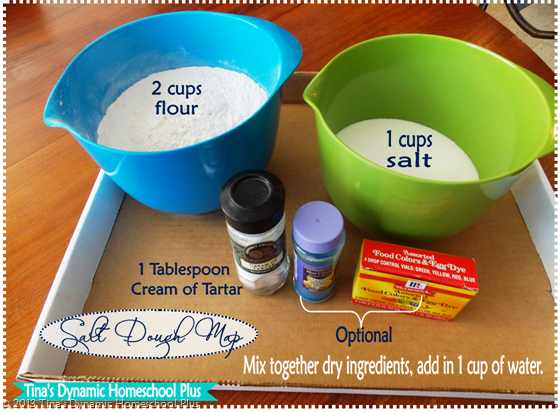 Also, a really good map is needed and we had a big map that pulled out of the center of our atlas. This was really way more helpful than just printing one off the internet.

Since we are working on identifying more of the landforms, we wanted to draw those in and so Tiny use the most complicated tools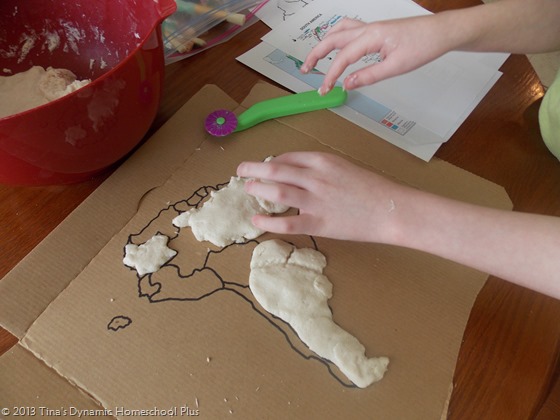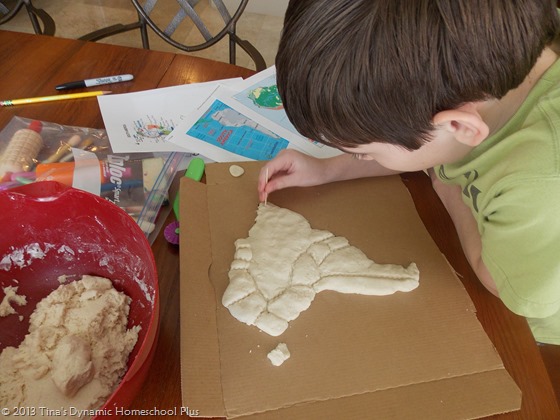 —like a toothpick and plastic clay roller —to draw in the political boundaries of each country.  Simple I am telling you, so simple to keep it fun.
Remember you have to draw in your land forms and place a toothpick in the holes before it dries overnight.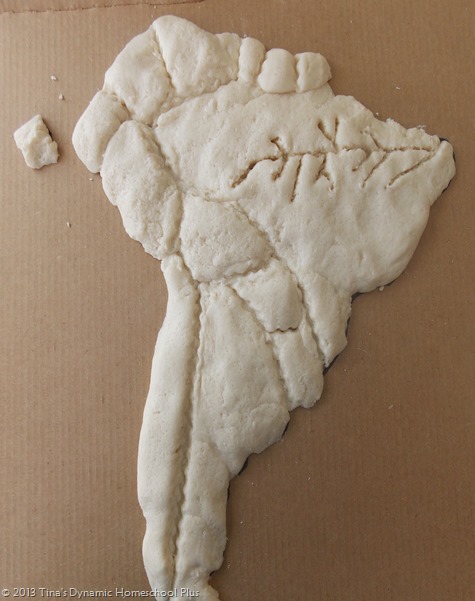 We also took time to look at the Amazon and some of it's tributaries and used the toothpick to draw it going through Brazil (top right) and he formed the Galapagos Islands on the left side.
Tiny only put one island there though there are many islands that Charles Darwin investigated. Of course this is why it's important that he learn to use the map to see that the Galapagos are made up of many islands and not just one.
Then next we went about locating the Andes mountain range.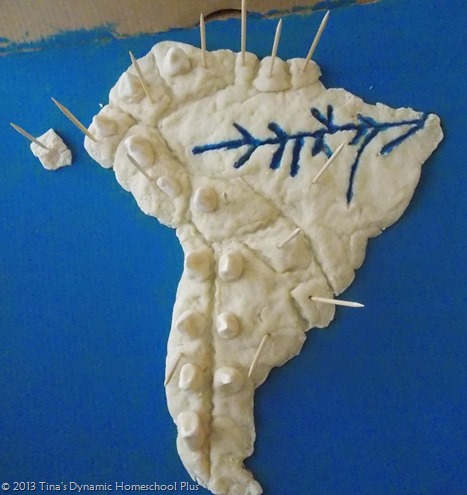 He had the idea of forming little peaks or mountains down the left side to show the stretch of the Andes mountains.  I think they turned out so cute, but he was disappointed. Tiny is like Mr. Senior 2013, he has a high standard for his work and expects perfection. I just expect fun.
Of course after he painted the peaks brown they did look like chocolate kisses which gave me another idea.  This map could be made out of sugar cookie dough and use chocolate Hershey kisses for the mountains. Use frosting to decorate each country and make this edible.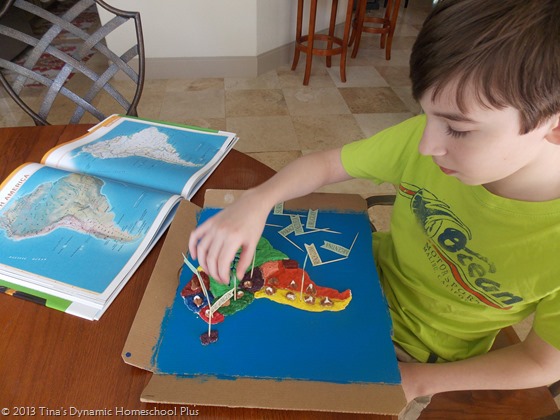 Then because we are working on identifying/locating all the countries and one French territory, and Galapagos Islands, I created some country flags or pennants. Not only that, but by him painting each country a separate color, it really has helped to identify each one, which is another objective of mine.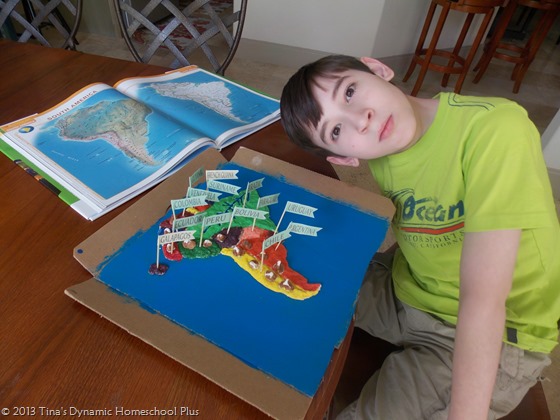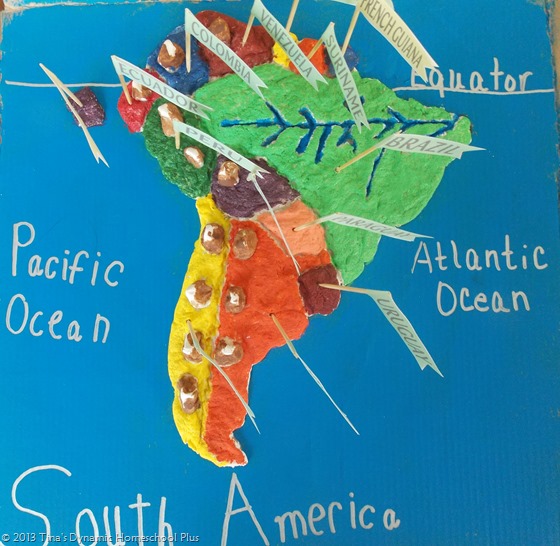 Lastly, he labeled it and added in the equator and showed it running through Ecuador, which in Spanish means "equator". We still need to add in the Tropic of Capricorn.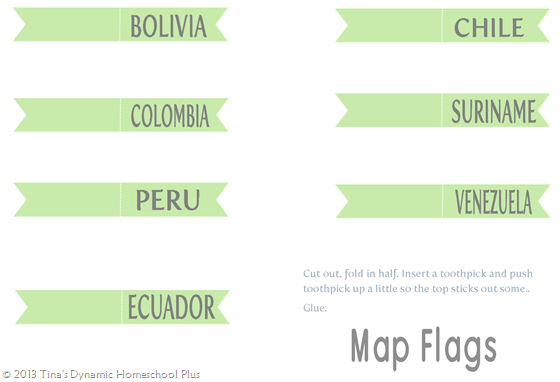 Tiny has loved doing these maps each time and it is a great way to bring geography and history alive. I guess you can say we never tire of hands-on geography and fun sets the tone for learning.
More to come as we trek our way through South America.
Grab the rest of the unit study and fun hands-on ideas below!
Hugs and love ya,