Stepping back from our routine of how we normally do language arts, I wanted to teach Shakespeare differently than I had with my older boys. I have been using the book How to Teach Your Children Shakespeare

with Tiny and we have been loving it. I have a post coming up soon about how easy this book has made it to teach about Shakespeare.
How to Teach Your Children About Shakespeare
Today though, I have rounded up some Shakespeare unit study starters that will spark some ideas to make learning about Shakespeare fun and interactive.

Grab this nice 30 page free pdf. study guide about The Tempest.
Grab this one page pdf that compares Shakespeare's life to the inspiration for some of his plays.
This next free 27 page pdf has various writers, including Shakespeare, which gives you tips on breathing life into dull, boring writing.
This one page free pdf has information about the construction of the theater, which would make a great start for a sketch or art lesson.
This video mini-biography is another place to start when wanting to get a quick glance at the life of Shakespeare.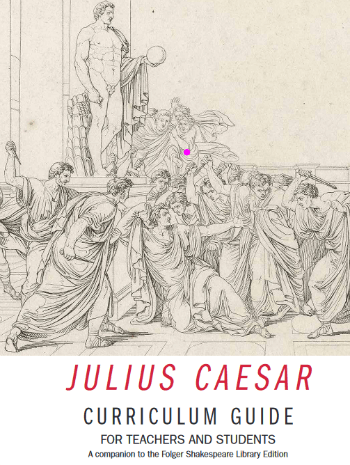 Then of course, if you tie in history with learning about Shakespeare, then it makes total sense to us. So grab this free 10 page teacher guide on Julius Caesar, which has some super helpful teaching tips.
This next idea is plain hilarious, but typical of what interests our kids. From the site Ye Olde Official Shakespearean Insult Kit: "With this handy-dandy SHAKESPEAREAN INSULT KIT,you can have the spleen of The Bard at your disposal! The next time someone cuts you off in traffic, or a clerk behaves rudely, stun them with your lexicographical command of vituperation." Just click on a pull down menu and a few of these expressions will at least evoke a conversation with your teen about The Bard.
This next site has an online handy reference for learning, which is a good resource for learning about the theatre. The Globe Theatre: A Study Guide.
Also, grab this free 18 page lesson planning guide for scenes from Romeo and Juliet as a way to introduce kids to Shakespeare.
This next site has some great ideas to use cooking or learning about the foods of Shakespeare's times Shakespeare and Food from A to Z.
This Did Shakespeare Write His Plays video makes another great unit study starter or at least a debate.
Also, I have this free huge Renaissance Lapbook and Unit Study.

Then you have to scoot by and check out this huge page, Shakespeare for Children, which is a roundup of great links for a unit study.

Hopefully, a few of these links will help you to make a great start to studying Shakespeare.
Hugs and love ya,