North American Robin Unit Study and Lapbook.
Turdus Migratorius, commonly known as the North American Robin.

When you think of spring with all the beautiful colors, buzzing honey bees and sounds of birds, one sound familiar to you if you live in North America is the cheery song of the American Robin, sometimes called the North American Robin.
Also known as robin red breast, the American Robin is one of the most recognized birds in North America. However, it's breast is actually a warm orange-reddish color which is immediately noticeable. Why then is it called robin red breast? It has been noted that early English colonist named this thrush after the robin red breast of their native homeland, England.
One of the more unique facts about the American Robin is its ability to live in just about any type of habitat from mountain forests to wilderness in Alaska.
Note to the middle school student: This lapbook can easily be done on your own. It was created to give you an introduction to the Turdus Migratorius.
Activities
Either before or sometime during your preparation of this information, do not forget to go here to listen to the American Robin's beautiful voice.
A cover has been made for your lapbook or notebook page. However, if you prefer, you can sketch your own bird to use as a cover.
Look here at a lesson from YouTube one how to draw and paint a Robin.
Lapbook layout (letter size )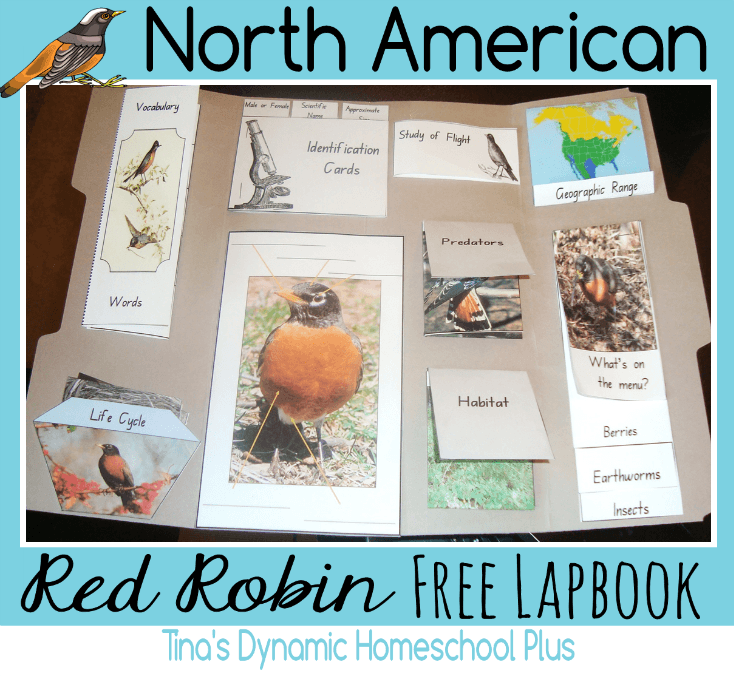 This download includes the following mini books…two more notebook pages have been added at the end of the page.
Cover Page

Vocabulary Books for older and younger kids


Click here to go to Animal Diversity to look for help with the definitions of the vocabulary words.
Life cycle printable.

Label the Turdus Migratorius printable.

Pocket for the life cycle printable and minibook about the study of flight.


Go here to Feather Biology to learn about the mechanics of flying. A tip for the younger kids is to simply draw the wings out spread ready for flight.
Geographic Range Minibook to see where the Robin is year round.

Identification Cards

What's on the Menu minibook and Habitats minibook



Notebook Pages


North-American-Robin-3-box.pdf (1490 downloads)


North-American-Robin-life-cycle.pdf (1633 downloads)
Take a look at these beautiful pics taken by Ray at EverAfterImages in Austin, Texas. They are just breath taken and the ones on his site are so sharp and beautiful… I could hardly even bring myself to resize them to fit here on the site to share with you. Thank you Ray! Too, keep in mind all pics on our site we ask permission for and when you right click and take pics w/out permission, this takes away person's livelihood. So enjoy here and as we get permission, we pass that on to you.
They are all taken here in Texas.

American Bald Eagle Pic 1 and 2


Barn Swallow

Mexican Eagle (Crested Caracara)