updated – A lot has happened since I wrote this so I wanted to update this series.


How do I put all my plans, fears, successes, failures and momentary lapses of insanity in one blog post? I can't. Instead, I will share 10 days of planning a homeschool high school graduation so that not IF, but when your turn comes, you will have a place to start.
Planning the BEST Homeschool High School Graduation Celebration!
Right away I will ask for your forgiveness during this series too because sharing our homeschool journey has never been so scary for me as it has been over the last few years.
Much of life and school was up, up and down, down. I have had feelings of overwhelming happiness at the same time sadness, feelings of joy yet fear wondering if I did enough with Mr. Senior 2013.
I can't help but have tears as I reflect back as I've savored every mommy moment with him and think how vulnerable I felt when I held him in my arms as I taught him to read.
A tear or two may run down my cheek as I type this because that has not been the only feelings I experienced as we celebrated the next chapter of Mr. Senior 2013's life.
You know I tend to be private about hubby's health, but it impacted our homeschool significantly these past two years. So, the blessing of graduating our first son was  special in more ways than one because my husband was around to celebrate it with us.
It may sound a bit dramatic, but for us it was also celebrating life.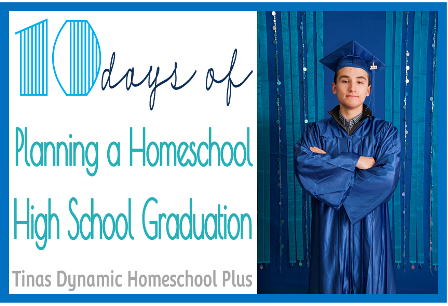 So although we weren't able to have the graduation at the time I planned because we were with the Mr. at the hospital, the day was filled with more meaning when we finally did. Nothing mattered more on ending Mr. Senior 2013's  journey than being with the ones who were there from the beginning and matter the most. Even at the end, he was still learning valuable life lessons.
Moving on to what matters,  the beginning of planning a meaningful homeschool graduation starts with long term planning.
Celebration Countdown


Here are some things to think about and that will affect what type of homeschool graduation you plan.
Do you want to be part of a larger homeschool group or not? Most large groups I know plan a whole year out and hire speakers and usually hold the graduation in a large auditorium. If you do, you need to notify a group right away.
What type of  personality does your young adult have? Yes, he is forever your child, he's now just not a child. This is real important because what you might vision for the day and what he or she might vision may be two completely different things. It is their celebration too. It is hard for us capable mamas to remember that at this point because we have been so strong in nurturing and leading them, but surrender to it because our young adults are capable now.
Does your teen vision a late night out on the town and a small gathering?
Does your teen vision a formal night complete with catering and closer to a wedding than a graduation?
Does your teen vision a family trip like a cruise with many of his or her friends and their parents?
Check that List Twice
I will be sharing some printables on this too, but I want to list some things that you need to  brainstorm way ahead of time.
date, time (beginning AND ending times), location
type of dress
do you want a meal, just snacks, no meal or cake/punch only
how many people to invite
how many parties to have (yes, I was going to have two. One with our church friends and one with our homeschool group. Two small gatherings keeps each manageable. I ended up having one because of our circumstances.)
how to present the diploma
cap, gown, and ring can all be ordered ahead of time as long your teen doesn't change their mind about colors he or she likes
what type of decorations do you want
The beginning is about brainstorming and including your young adult. In the end we both realized we had some ideas that ended up being too much work or that really were not that important to us.
Next post, I will share some of the details and plans we reached early in our planning and share with you a few time and budget saving tips I found along the way.
I will try hard to not have too many sniffles on this series, but no promises okay?
You may also like Ten Best Tech Gifts for Teen Boys,  Fun and (maybe Frugal) Homeschool High School Electives and How to Grade a Homeschool Unit Study for an Older Child (& high school assessment).
Hugs and love ya,