You'll want to grab my free Nature Lapbooks.They are facebook only follower freebies.
Written by Shawna at Not the Former Things.
Every spring, my youngest son and I go to the local nursery and pick out a few, inexpensive, flowering plants. He brings them home and plants them in "his pot." It's a springtime routine we have enjoyed together since he was a toddler.
He likes to get his hands in the dirt. I love the look of flowers on my patio. It's a win-win.

This year, I decided to take this gardening activity and use to it to fuel a quick nature study as well.
Hands-On Mixed Media Spring Nature Study
What you'll need for this activity:
Flowering plants (either purchased or in your own yard)

Something to draw and color with (we used chalk pastels because they are very forgiving, but color pencils, crayons and even markers will work too)
A large piece of white construction paper (make sure it's pretty heavy)
Clear glue
Nature Study At Home
The day after my son planted his special spring pot, we completed a basic geology lesson about soil.
I began by asking him what components he thought made up soil. He was easily able to answer broken down pieces of rock, but we decided to do  some more research.
Soil is defined by Dictionary.com as the loose top layer of the Earth's surface, consisting of rock and mineral particles mixed with decayed organic matter (humus), and capable of retaining water, providing nutrients for plants, and supporting a wide range of biotic communities.
You'll love this AWESOME art program that I use!


We learned that different soils exist in different locations around the globe, based on their environment and weather. This came as a bit of surprise to my son, so we spent some time discussing a the clay soil we saw on our last family trip, verses the rocky silt that exists in our backyard.
Then, we decided it was time to move on to the fun, hands-on part of our learning.



Mixed Media Nature Study
In the past, we have collected items from the beach and from our hikes in the forest, and then used them to create mixed media art as a record of our experience.
Instead of using shells or pine needles, for this activity, we used the soil, leaves and flower petals available in our own flower pot.

He started by drawing his potted flowers with chalk pastels. (Because he dislikes the feeling of chalk on his fingers, he always wears latex gloves, but it works.)

After blurring the chalk lines, we then took some of the leaves and flower petals from our plants (only a few to keep the pot looking pretty!).
You'll love these nature living books curriculum!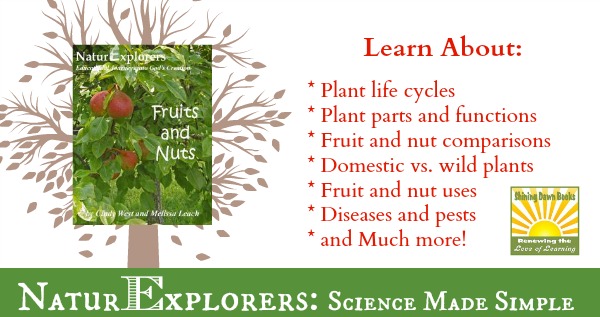 We then glued the leaves and petals to the picture in various locations.

After allowing the glue to dry, he grabbed a handful of our soil and we observed the various bits of rocks and sticks that blended together to create our top layer.

We then spread glue around the bottom of the picture and rubbed the soil into it to create an additional area of interest in his art.

That's it! The result was a beautiful representation of our hands-on, spring time activity.

I really love this idea for anyone not able to get out into more obvious natural environments like a hike through the woods or a tide pool at the beach.
Nature study can happen anywhere, with the help of a few pants, some soil and an interested learner!

See more fun ways to learn about nature in your homeschool!