Ceremonial African Tribal Mask
This week we created our own ceremonial African tribal mask after doing some research about their uses and how they are made.

We have been studying all about Africa, it's customs, weather, regions, zoology, peoples, and geography.

This project we are sharing with you today is perfect for mid elementary up through middle school.
Tribal masks play very important roles in many traditional African ceremonies and rituals even in these modern times.
Some symbolize totem animals, others are representative of tribal mythology, they are believed to help communicate and convey messages to spirits.
Some masks are made and used in times of peace and also in times of war, and to ensure good harvests.
They are worn for weddings, funerals, and initiation rites of passage.
Mask making is an art that is passed from father to son in African culture.
Too, if you are studying Africa with any depth, this is a project that you definitely want to focus on.
How to Make an African Paper Mask
You learn history, but also the culture of certain regions; your child gets a glimpse into the artwork which these interesting peoples create and consider important to their culture.
First, gather these easy supplies. Here is what you will need to create your own mask.
Scrapbook/Construction paper
Glue
Scissors
Hole punch
Hole punch
Paint, brushes
Raffia/twine
paint/paintbrush

Directions:
Crease a full sheet of sturdy paper right down the center, this will be the main piece of your mask.

On one side pencil in a large mask shape. If you have already done some research you should have an idea of what type of mask you would like.
Masks are usually shaped like a human face or animal muzzle, but very abstract.
Kids' African Mask
We are going with a commonly seen elongated face shape that is symmetrical and it gives me a chance to reintroduce and review what symmetrical means with the kids.
Cut out both sides at the same time following the half shape you drew.
When decorating tribal masks many elements are used like shells, horns, feathers, broken egg shells, seeds, straw, and animal hair.
Cut out your elements like the nose, ears, and eyes from neutral colored paper, which are the colors most commonly chosen in Africa. 
While size and shapes are exaggerated, they are still pretty simple.
To make your features symmetrical, fold your paper in half like you did the poster board. Only draw half the shape on one side, but cut out of both side on the fold.

Start with the nose, eyes, and ears and build up with decoration from there.
Again if you are cutting one piece like a nose, fold it in half, draw the shape, and cut it out.
How to Make Tribal Masks with Paper
If you are cutting two pieces like eyes just cut through two pieces of paper at the same time so that they are the exact same size and shape.
Next, glue all your elements into place, remember to place your pencil line side face down so you don't see it.

To create the hair and beard details, we punched holes along the edges where we wanted them and knotted twine through the holes.
If you knot it like a regular knot the ties will go out sideways.

If you want it to stick straight up and down, fold your length of string in half and push the loop through the hole you made.
African Mask Ideas for Kids
Too, if you're looking to add Art History to your curriculum, we love Art History Kids.

Goal of Art History Kids
To introduce kids to art.
Let them come to their own conclusions.
And, encourage their own individual creativity.

Then, slide the other two ends through the loop and pull firmly but gently.
Add some final details with paint, like the dots we did here.
We used the back end of the brush to create round uniform dots to give our mask some additional texture and interest.

If your child enjoys more sensory input you can also use fingertips to add paint to the mask.
Allow your creation to dry, you can either leave it as it is or glue the mask to a sturdier piece of cardboard or poster board to display and keep it longer.
Learning the Culture of Africa Through Picture Books
If you want to make this a fun unit study topic about world cultures, you'll love the study guide notes and coloring pictures by Beautiful Feet Literature.
Although these guides state they're for your younger kids, I think picture books are wonderful for all ages. Who doesn't love pictures?
However, if your middle school kids want some other literature choices, look at this Early American Enrichment which honors the legacy of some African Americans and American Indians at the time when America was young.

Additionally, look at these picture book options below.
Part One covers Asia, Africa, Australia, and Antarctica.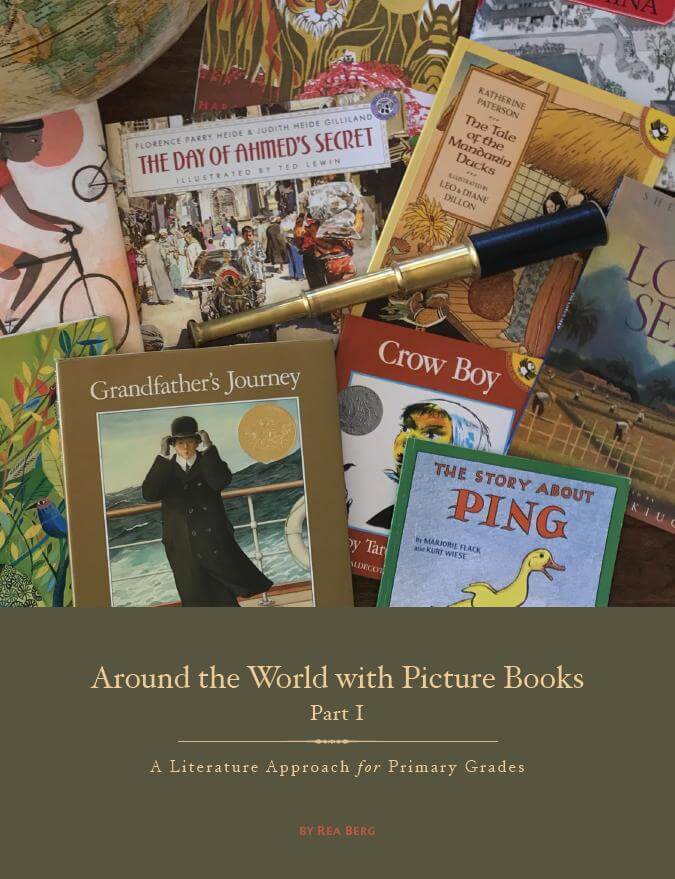 This Around the World With Picture Books Part Two covers Europe and South America.
Lastly, if you want to expand on your Africa study no matter if you are using a box curriculum or if you are doing a simple interest led study here are some ideas that you and your child can try…
African Geography and Culture Homeschool Unit Study Ideas
List the different countries with Africa in alphabetical order. This is great practice for learning alphabetical order but also geography, handwriting, vocabulary, and spelling. I am a big fan of activities that cover more than one skill.
Dig deeper by researching what various masks and their elements represent and what regions they are from.
Create several different masks representing different areas or traditions.
Families with one or more children can create an art show with African art to share with friends and family.
Research other cultures and countries that wear masks, what are they worn for?
Visit a local museum with an Africa exhibit to see relics or replicas first hand.
Watch this documentary on PBS about an African Mask Collection.

You'll love these other hands-on activities:
Are you studying about Africa? What activities have you been doing?
Hugs and love ya,