Spelling is more than just associating letters with sounds and deciphering them. Spelling is an essential element to writing clearly and convincingly.
Although I valued the usefulness of spelling prior to teaching my sons how to spell, it wasn't until I started actually teaching that I was able to see that learning styles affected how each of my sons learned to spell.
I couldn't possibly understand the struggle of spelling at the beginning of my journey because Mr. Senior 2013, like me, is a visual learner. He looked at words, formed a mental map in his head, and spelling came naturally for him.
I taught him phonics and he began to write the letters he knew associated with the sounds. Pretty easy I thought. Rocking along thinking that I was actually teaching spelling, Mr. Awesome came along and everything I thought I knew about teaching spelling could fit in a button.
My second child was not a visual learner, but a hands-on learner. Laying the foundation for spelling, which is phonics instruction took longer with him.

The Difference Between Readiness and Formal Spelling Instruction
Look at these these tips that I learned and want you know when you formally start teaching spelling.
Don't be so quick to add formal spelling to your day.
Some programs start testing children right away like at Kindergarten level.
Teaching spelling is one thing and testing spelling is quite another thing.
Before you can test output (which is making the letter or letters the sound makes) a child needs enough time for input.
We live in an educational society that is impatient on seeing results. We have instagram and instant messaging, but there is no such thing as instant education.
Children need enough time manipulating letters and sounds in the formative years or before Kindergarten.
Phonics is the springboard to spelling.
I feel you should be very selective as to when you start testing or beginning a formal program; I feel equally important that stringing letters together to form words should not wait.
Teaching phonics early even before a child can write is foundational to strong spellers later.
One thing I did right in teaching my sons how to spell was to spend a great amount of time on manipulating letters.
Look at these activities that I mean by manipulating letters:
Do not let your child's fine motor skills hold your child back from stringing letters together to form words.
When I started teaching Mr. Senior 2013, one of the very best investments I made was to purchase Spell Time

.


It was pricey but I knew that I had at least 3 kids ahead of me to teach phonics and using it with each child for several years, I got 6+ years use out of it.
A few things that I loved about it was that it was portable, had several letters of the vowels and I could grab a few letters to teach one child spelling while my oldest son could play with the letters and put them on the mat.
The mats are self-teaching meaning that on the back of the letter tiles are pegs which fit only in the correct spot on the word mat.  It is self-checking because another letter won't fit.
Bottom line, Mr. Senior 2013 could practice spelling alone while I was teaching the other boys.
Using this great teaching tool, I was able to give them a strong start to phonics before they learned how to write.
Spelling rules are just tools.
Remember too that in English the pronunciation of a word at times gives very little help as to the spelling.
Through the years, I feel I have swung like a pendulum back and forth between constant memorization of rules to very little work remembering them.
I have learned that balance is needed instead of swamping them with too many rules or not giving them any.
Your child needs to understand that though beginning phonics is easy, the English language is not predictable all the time.
Giving my middle son not only direct phonics instruction but memorization along with the rules armed him with tools he needed to encode (spell).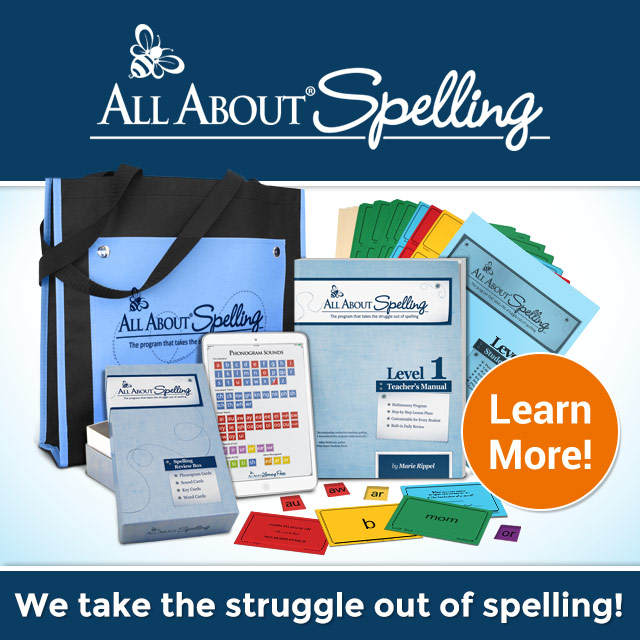 So it takes time for a child to understand those rules and this is best done after they have been immersed in phonics instruction.
Most spelling programs as I mentioned earlier are focused solely on the testing part of the program instead of activities like games, songs, stories, puzzle word search and fun unscrambling exercises to help a child learn through all senses.
It has been my experience that waiting to the end of first grade or the beginning of second grade to introduce formal spelling, which requires output immediately, gives your child a lot of hands-on practice with sounds.
Natural spelling through writing  and copywork were also key things I did in our day.
By delaying formal spelling until second grade, my middle son came in armed and ready to tackle the tests.
He even jumped two levels in spelling one year because we were immersed in letter fun.
Do immerse your children with the fun of sounds and don't be so quick to add a formal spelling program if the emphasis is on constant testing.


You'll love these other tips:
What grade do you start formal spelling?
Hugs and love ya,