Day 1: Learn the Lingo – Then Go
Day 2: Homeschool Roots Matter
Day 3: What is NOT Homeschooling
Day 4: " Speak Now Or Forever Hold Your Peace" – Confronting Relatives & Naysayers
Day 5: Wheels on the Bus Go 'Round & 'Round – So Get Off
Day 6: Homeschool Hangouts & Socialization Situations
Day 7: Tied Up With Testing?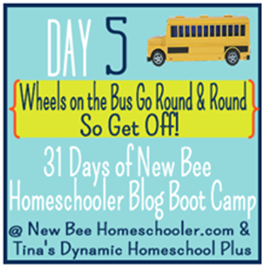 You may be eager to jump into topics like curriculum and schedules, but my goal is for you to make better choices when it comes to choosing curriculum that fit your family. It is hard to do that when public school mentality may still loom.
Many times when new homeschoolers start they do not take time to consider the value of determining what is important to them about education for their family. They simply get a deer in the headlight view of curriculum and want to pull the trigger on making those decisions so quickly.
I ask, no beg and plead with you to take time to read through this whole series before you make those decisions. Time is not running away because you have time to get off the public school treadmill.
Sharing secrets of veteran homeschoolers will help you to avoid making the same mistakes
Look at this chart, how would you fill it out? I jotted down my thoughts in the second column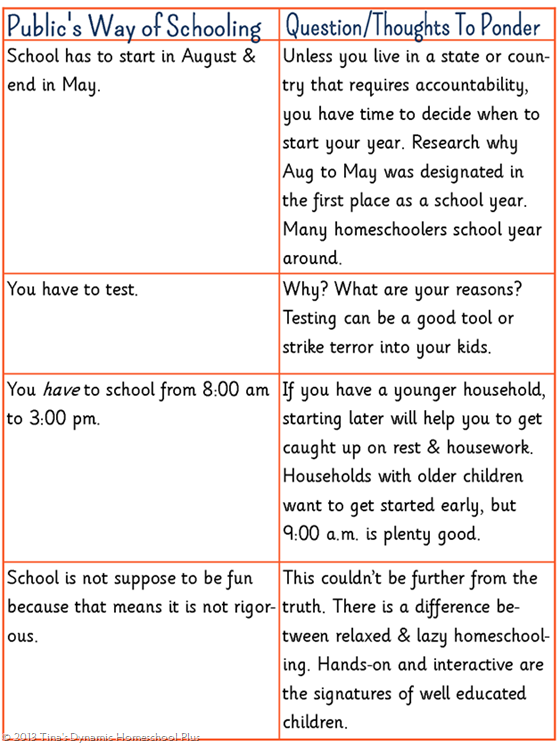 These are just a few of the preconceived ideas that new homeschoolers have and oh yes even seasoned veterans can still think this way.
To enjoy your journey and determine what is best for your family, it is important that you resolve early on in your journey the path you will take. Many homeschoolers jump to choosing curriculum only to regret later that they wished they had more on homeschooling approaches. That post is coming too.
I don't want you to think I am pulling the rug out from under you. But beginning to homeschool without getting off the public school bus can breed homeschool resistance.
If what you are doing now is not working, why would you only want to replicate that at home?
On the other hand, it does not mean abandoning all caution to the wind. If something from public school works for you now, then it is okay to mimic it. Just decide IF it works for you.
I shared in Day 3 how a school room helped my boys to have routine their days. No, we did not spend every waken learning minute in our school room , but corralling the clutter to one room helped me to not be overwhelmed. Too, not all children do well with testing and I will talk about that on Day 7. You will need to educate yourself on "why" or if you will want to follow any methods of public school.
It is much easier to focus on your three, four or more kids than to worry about what 30 kids in one classroom are doing . Don't blindly follow the masses when you come home to school. Abandon the preconceived ideas of how school should be and focus on what YOUR children need.
What are some things you will not bring to your school at home? What are some things you will implement that are new?


Read here how Jamie at The Unlikely Homeschool shares her Top Do's and Don't for New Homeschoolers.
Read my article Things Seasoned Homeschoolers Know.