I was given this product free because I asked for it and couldn't wait to use it. ALL opinions are my own and for sure I will always tell you what is on my mind. When I do accept a product it's because I'm giddy to tell you about it. Read my full disclosure here. Now on to the fun stuff!

---
Winter is a wonderful season for learning about animals with kids. Animals go through so many different behavioral changes to adapt to cold temperatures and, when you can study those changes in your own backyard, it really makes scientific concepts come alive.
So I was excited to try the NaturExplorers ebook "Coping With the Cold". I've been wanting to add in nature studies to our homeschool but didn't need anything that requires a lot of fuss.

NaturExplorers ebook "Coping With the Cold" is a Charlotte Mason-inspired nature study program for learning about how animals adapt to winter temperatures. And it's loaded with simple DIY projects, science activities, and plenty of notebooking pages too!
Take a look at what all is included in this excellent science curriculum!
NaturExplorers Review: Coping With the Cold
Since NaturExplorers is a Charlotte Mason-style program, the curriculum includes plenty of nature study activities and hands-on learning ideas for studying winter animal behavior.

And, along with all the printed activities for kids to complete, there are loads of notebooking pages and drawing prompts so they can record what they observe outdoors.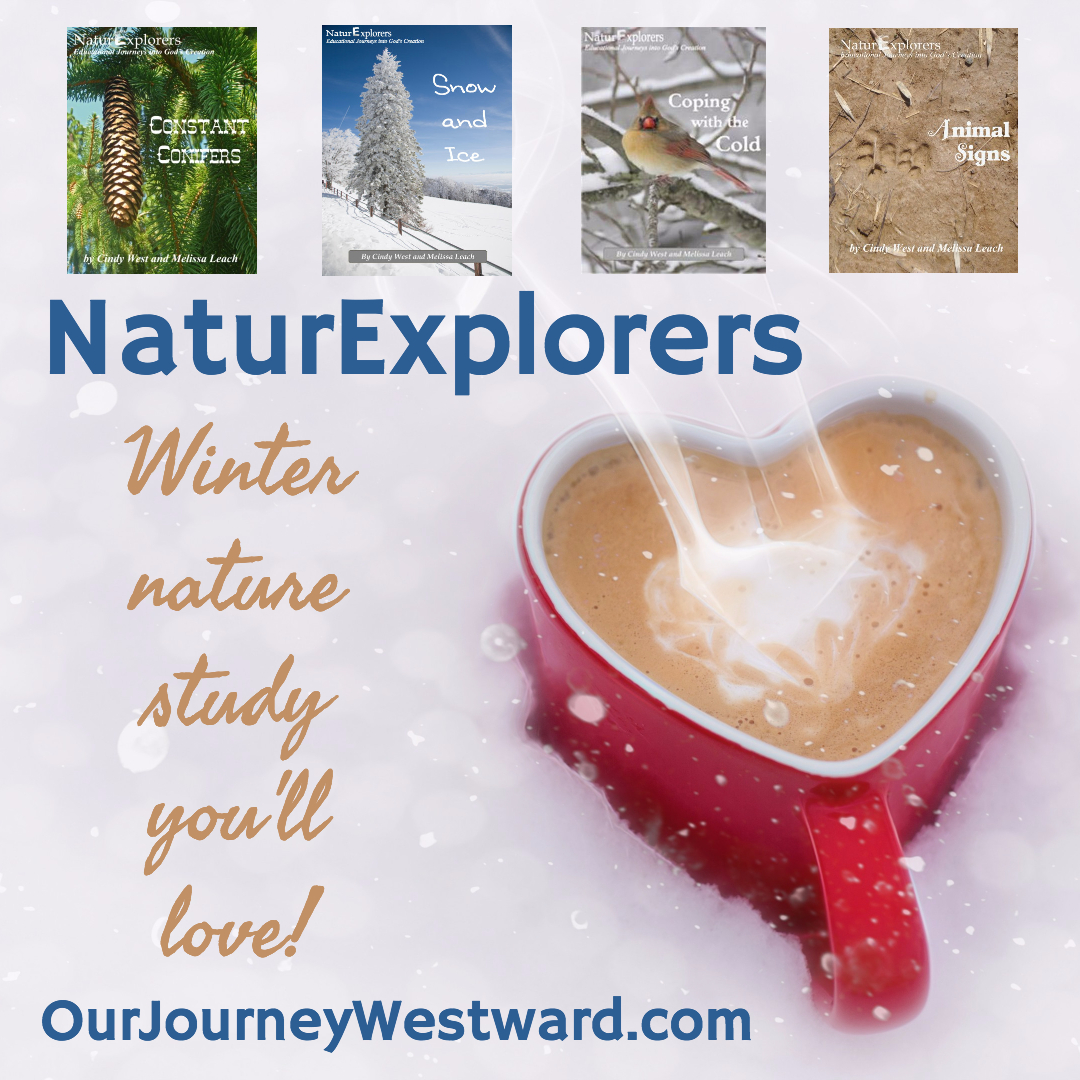 What I really like about NaturExplorers is that the program encourages kids to spend plenty of time outside in nature, finding out what animals do for themselves.

For example, the activities about bird migration were really informational and geography-based too.
Did you know that birds actually follow "flyways" – a version of bird highways? I didn't!

This migrating animal research planner was such a neat idea, because it's a great way to help children plan a research topic, organize their ideas, and outline an essay.
This is an excellent activity for middle school language arts.

By the way, these are just some of the notebooking and journaling activities in the program!
Easy Nature Study!

Charlotte Mason strongly encouraged art and journaling and NaturExplorers does a fantastic job of prompting kids to draw what they see and note what it tells them about animal behavior.
It's art and science in one activity!

And, because I always love to encourage reading, I was thrilled to see that the program featured an activity for kids to complete using a nonfiction book about winter animals they choose from the library. (My favorite place!)

Even if you can only observe one or two different kinds of animals (depending on where you live), the idea of adaptations is so thoroughly covered that kids will be able to spot other adaptations in animals they read about.

Some of the other notebooking pages include questions for kids to answer, based on their own observations, and charts for them to fill out.

I also loved that NaturExplorers is so open-ended. There's no weekly schedule or layout included, so you can pick up and pause as you need to. It's a very relaxed curriculum and you adapt it to your own schedule.
Perfect for us eclectic homeschoolers!
I'll be sharing a few of the NaturExplorers activities in upcoming posts, but – trust me – this is a fabulous winter nature study program that you'll love as much as the kids do!

How to Purchase It.
►Product Name: Coping With the Cold.
►Website: Our Journey Westward.
►Type of product: Ebook instant download.
►Ages: Multiple grades 1st to 8th grade.
►Price: $12.00

See even more ways to include hands-on science in your homeschool!
Hugs and love ya,