I have the next minibook ready for the Ancient Civilizations Unit.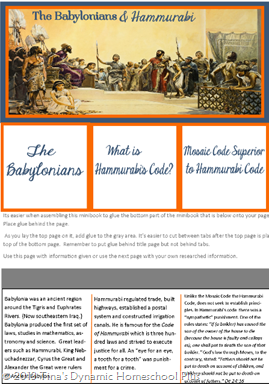 This 3 tab book is about The Babylonians & Hammurabi. We took a little longer on this book because I wanted the boys to compare men's laws to the superior laws of God. Like my other mini books, I have a few facts if you want to use them and one copy that is blank if you prefer to add your own facts and content.
Here are some links you might find useful:
Houghton Mifflin Social Studies Page.
Edsitement. Has a large fleshed out section on questions and background information.
Here is a powerpoint with some nice colorful maps and pictures of the places we have been studying in this unit. Be sure to look it over because we are still clicking and reading on this site.
Highlighting a few features about each of these civilizations keeps it from being too overwhelmed with details which was my goal on doing this unit.

I always plan on the folder where the minibooks go. It doesn't mean this is the only way to arrange the books, but I created this to show you where I intended that the minibooks be placed. Today you have up to  book  5.
Hugs and love ya,

For my newer readers that missed the previous minibooks, I am linking those below:
Celtic Cakes Recipe – Ancient Mesopotamia Minibook
Ancient Civilization Unit – Free Ancient Egypt Minibook
Ancient Civilizations Unit – Printable Minibook on Sumer + New Brimwood Curriculum