I am finishing up the last of the minibooks for our Ancient Civilization Unit. My goal in doing this unit study was to quickly cover some of the ancients and get Tiny familiar with them.
When I first started the 4 year history cycle with my older boys, I found that I covered a wide variety of topics . Now I prefer to cover less topics,  but in more depth. As much as I love our study of history I have accepted the fact that it really is just a few short 12 years you have to cover any subject. There is just no way you can cover all that you like or want to.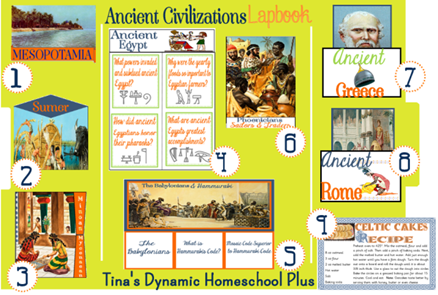 Also though because we have covered a lot of Ancient Greece and Ancient Rome, I decided it would be better for Tiny to know a few names. So I have a mini fact card for Plato for Ancient Greece and a mini fact card for Caesar Augustus when studying Ancient Rome.
Minibooks 7 and 8 are ready for download. There is a pocket for each fact card and they are glued on the right flap.
Download here the pockets for Ancient Greece and Ancient Rome.
You know I told you back about a month ago when the boys made the Celtic cakes that for some reason they were so enamored with them that they chose to put that as their last minibook in the lapbook.  You can add that too or include some other hands-on activity that you like.
Here are the prior lapbooks we did for Ancient Greece and Ancient Rome that round out this unit study.

Go here to grab my Free Ancient Greece Lapbook.
Click here to grab my Free Ancient Rome Lapbook.
Seeing the need to cover some subjects a little faster so you don't lose the momentum through the years, I am so excited about our present study using the curriculum from BrimWood Press
We got interrupted on our study when hubby had his procedures, but we are getting ready to get back on it.
The main thing I am giddy about is that how in a short time you can cover so much. From the site: " In fourteen lessons, What Every Child Needs to Know about Western Civilization builds a mental timeline of 5,000 years of history and an understanding of the historical contributions that shaped Western Civilization. This guide and its literature companion Calendar Quest will revolutionize the way children learn history. "
I am almost  finished with it and will be doing a review on it, but have fallen in love with the fact that you don't have to take a whole year to cover one era in history.
You now have all the printables for the Ancient Civilization Unit. I will be sharing a few more hands-on things we liked for this unit too.
Hugs and love ya,